Maple Leafs defeat Hurricanes in game marred by Matthews injury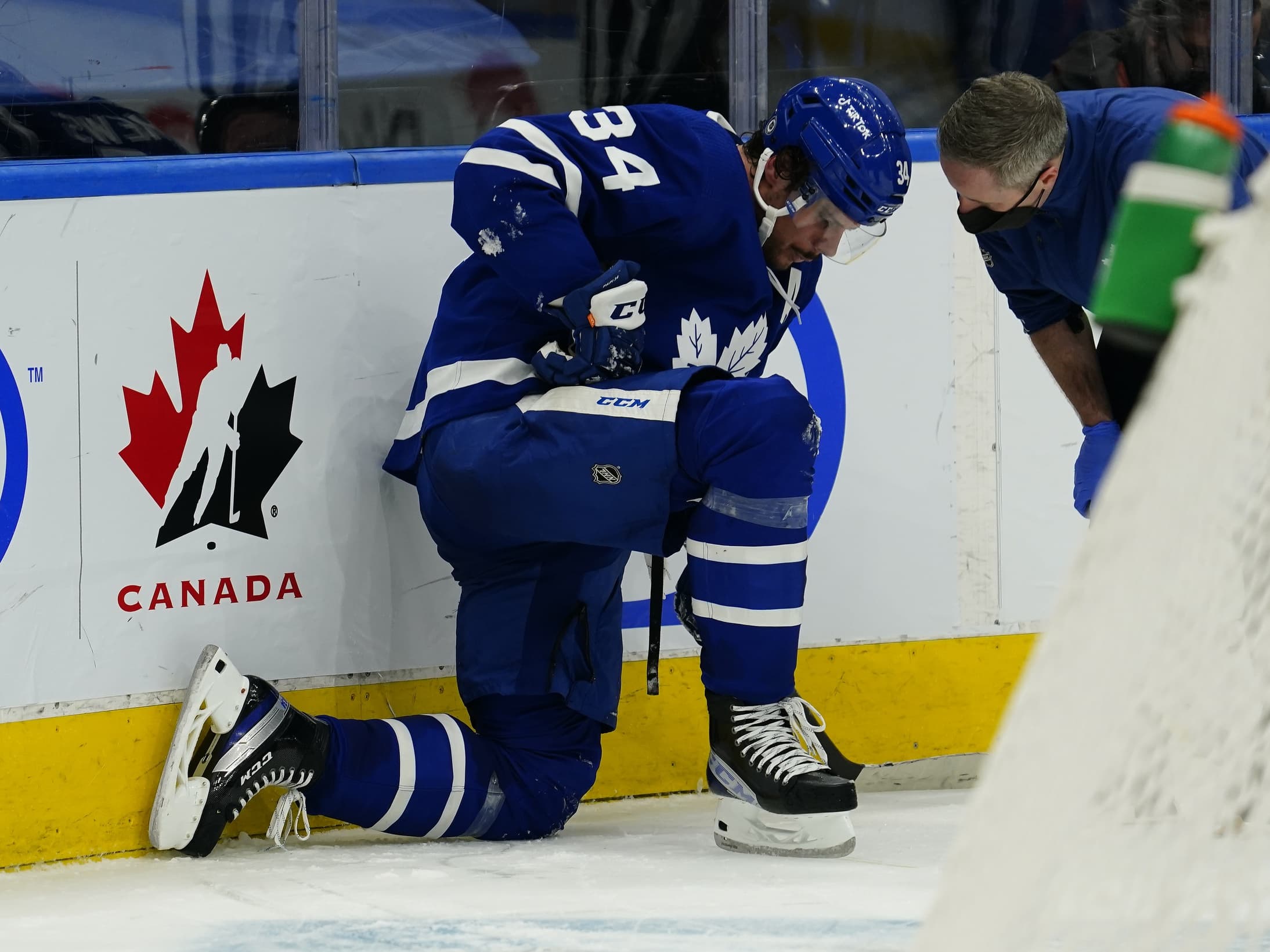 Photo credit:John E. Sokolowski-USA TODAY Sports
The Toronto Maple Leafs pulled off a dramatic 4-3 overtime victory against Carolina Hurricanes on Monday, but the focal point quickly changed to Auston Matthews' health, after the forward left the game with 41.7 remaining in regulation time.
"He's our guy," Leafs defenceman Morgan Rielly said after the game. "Hopefully, he's ok."
Matthews was skating behind the net alongside Hurricanes forward Nino Niederreiter behind the net when Brett Pesce inadvertently struck Matthews' in the back of the head with his knee.
"No update, we'll take some time to let it settle down and assess it properly," Maple Leafs coach Sheldon Keefe said of Matthews' status.
The coach added that Matthews was scheduled to take Tuesday's practice off due to his participation at NHL All-Star weekend in Las Vegas.
Matthews scored twice in the game and the Leafs went into overtime without one of their top players available in that situation.
Mitch Marner took over from there. He scored the winning goal, his second of the game, to secure the victory.
He also scored the tying goal in the third period when the Leafs were down 3-2, extending his career-high goal-scoring streak to eight games.
"He's obviously a big part of our team, does a lot for us, especially in 3-on-3 hockey," Marner said of Matthews. "I didn't really see what happened, to be honest, but obviously it's unfortunate. I'm going to try and check in on him here soon and make sure he's all good. But hopefully, all is well with him, we'll see."
Matthews scored his 30th and 31st goals of the season on Monday. It's his sixth consecutive season hitting the 30-goal plateau in a season. The reigning Rocket Richard Trophy winner, Matthews moved to just two goals back for Chris Kreider of the New York Rangers for the league lead in goals.
Certainly, the loss of Matthews long-term would be devastating to the team. In the short term, the Leafs have managed to yield results without their top scorer. In the 41 games the Leafs have played with Matthews, they are 25-14-2, per
Statmuse.com.
Again, this in no way suggests the Leafs are a better team without Matthews, but rather have shown they can produce results in short spurts without their star player.
Mrazek delivers
Petr Mrazek made 28 saves, many of them of a difficult variety to pick up a win against his former team.
"I'm happy with how things have progressed," Mrazek said.
Making his third start in a span of 10 days, the goaltender is starting to show signs of becoming a dependable tandem goaltender that the Leafs had hoped they would have when they signed him to a three-year, $11.4 million contract back in July.
"He's certainly building momentum here and that's really what we're looking for," Keefe said of Mrazek. "We're going to need two goalies. We knew that coming into the season that was going to be the case and it really hasn't been up until that last little bit.
"The fact that Petr is healthy and gaining positive momentum in his play, our team's comfort playing in front of him is very healthy for our team."