Maple Leafs Mock Trade: Toronto acquires Connor Hellebuyck from the Winnipeg Jets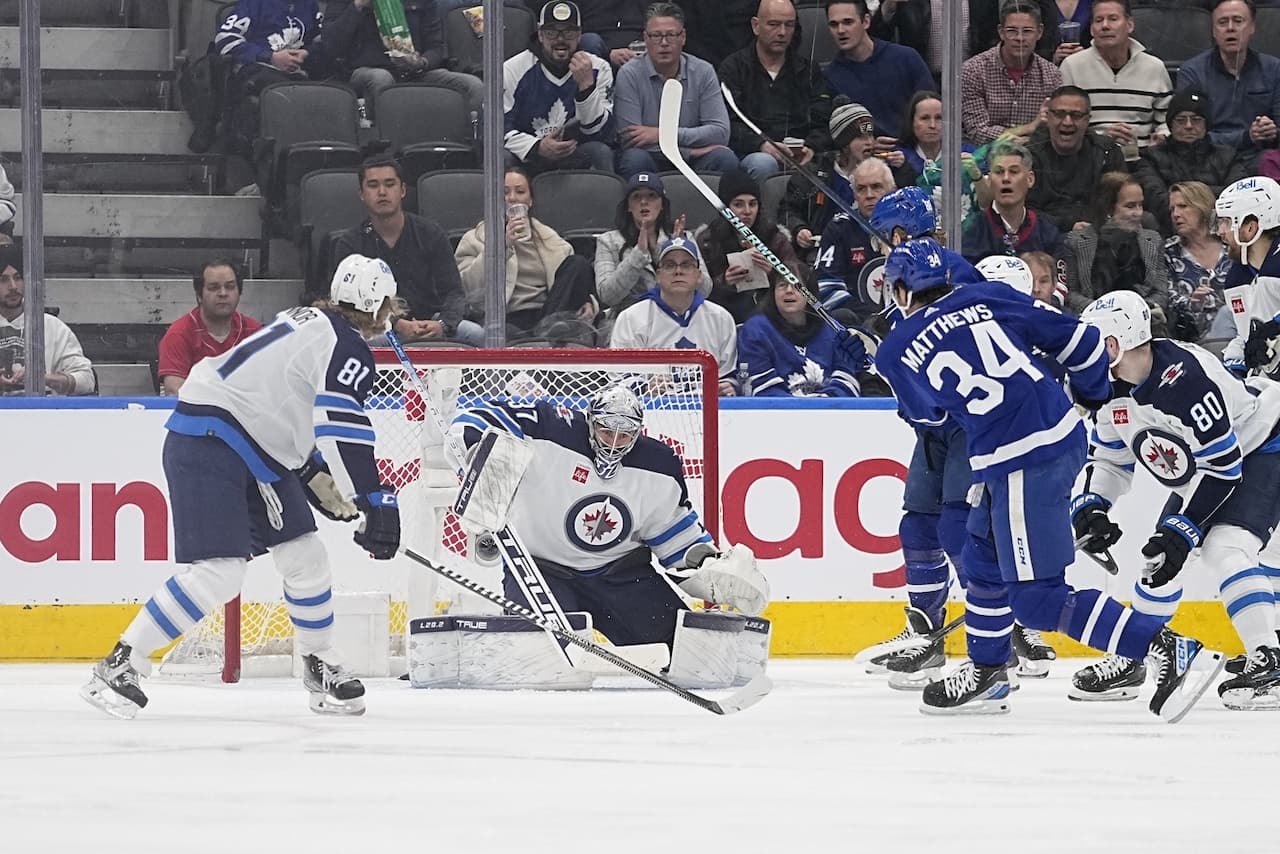 Photo credit:John E. Sokolowski-USA TODAY Sports
Welcome to the Maple Leafs mock trade mini series where we'll showcase a number of potential trade candidates from around the league and zone in on what an offer might look like from Toronto. General manager (GM) Brad Treliving isn't finished putting the finishing touches on his roster and will likely be going the trade route to cap off his first offseason with the Leafs.
For our first destination, let's head to Winnipeg and fly with the Jets. Over the weekend hockey insider
Kevin Weekes mentioned
to keep an eye on Connor Hellebuyck, as trade rumors continue to swirl. The 30-year-old
goaltender informed the team
he's not interested in signing a contract extension, so Jets GM Kevin Cheveldayoff has been working the phones all summer to try and find the right deal. What if Treliving offered the following?
Maple Leafs Mock Trade: Toronto acquires Connor Hellebuyck and Logan Stanley from the Jets in exchange for Ilya Samsonov, Nick Robertson, Connor Timmins, and a 2024 first-round pick.
Jets Perspective:
Cheveldayoff isn't looking to completely tear things down in Winnipeg and this was clear as day with the return he received from the Pierre-Luc Dubois deal to the Los Angeles Kings. The Jets GM wants to retool on the fly and he'd be doing so with this trade offer from the Leafs.
Samsonov immediately steps in
as the goaltender of the now and the future. While he's not Vezina caliber just yet, the 26-year-old is coming off a fine season posting a 27-10-5 record with a 2.33 goals against average and a .919 save percentage.
The Jets would also be able to plug and
play both Robertson
and Timmins into their lineup next season. Winnipeg is desperate for right-handed defenceman and they also have an open competition among their bottom-six wingers. Losing Stanley shouldn't be too hard to swallow as he's become an odd man out on the team's blue line and requested a trade before the deadline last season. Meanwhile adding another first-round pick gives the Jets a piece for the future or an asset to move in another deal. For losing your starting goaltender who happens to be one of the best in the league, this offer should appeal to Cheveldayoff and the Jets.
Maple Leafs Perspective: Treliving isn't afraid to make bold moves and this one would be quite the first impression to Leafs Nation. It's not often you can land a Vezina-award-winning netminder who is still in the prime of his career. Yes, a contract extension would need to be hashed out, but with the salary cap going up a tremendous amount over the next few years, the Leafs won't be in as much cap hell as people think.
Losing Timmins and Robertson won't hurt the system as the likes of Matthew Knies, Timothy Liljegren, among others can carry their load next season. Toronto would be adding the towering 6-foot-6 Stanley to their blue line depth and as someone who is defensive minded, long, lanky and very physical, he's the perfect fit for a Treliving run defence core.
Toronto's in win-now mode and adding Hellebuyck to the fold would send a tremendous message to the team. Treliving made things clear he'd like to steer the narrative away from just the 'core four' and with this trade, he'd accomplish just that. Hellebuyck has the game to steal wins, he's a work horse and he'd be a great mentor to youngster Joseph Woll. The Leafs new tandem would easily become one of the best in the league.
Very Latest on Hellebuyck Trade Talks
As far as what's actually going on in Winnipeg, the trade chatter has been relatively quiet. Word is the Jets and
New Jersey Devils recently rekindled
their conversations but apparently got nowhere. It's likely Winnipeg is asking for Akira Schmid to be involved, meanwhile the Devils are offering Vitek Vanecek.
Treliving and the Maple Leafs should have interest here. If Hellebuyck's indeed available, make a strong offer and see what happens. With the likes of Samsonov, Robertson and Timmins included, along with a first-round pick, the Jets could like what they see and pull the trigger. If Treliving is able to add a Vezina-trophy winning goalie, plus then re-sign both William Nylander and Auston Matthews in one summer, on top of all the free-agent action he's already completed, he'd get some early votes for being up on Legends Row.