Maple Leafs notes from the 2022 NHL Draft Combine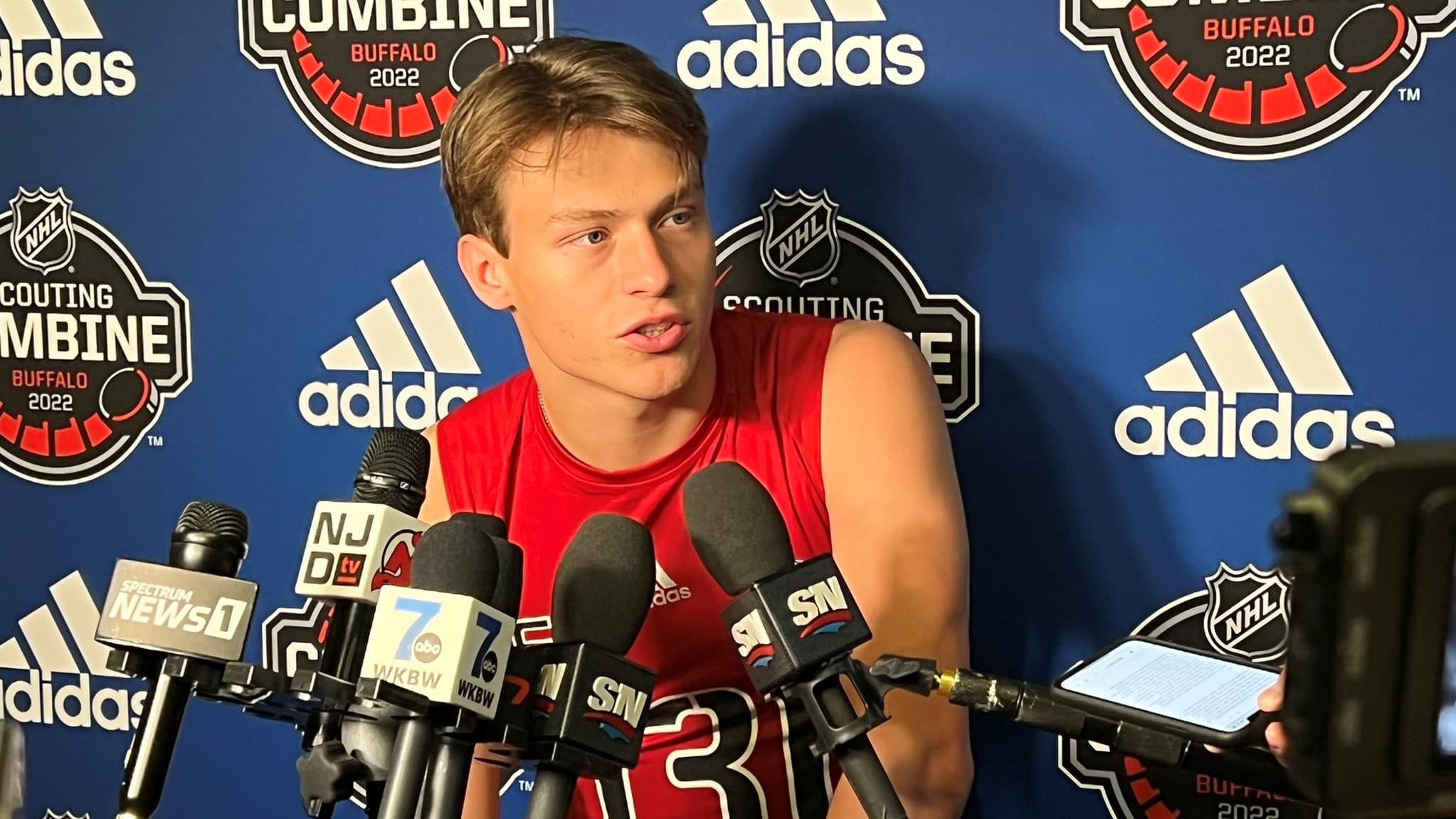 Photo credit:Twitter, @ByMHarrington
The NHL Draft Combine returned for the first time in three years in Buffalo over the weekend, with over 80 prospects attending the event as the draft cycle really kicks into high gear.
The combine not only provides an opportunity to gather physical data for the various prospects in attendance but also gives teams the chance to meet with prospects and conduct their own interviews. For most of the prospects not ranked in the top five or so, this means meeting with a significant number of teams, so don't read into who spoke to what teams.
That being said, a few prospects the Leafs were confirmed to have spoken with included:
Lian Bichsel, Left Defence, SHL
Luca Del Bel Belluz, Centre, OHL
Marco Kasper, Centre, SHL
Jiri Kulich, Centre, Extraliga
Bryce McConnell-Barker, Centre, OHL
Rutger McGroarty, Left Wing, USNTDP
Filip Mesar, Right Wing, Slovakia
Calle Odelius, Left Defence, SHL
Noah Ostlund, Centre, SHL
Owen Pickering, Left Defence, WHL
Now, these players all spoke with upwards of 25 teams, with some even speaking to all 32 NHL clubs. Others, such as Brad Lambert, Jonathan Lekkerimaki, Liam Ohgren, Pavel Mintyukov, Maveric Lamoureux, and Owen Beck spoke to a similar number of teams but it was not confirmed whether or not they spoke to the Maple Leafs.
While it's interesting to see who the Leafs are speaking with, there really isn't much insight to be gained here. All of the players confirmed to have spoken with Toronto are projected to be drafted in the late first to the second round, right where the Leafs are scheduled to select with the 25th overall pick.
Other than the interview process, the second major aspect of the combine is accurate and up to date measurements for players' heights and weights. Some players who either had measurements notably different from their previous listing or came in at significant results included:
Lian Bichsel, LD, Sweden – 6'6, 225 pounds (+0.5 inches)
Josh Filmon, LW, WHL – 6'3, 157 pounds
David Goyette, C, OHL – 5'10, 175 pounds (-1 inch)
Lane Hutson, LD, USHL – 5'8, 158 pounds
Jagger Firkus, RW, WHL – 5'10, 151 pounds
Adam Ingram, LW, USHL – 6'2, 161 pounds (-13 lbs)
Joakim Kemell, RW, Finland – 5'10, 185 pounds (-1 inch, +10 lbs)
Jiri Kulich, C, Czechia – 5'11, 178 pounds (-1 inch)
Maveric Lamoureux, RD, QMJHL – 6'7, 199 pounds
Noah Ostlund, C, Sweden – 5'10, 164 pounds (-1 inch)
Servac Petrovsky, C, OHL – 5'10, 181 pounds (-2 inches, +7 lbs)
Owen Pickering, LD, WHL – 6'4, 180 pounds (-1 inch)
Jack Sparkes, RD, OJHL – 6'8, 233 pounds
The 2022 NHL Entry Draft is just one month and a day away from commencing and the combine over the past week was another reminder of how quickly it is approaching. The Toronto Maple Leafs currently hold three picks in the draft (25th, 79th, 218th), but with players to potentially be moved off of the roster and the possibility of trading down, I think it's likely we see the Leafs pick four or even five times in Montreal.
POINTSBET IS LIVE IN ONTARIO
PointsBet Canada has officially launched in Ontario! Get a $25 free bet just for 
signing up right here!