Maple Leafs reportedly in trade talks as goaltending market heats up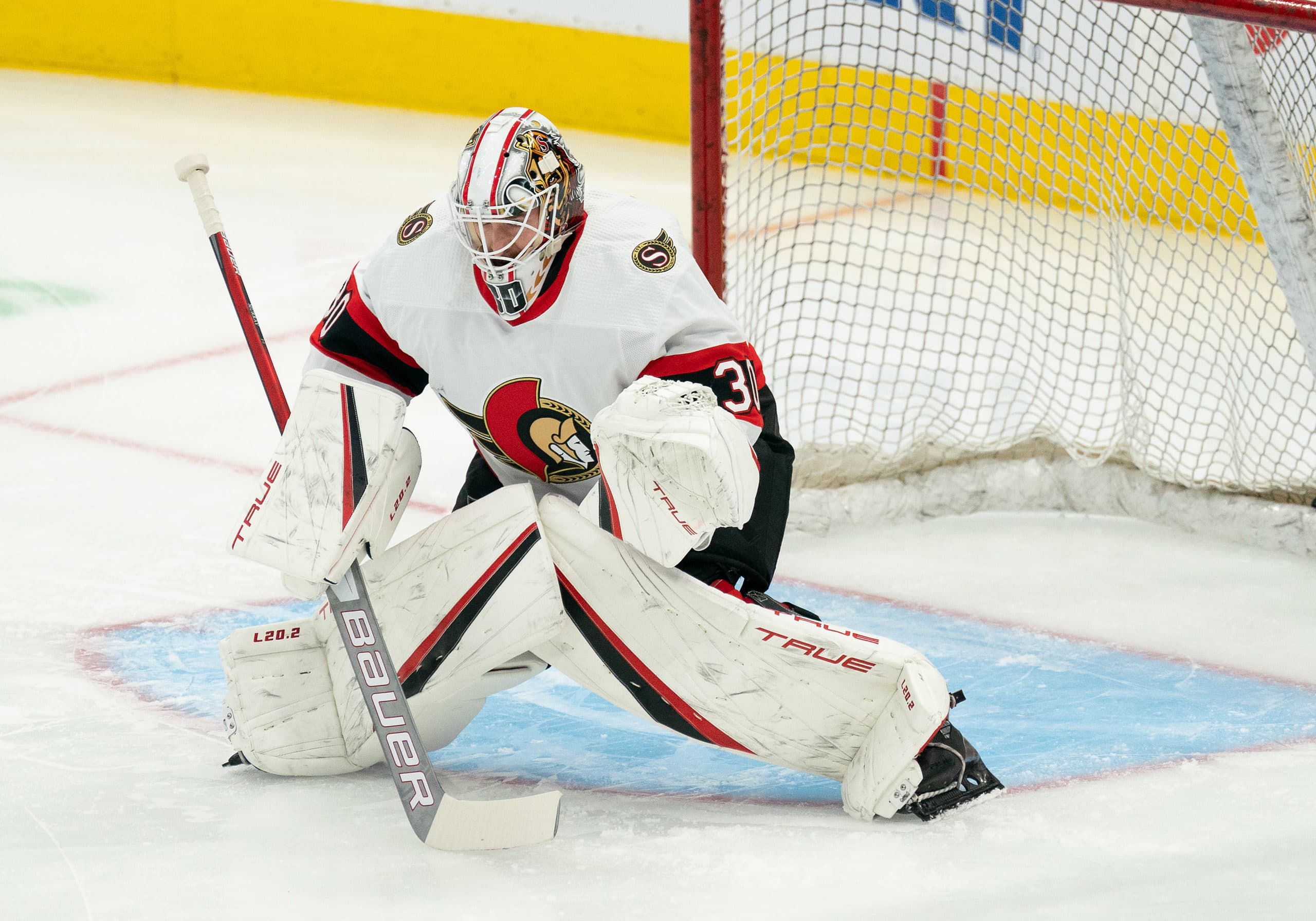 Photo credit:Nick Turchiaro-USA TODAY Sports
Goalies. Goalies. Goalies. NHL Draft day is in full swing and the Maple Leafs have reportedly been a bit active in discussions so far.
The closer we get to July 13th, the more it looks like Jack Campbell will hit unrestricted free agency, meaning Toronto would likely be on the hunt for a new starting goaltender.
Maple Leafs GM Kyle Dubas spoke with the media yesterday and discussed a number of topics ranging from Rasmus Sandin, to Campbell, to even Petr Mrazek and his future in Toronto. Dubas bet on the 30-year-old netminder coming back and having a breakout season, making it seem like he was returning to the Maple Leafs.
That, though, could just be Dubas protecting his goaltender and not going public with what he actually thinks of the 30-year-old. And as of right now, reports are suggesting that maybe Mrazek isn't back in the blue and white next season.
According to the Ottawa Sun's Bruce Garrioch, the Maple Leafs are interested in bringing Matt Murray with them when they come home from Montreal. If that's the case, I don't think Toronto begins the season with Mrazek and Murray as their tandem. At least, I hope not.
And if you're wondering what the trade looked like before Murray declined to waive his modified no-trade clause for Buffalo, here it is:
I'm not sure if this was the full deal, but if it was, the Maple Leafs need to continue to stay on the phone with Pierre Dorion. Ottawa would retain salary on Murray while also swapping first-round picks — why wouldn't Toronto do this?
According to
Garrioch on TSN1200
, Murray would waive his no-trade to come to Toronto, it would just be tough for Dorion to make a trade like this with the Maple Leafs.
More goaltending news
Earlier on Thursday, it was reported that Marc-Andre Fleury signed a one-year deal with the Minnesota Wild before a number of insiders said that wasn't the case. A one-year deal isn't even in the cards for Fleury, according to DailyFaceoff's Frank Seravalli.
If Fleury hits the open market, expect the Maple Leafs to be a possible landing spot for him, if in fact Campbell doesn't re-sign. You can also now put Darcy Kuemper on Toronto's target list now, too.
This became a reality when the New York Rangers sent Alexander Georgiev to the Colorado Avalanche in exchange for two picks in the 2022 draft and one in 2023. It was known all along that it would be tough for the Avalanche to retain Kuemper, and now this move says he will not be back with the Stanley Cup Champions.
Expect the rest of today to be wild since there's already been this much news and it's only lunch time here in Toronto. Stay tuned for more as it happens.