Maple Leafs' Sheldon Keefe ninth-longest tenured head coach in NHL following carousel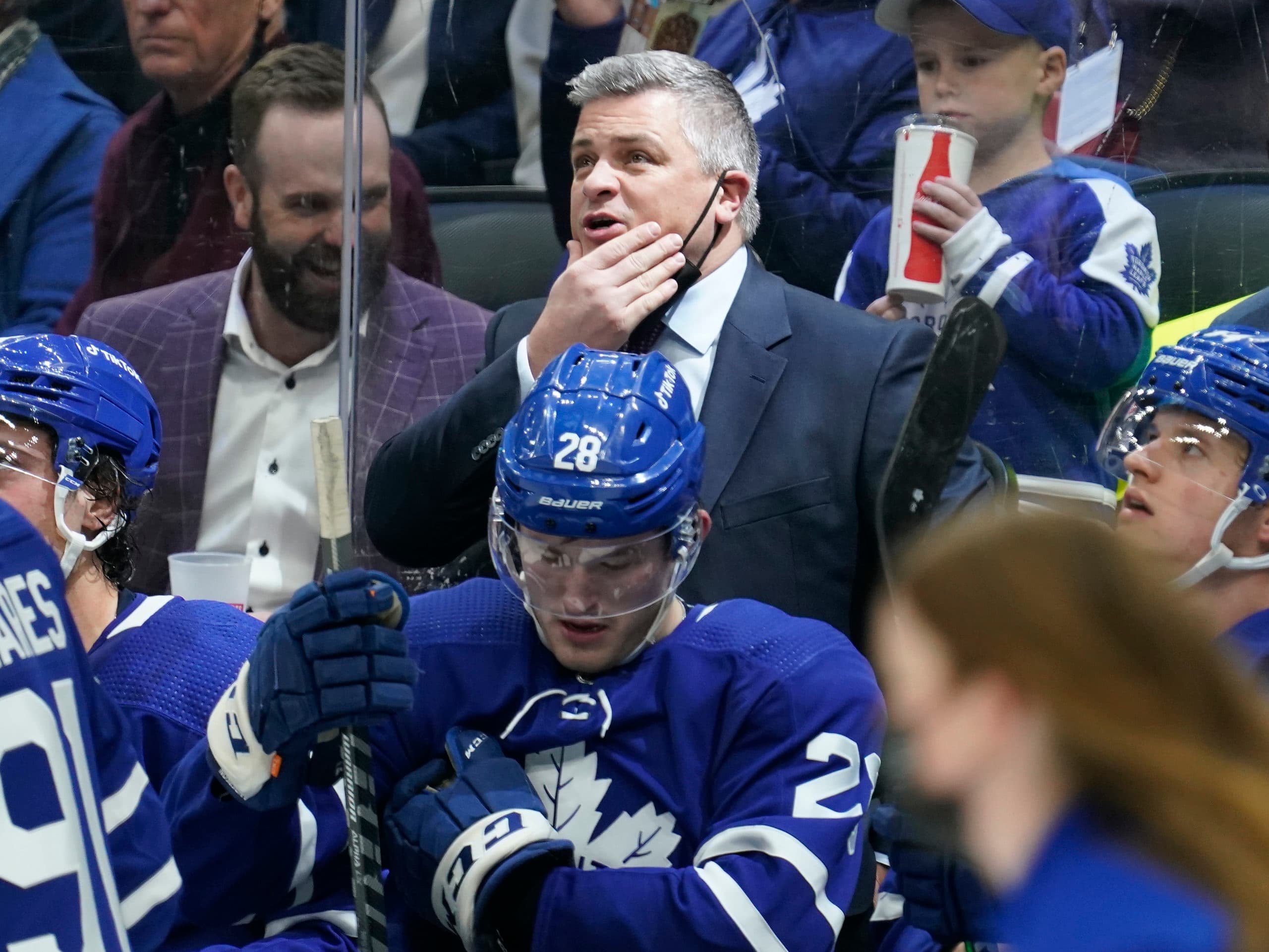 Photo credit:John E. Sokolowski-USA TODAY Sports
Maybe it shouldn't have come as a complete shock when the Boston Bruins relieved head coach Bruce Cassidy of his duties on Monday.
Despite a 245-108-46 regular season record over six seasons that also included a Stanley Cup Finals appearance in 2019, the writing appeared to be on the wall when Bruins president Cam Neely openly criticized the way his team played in the playoffs. He questioned the team's tactics in response to a question about Cassidy before giving a non-committal answer when asked if the coach would return next season.
But  the trigger was pulled, along with other head coaching changes that followed at the end of the regular season. The resulting dismissals moved Maple Leafs head coach Sheldon Keefe to ninth on the list of longest tenured coaches.
And Keefe just completed his very first 82-game season after his first two seasons  in the NHL were abbreviated.
Like Cassidy, there was a lot pressure on Keefe to deliver this season. Both finished with strong regular seasons records (a record 115 point season for Keefe and 107 points for Cassidy). Both teams underwent Game 7 first-round exits.
There may have been some that though that Keefe deserved a similar fate, given the way the last couple of playoffs had gone for him, but management elected to stay the course following a Game 7 first-round exit to the two-time defending Stanley Cup champion Tampa Bay Lightning.
Whether you agree or disagree with the process, changing head coaches has never been more in style than it has been lately. Despite the increase in pay that coaches have received over the last decade, it's the one drastic move teams can make in the dressing room without any ramifications to a club's salary cap.
It probably doesn't help that changing head coaches mid-season has yielded a run to at least the Stanley Cup Finals in the last three years (Craig Berube – St. Louis Blues – 2019, Rick Bowness – Dallas Stars – 2020, Dominique Ducharme – Montreal Canadiens – 2021), a streak that will be snapped this year with the Edmonton Oilers' elimination on Monday.
But in the case of Keefe, he's likely to keep moving up on that coaching list, especially after Leafs GM Kyle Dubas gave the vote of confidence when other recently-dismissed coaches like Barry Trotz and Pete DeBoer became available.
"It hasn't necessarily crossed my mind at this point and my reason for that is for my belief in Sheldon and the job that he has done here so far," Dubas said at the Leafs' season-ending availability last month. "I only think Sheldon is going to continue to get better and I think when we speak of Sheldon in 10, 15 years from now, it'll be in the same way you spoke of those two coaches and I think that'll be played out here in Toronto."
That's quite an ambitious timeline, but it also speaks to the vote of confidence Leafs ownership has in the current management, led by President Brendan Shanahan. That prediction by Dubas would put Keefe into the top-3 if not No. 1 by that time.
You can't knock the Leafs' GM for thinking big and backing his guy, but here's what Keefe has to go up against.
The longest tenured coach right now is Jon Cooper, who became head coach of the Lightning in 2013. Although it took his eighth season before he led his team to a Stanley Cup, it took just three seasons for him to reach the Stanley Cup Final (2015). Since that run, his teams have gone deep in every season, with the exception of getting swept by the Columbus Blue Jackets in 2019.
The bar is set incredibly high for Keefe. Just to get to the playoffs for another chance to avenge another opening-round defeat, the team has to try an replicate a 115-point season in which all eight Eastern Conference playoff teams had more than 100 points.
Head coaching is such a fickle position. Keefe certainly has a lot to prove in the upcoming season. He has the support of management right now, but things can change quickly.
There are seven coaching vacancies at the time of this writing. As markets demand success, the position is only expected to get less stable over the years. And like any of them, Keefe is certainly up against it.
POINTSBET IS LIVE IN ONTARIO!
PointsBet Canada has officially launched in Ontario! Get a $25 free bet just for signing up right here!