Maple Leafs visit familiar faces in Washington to take on Carbery, Sandin and the Capitals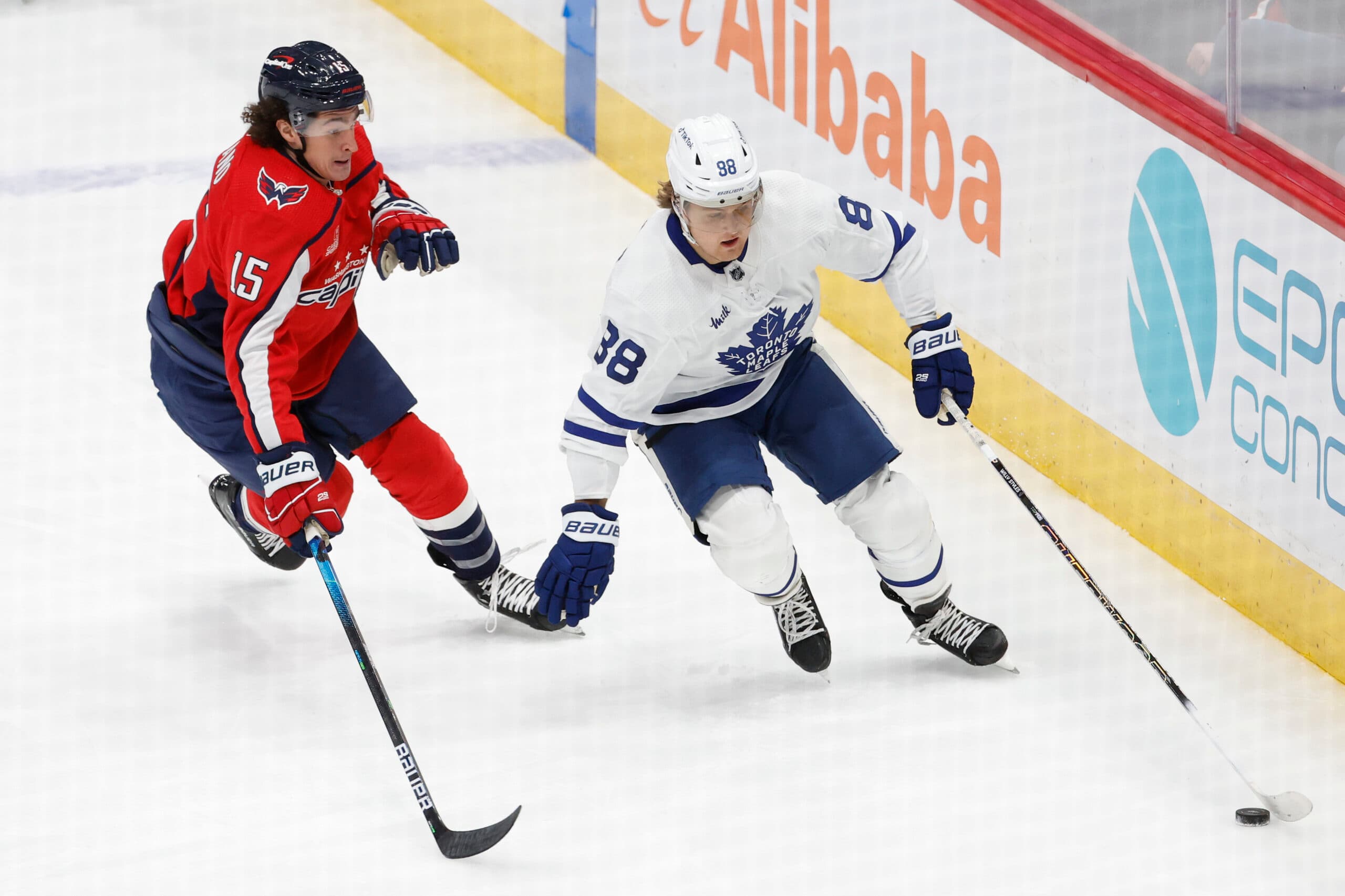 Photo credit:Geoff Burke-USA TODAY Sports
If you couldn't catch the Maple Leafs' last game against the Lightning, you missed an entertaining third-period comeback from the boys in blue that eventually ended with a John Tavares overtime winner. Stop me if you've heard that before.
After falling short to the Panthers to begin this five-game road trip, the Maple Leafs earned themselves a hard-fought comeback win after a sloppy start from Ilya Samsonov. Tonight, they look to continue that into Washington as they prepare to take on some familiar faces on the Capitals.
Maple Leafs' lineup:
Another game, another mix of lines for Sheldon Keefe.
After the first two games at home to start the season, Keefe has made one adjustment to the lineup before each game. The changes ranged from Klingberg and Liljegren switching spots, Jarnkrok and Domi switching lines, Knies elevated to the top six and more. However, for tonight's game against the Capitals, it looks like Keefe and the coaching staff have decided to go with a lineup we saw in the third period against Tampa Bay.
According to Mark Masters of TSN, these were the lines at yesterday's practice:
Jarnkrok moves from line three to line one, Bertuzzi moves down from line one to line two, Knies moves back down to line three after finding chemistry with Domi that sparked their comeback against the Lightning, and Holmberg remains the center on the fourth line after coming in for Minten ahead of last game. Although the lines on forward are juggled, the defence pairings will remain the same despite their underwhelming play away from the puck in their zone.
For goalies, Joseph Woll – after coming in relief for Samsonov in the first period last game, will be the starter in Washington, according to Keefe postgame Saturday night.
Opponents lineup:
It's been a different story to start the year for the Washington Capitals. For starters, they have a new coach this season in Spencer Carbery, who was an assistant for the Maple Leafs, and they haven't quite kicked off the season how they wanted to. With a record of 1-2-1 and sitting in last place in the Metropolitan division, the Capitals have looked like a mess to begin the 2023-24 season. Through four games, they have six goals and 15 goals against. That is not a recipe for success.
According to Tarik El-Bashir of Monumental Sports Network, these were the Capitals lines at their practice yesterday morning:
Just by looking at these lines, I think it's safe to say that the Capitals do not look like the Capitals from five years ago. There are quite a few new names that surround the veterans who were here when they won their cup in 2018, but Washington is slowly transitioning into a re-tool/rebuild, whatever you want to call it.
They still have guys like Alex Ovechkin, Nicklas Backstrom, Evgeny Kuznetsov and Tom Wilson, among others, but they also have some youth on their team with guys like Matthew Phillips, Connor McMichael, Aleksi Protas and former Leaf Rasmus Sandin. This isn't the same Capitals team that was once viewed as one of the very best in the league. They've had tough times over the past year and a bit, but they still have the players on their team that could win you a hockey game.
Despite their slow start to the season and the worry surrounding Ovechkin, whether he's slowing down, the Maple Leafs will need to treat this game like any other game and do their job. Just because a team has started the season slow doesn't mean it's an easy win.
Players to watch:
I feel that before every game, there are new players to watch out for, and tonight is no different.
With the forward lines shaken up and returning to what gave them success in the third period in that game against the Lightning over the weekend, every line should have everybody's attention. It's been a little rough for Toronto to start the year despite holding a 3-2-0 record. They've had their big boys look great to begin the season, but there are also a handful of players who haven't looked all that good to start the season, and two of them finally showed up last game in Matthew Knies and Max Domi.
With Jarnkrok moving up to play with Matthews and Marner, Bertuzzi moving down to play with Tavares and Nylander and Keefe sticking with the duo of Knies and Domi, all three lines in the top nine are now even more intriguing and have a little bit of everything that could work for the Maple Leafs. It's just a matter of them gelling together and finding that success because Toronto needs to get every line going, not just the top two.
You can catch the Maple Leafs and Capitals in action tonight on TSN4 at 6:00 pm ET/3:00 pm PT.