Marlies that could make an impact on the Maple Leafs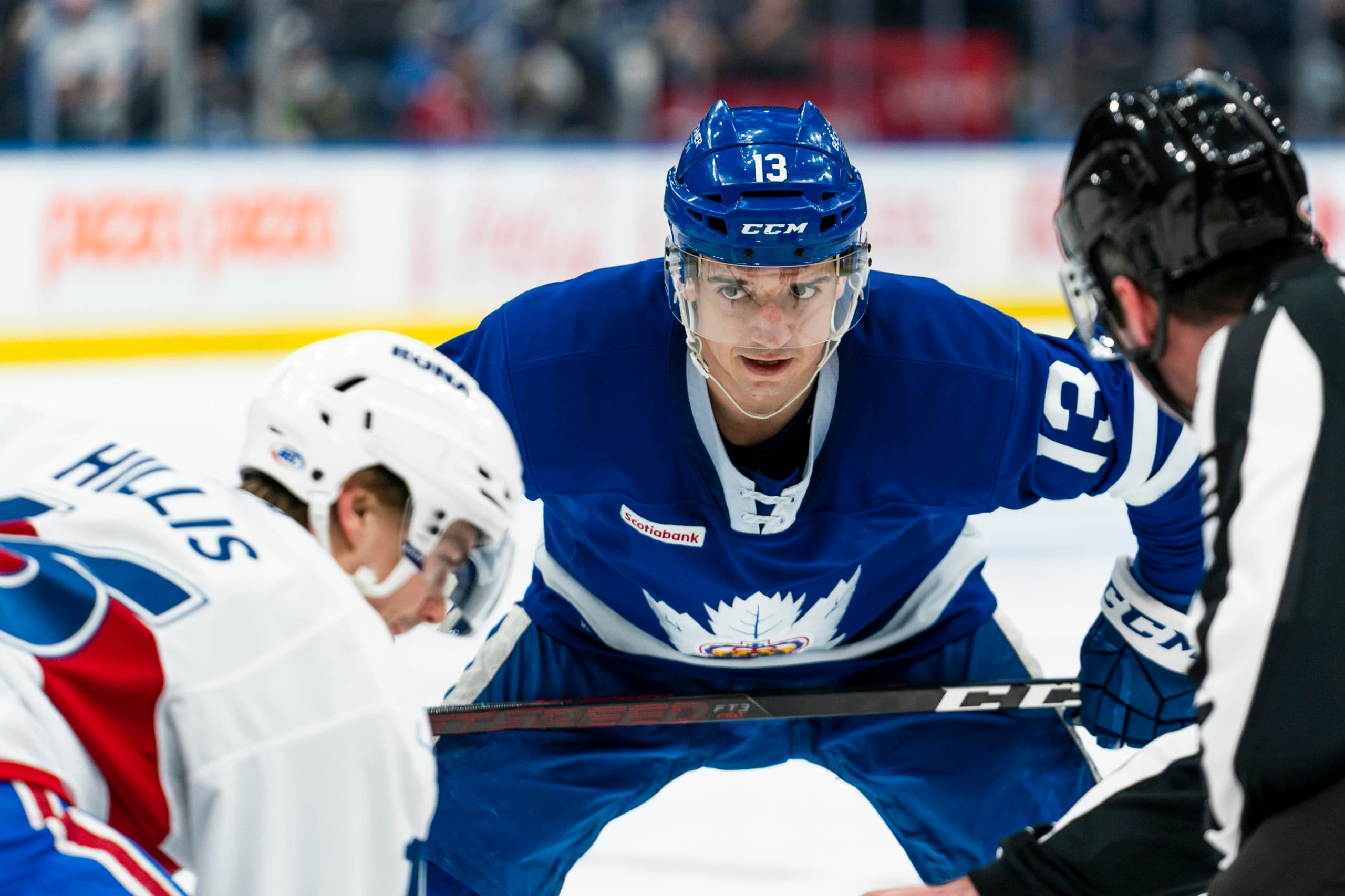 Photo credit:Thomas Skrlj
The Toronto Marlies have plenty of NHL calibre players, but if the Maple Leafs need a call-up, who should be used?
As the season goes on, injuries are expected to come, but for a good NHL club, it's finding the right players to bring up in each situation. At the moment, the Maple Leafs have Nick Robertson and Kyle Clifford on their roster, two players who have spent most of their seasons in the AHL.
The injury to Ondřej Kaše has allowed an opportunity for Robertson to showcase what he can do at the NHL level. His speed, tenaciousness on the puck, and run-and-gun play-style fits the mold of what Sheldon Keefe needed.
It's no surprise that the 20-year-old is succeeding in the position he's in.
When it comes to Marlies players who could make the jump to the NHL and fit right in, a few players come to mind. As it stands right now, I could name more than these three, however, the Maple Leafs likely won't have the cap space to sign a player under AHL contract to an NHL contract unless Jake Muzzin doesn't return until the playoffs.
Those players under AHL contract who I think could make an impact are Josh Ho-Sang, Antti Suomela, and Curtis Douglas. Each of these three players carry a specific skillset that, in their own way, could make themselves impact players in the NHL.
We all know what Ho-Sang brings to the table in terms of his skill carrying the puck and being a dangerous player at every moment he's on the ice. Suomela brings the same skill, but shares a similar game style to Kaše, who'll do anything to get the puck up the ice. Douglas brings his size, which he's learned to use at the NHL level, along with his soft hands and improved skating.
"He's been impressive," said Marlies head coach Greg Moore on Douglas after his four-point game on Sunday. "From day one, he's grown a lot in terms of how he's playing and how he's adapting to this level, this league. A true testament to a good athlete is how quickly they can add and apply things that's given to him and he's done that ten-fold this year and part of our success lately as a team is with the points that he's giving but is his competitiveness, his penalty killing, his face off responsibility."
In terms of players under NHL contracts, these are the three that would make an impact at the NHL level, if used in the proper situation.
Joey Anderson (37GP, 19G,12A)
Anderson has been one the Marlies' top goal scorer this year. Along with that, the 23-year-old brings a multitude of tools with him.
He's a strong two-way player who can succeed in any role given to him, really. Anderson might not be the fastest, but he makes up for it in his strong net front play, the ability to be an impactful player with and without the puck, and someone who brings a lot of leadership to the table.
"Last year, as an example, off the rush he'd come across the blue line, he'd be looking to make a pass or play and then would be a bit hesitant to step into where he needs to go support the puck next," said Moore of Anderson. "This year, it's direct, he is getting to the net. He makes a play, he is getting back on the inside, he's demanding the puck, and a lot of all the other intangibles of how hard he works and competes."
If Anderson was to step into the Maple Leafs lineup, I believe he'd have an immediate impact on the third line. His strong defensive play-style would help that line a lot and when they do have time in the offensive zone, the 23-year-old can help contribute there too.
Brett Seney (41GP, 14G, 26A)
Seney is another player, like Anderson, who brings a lot to the table. He leads the Marlies in points, at times even averaging a point-per-game this season.
The 26-year-old is unique because although he stands at five-foot-nine, he plays like he's over six-feet tall. Seney plays a very good transition game where if he gets the puck, he's bringing it up the ice and it usually results in a scoring chance. His speed is a massive threat, but his ability to be strong on the puck allows him to go into the tough areas of the ice and come out with the puck.
Seney also has the ability to play both centre and the wing, which makes him a dual-threat when it comes to being called up.
"It's maybe just another asset I can bring is, I can play on both wings and down the middle," said Brett Seney of his ability to play at any forward position. "Obviously, centre maybe you can control the pace a bit and maybe control how lines play in that game, so I like it in that sense. You get the puck a little more, focus on draws, that kind of thing."
If Seney was to be called up to the Maple Leafs, I think similar to Anderson he'd be a fit on the third line, but I also believe he'd fit on the fourth line too. With the ability to play anywhere, I think Seney is a very valuable depth piece for Toronto.
Alex Steeves (35GP, 17G, 16A)
When it comes to getting Steeves some minutes in the NHL, I'd like to see him a little higher in the lineup.
With the Marlies, the 22-year-old is playing top-six minutes, power play, and at times, on the penalty kill. He brings a unique skillset where his speed and his shot make him such a dangerous player whenever he's on the ice.
Steeves has the ability use his speed deceptively when it comes to the transition. He can turn it up when he wants to and get by the opposing team for a scoring chance. The 22-year-old is also working on his slapshot on the power play and if he adds that to his arsenal, I think he could be a solid goal scorer in the NHL.
He's also very strong on the puck and isn't afraid to go into the dirty areas and usually come out with the puck. As much as we discuss his goalscoring abilities, we cannot forget that he's a playmaker too. Steeves can see the ice very well and when he's not putting the puck into the net, he's usually assisting on the goal that's come from his strong offensive instincts.
"Hungry, competitive, demands a lot of himself, and confident." Moore said when describing Steeves' mindset on a day-to-day basis. "I think a lot of those things just show up in the game. He's not afraid to shoot the puck, shoot-first mentality. He's hungry to get to hard spots in front of the net and as cliché as some of the sayings are, you're only going to rise to the level of your training, especially when things get hard. And he trains hard, he does the things the right way on and off the ice, and when you put those together with the confidence he has to go out there and play and do the things he's good at, that translates pretty well."
Steeves has already been to the NHL once this season because of his strong play. But when he gets there again, he should be used in a role higher in the lineup.
The 22-year-old plays well with more opportunity and I think if the Maple Leafs want to see success from him, his role needs needs to be larger in terms of both minutes and who he plays with.
---
When it comes to articles like these, there'd usually be a look into the defence too. But with Toronto's depth in that position, there's really no point in discussing who can go up because it might not happen.
If there's an injury, it's usually Justin Holl or whoever is scratched that goes into the lineup. After that, I'd say it's Carl Dahlström and Alex Biega who'd get the first call. The Marlies have a lot of talented defencemen and it's unfortunate that we don't get to see the likes of Kristiāns Rubīns, Joseph Duszak, and a few others throughout the season.
There was the opportunity for Rubīns, but with the number of players the Maple Leafs have, it wasn't a long look.
That goes for the Marlies' goaltending, too. Both Erik Källgren and Joseph Woll have had strong seasons, but we've only seen Woll at the NHL level. If there's another injury to either one of Jack Campbell or Petr Mrazek, I believe we'll see Kallgren get an opportunity. The two have NHL potential, but more of a look is needed from the two, which is difficult when Toronto is in a playoff race.
What's promising, though, is each of the players named in this article are getting strong opportunities at the AHL level. In turn, when the Maple Leafs need to call up someone from the Marlies, any player they can bring up will be ready.
It'll be interesting to see if there's any players who get called up in the near future and what position they are put in to succeed.