Matthews and Marner provide offence as Maple Leafs flip the script on Lightning in dominant performance to take Game 1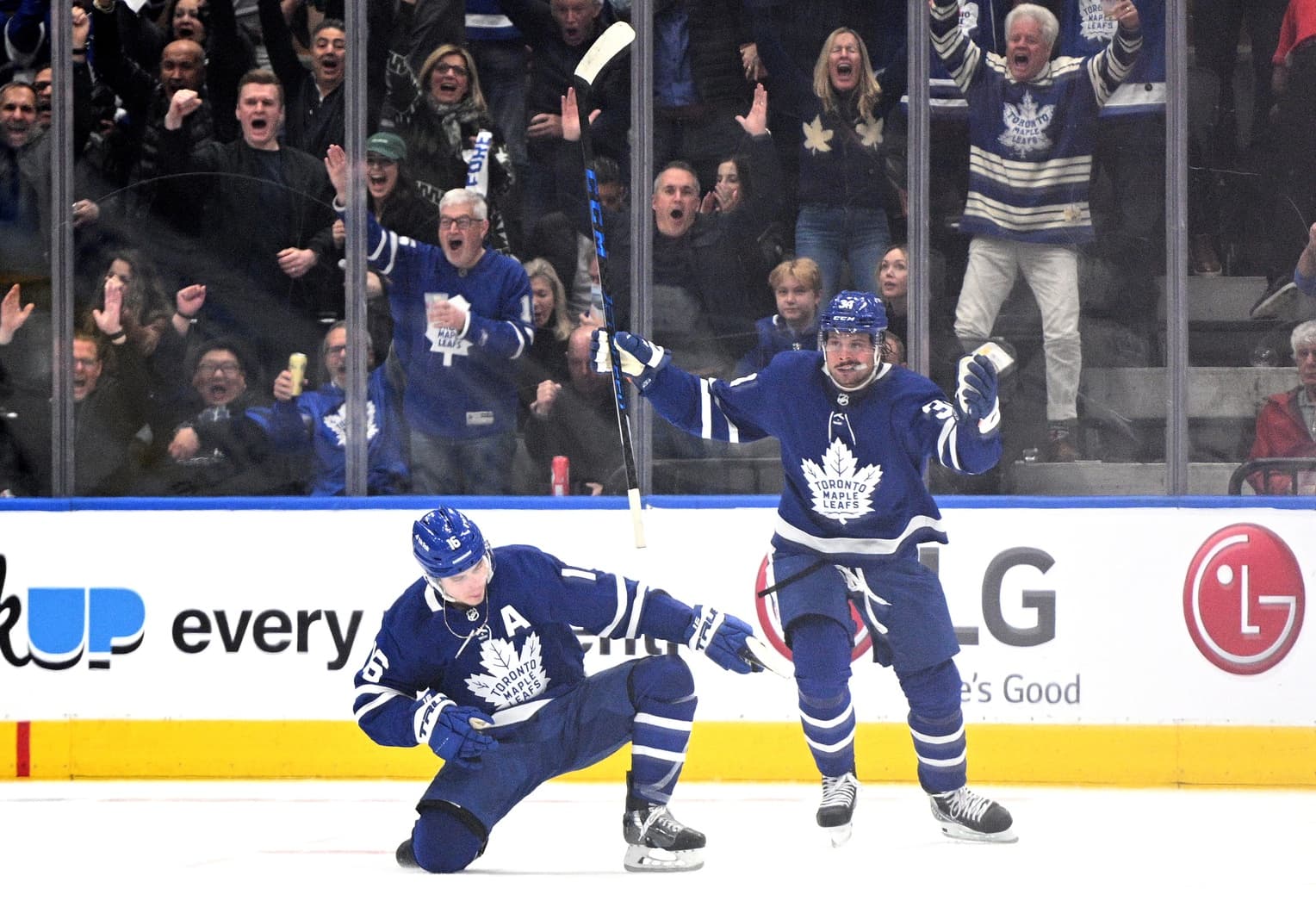 Photo credit:Dan Hamilton-USA TODAY Sports
For all the fear of how bad things could get for the Toronto Maple Leafs and how good the two-time defending Stanley Cup champion Tampa Bay Lightning are supposed to be, Game 1 felt like two teams that swapped roles on Monday.
Auston Matthews scored twice, Mitch Marner also potted his first playoff goal in 19 games as the Maple Leafs dominated the Lightning 5-0 to win the opening game of their first-round playoffs series
Much like the Maple Leafs' difficult start to the regular season, the group had to deal with some adversity early on. After TJ Brodie took a hooking penalty just 2:13 into the game, the Leafs made short work of Tampa's early power play opportunity. Just a few minutes later, Kyle Clifford was ejected from the game for boarding Tampa's Ross Colton from behind.
It could have got real ugly from there. But it was the Lightning who looked out of sorts.
"I just loved that we didn't get down," Matthews said. "I heard somebody on the bench say 'let's use this as momentum' and that's exactly what the guys did out there,"
Tampa managed to set up their power play just one time during the five-minute opportunity as Toronto kept interrupting their opponents' zone entries and the game appeared to turn from there.
"Our team seemed to be unflappable tonight," Maple Leafs head coach Sheldon Keefe said. "An early kill? No problem. The five-minute major? No problem."
Tampa's lack of execution was extraordinarily bad during those five minutes. Mark Giordano, acquired on Mar. 20 from the Seattle Kraken logged 3:25 in shorthanded ice time in the first period, yet he had an expected goal rate of 85 per cent, including a quality scoring chance when his shot was saved by the right pad of Lightning goaltender Andrei Vasilevskiy.
The game broke open by perhaps the unlikeliest of sources. Jake Muzzin's shot from the point went through a sea of bodies before beating Vasilevskiy at 18:59.
Ondrej Kase, who played in his first game in over six weeks after sitting out with a concussion, picked up the primary assist on Muzzin's goal.
In the second period, the Leafs did more damage to Tampa.
After consecutive cross-checking penalties to Tampa's Mikhail Sergachev and Jan Ruuta, Toronto had a 5-on-3 for 1:04. The Leafs called a timeout before they deployed five forwards  for the ensuing faceoff. Eleven second later, Matthews' scored the first of his two goals on the evening. He finished off a one-time delivered by John Tavares at 6:19.
Toronto's dominance on special teams continued when David Kampf scored a shorthanded breakaway goal before.
Both of those goals were set up by Mitch Marner, who then scored his own goal to break an 18-game playoff goal drought that gave Toronto a 4-0 lead.
"I thought he was incredible, I mean he was all over the puck," Matthews said of Marner. "So much poise, just doing his thing out there."
Matthews scored his second goal in the third period, after Vasilevskiy mishandled the puck behind the net.
The Scotiabank Arena crowd was alive all night and taunted Vasilevskiy shortly after his gaffe. They twice gave him the Bronx cheer on routine saves following the error.
But before that, Keefe, who coached his first NHL playoff game in front of fans, credited their support early in the game for how his team battled through that five-minute kill early in the game.
"Our crowd was unbelievable tonight, I thought they carried us through that kill," Keefe said. "I thought the crowd was the first star of the game. We had a lot of guys that were good yet I thought they carried us through that kill."
After both Marner and Matthews were heavily criticized for their lack of scoring during the 2021 playoffs, both of them combined for three goals on Monday.
"Those guys have scored at such a high level all season, it's a new season here now, you want to get rid of those zeroes as quickly as you can," Keefe said. "It's just another thing that came our way."
It was the best start the Leafs could have asked for with the exception of Clifford getting tossed and perhaps missing more time if he is suspended for the hit.
Outside of that, the entire lineup performed well and was ready for the task.
Jake Muzzin had arguably his best game of the season. In addition to his goal, he led the team with six hits. It was reminiscent of the defenceman who had been so effective for the Leafs during the last two playoff runs before different injuries ended his season.
Although not tested often, Jack Campbell picked up where his regular season left off. He made 24 saves to pick up his second career playoffs shutout.
The Leafs made an emphatic opening statement against the defending champs. But now the focus shifts to if they can continue that play going into Game 2.
"It is one night, slap your head on the pillow tonight, enjoy it, and when you wake up tomorrow, it is done. It is over. The Tampa Bay Lightning will be a far better team when they come back in here. We are going to have to be better ourselves."
POINTSBET IS LIVE IN ONTARIO
PointsBet Canada has officially launched in Ontario! Get a $25 free bet just for 
signing up right here!