Predicting which upcoming games Erik Kallgren will start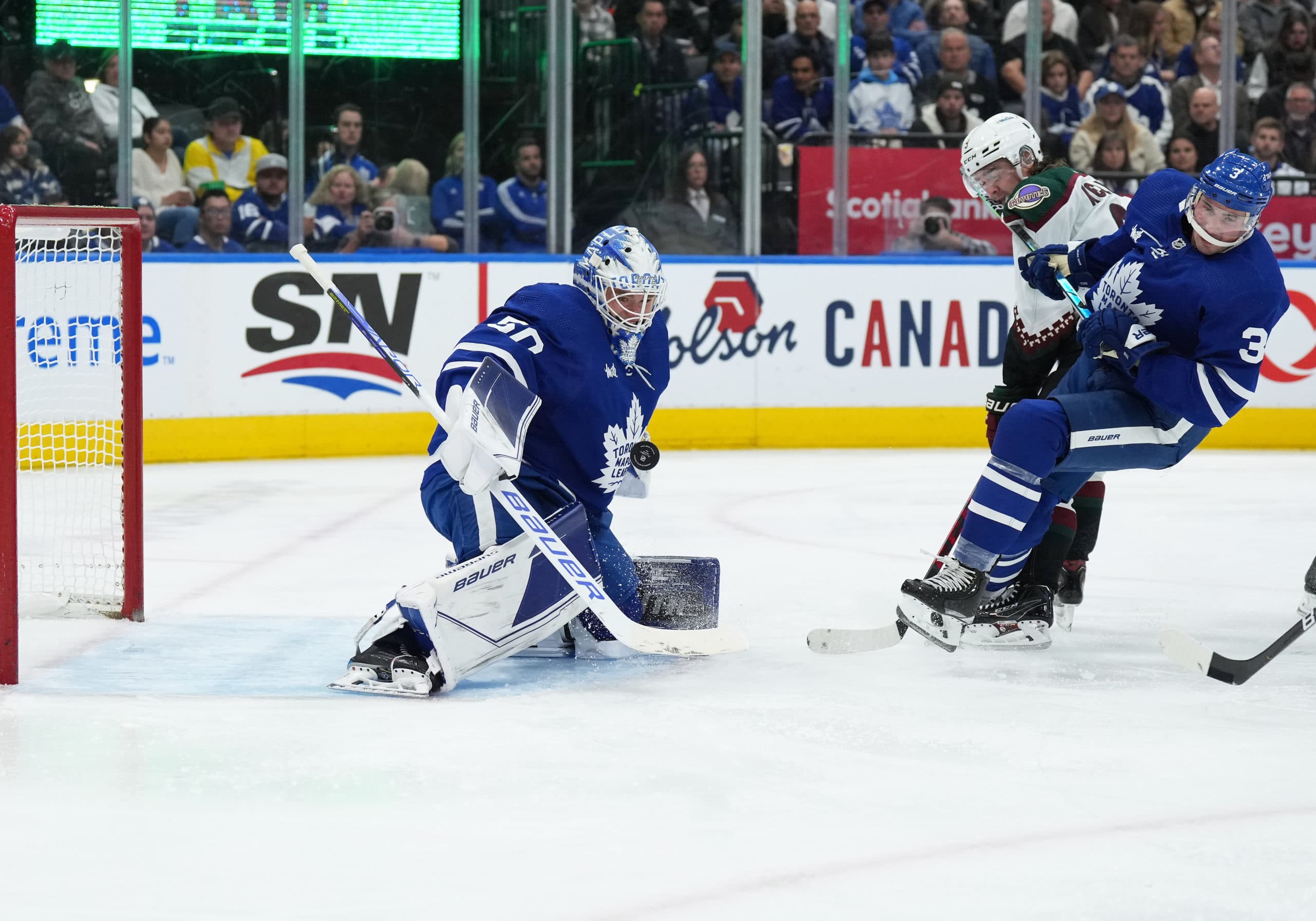 Photo credit:Nick Turchiaro-USA TODAY Sports
With Matt Murray on LTIR due to an adductor injury, it's now Ilya Samsonov's chance to prove he can be the Maple Leafs starter moving forward. It's precisely why he decided to sign a cheap, one-year contract in Toronto. However, asking Samsonov to play until Murray returns would be a lot, which is where Erik Kallgren factors into the equation.
After earning some trust from management last season after he provided the team with a couple of massive victories when they needed it most, Kallgren was the obvious choice to be called up to be Samsonov's backup. Sheldon Keefe wasted no time getting him into game action, giving him the start Monday night against the Arizona Coyotes. His numbers from the loss aren't pretty to the eyes, allowing three goals on 18 shots. However, the team overall wasn't very impressive for the most of the game, looking tired and frankly disinterested at times, so his performance in the net was hardly an area of significant concern. He will undoubtedly get some more starts in the Leafs crease, but the question now is, when?
Because he was placed on LTIR, the earliest that Murray can return to game action is on November 8 against the Vegas Golden Knights. From now until then, the Maple Leafs will play nine more games:
October 20 vs Dallas
October 22 at Winnipeg
October 24 at Vegas
October 27 at San Jose
October 29 at Los Angeles
October 30 at Anaheim
November 2 vs Philadelphia
November 5 vs Boston
November 6 at Carolina
This stretch of games presents several challenges for the Maple Leafs. A five-game western road trip in the season's first month was tough enough before Murray went down with an injury. Now, add two back-to-backs, the second of which is against Boston and Carolina, and this could be a nightmare stretch. So, what games might Kallgren be called upon to help manage Samsonov's workload?
October 27 at San Jose 
No team has struggled out of the gate to start this season more than the San Jose Sharks. After losing the first two games of the season to the Nashville Predators in Europe, they have lost three more in a row to go winless in their first five games. They currently own a -11 goal differential, and nobody on the team has registered more than three points.
San Jose is a team that could quickly find themselves in the Connor Bedard sweepstakes if they aren't able to turn things around quickly. What won't help their case for Bedard, though, is if coaches start targeting them as an opponent that can be beaten using their backup goaltender. Keefe did that on Monday against an Arizona Coyotes team that doesn't have "elite talent," even if the result didn't work out in the Maple Leafs favour. He will likely make that calculated bet with the Sharks and give Kallgren the start.
Beyond just the opponent, it's favourable timing, right in the middle of the five-game road trip after Samsonov likely plays Thursday at home against Dallas and the first two games out west. The travel for all players is a challenge, and there's almost no chance Keefe even considers Kallgren sitting on the bench for all five games out west.
October 30 at Anaheim
Who says Kallgren can't get two out of the five games on the road trip? With the final two being a back-to-back versus the Los Angeles Kings and Anaheim Ducks, Kallgren seems primed to start one of those matchups. If this were Mike Babcock behind the bench, it would be a foregone conclusion that Kallgren would be getting the second game of a back-to-back. Sometimes that reasoning seemed flawed, but in this case, that's the approach Keefe should certainly take.
The Kings are no longer the defensive-minded juggernauts they once were. Despite the small sample size, they are averaging 3.8 goals per game and have done a terrific job generating scoring chances from the centre of the ice in both the high slot and from the point.
Meanwhile, the Ducks are a team with a lot more questions than answers at the moment. Trevor Zegras can always put any goalie on the wrong side of a highlight that gets played on repeat for weeks. Still, the team doesn't play with the puck enough to be considered an offensive team. Five-on-five this season has them own a CF% of 38.78; meanwhile, the Maple Leafs have a CF% of 56.97 and should be able to dictate the game's flow with strong puck possession. If Keefe continues to insert Kallgren into the most advantageous situations possible, expect to see him get the nod in Anaheim.
November 2 vs Philadelphia
Could Erik Kallgren actually play two straight games for the Maple Leafs? Why not, especially considering the opponents that come right after the Flyers. This game would be three nights after the Ducks and three nights before their next opponent, the Boston Bruins, on Hockey Night in Canada.
That's the first of another back-to-back, the second being against the Carolina Hurricanes less than 24 hours later. The Bruins are off to a heater offensively this season, averaging over five goals a game, and the Hurricanes continue to keep opposing goaltenders busy, averaging 37.3 shots pre-game.
If Kallgren gets both the Anaheim and Philadelphia games, it will give Samsonov six full days off from game action between the Kings and Bruins. It allows him to be fresh enough to play the back-to-back and not be too heavily fatigued against two of the league's best teams. Those will both be important, statement games against teams the Leafs could see come the playoffs, and Keefe will want his best available goaltender for both contests.
If there is one thing we have learned from Keefe's decision to start Kallgren against the Coyotes is that he still wants to find him the most favourable opponents to face. It's understandable, as he's only recorded a save percentage over .900 in six of his 15 career regular season games. He's still a goaltender with minimal NHL experience, and building his confidence early in the season could be beneficial if they require his services down the stretch.
(Statistics from hockey-reference.com, naturalstattrick.com, & hockeyviz.com)
Recent articles from Justin Walters