Quentin Musty is a power forward the Leafs may select at 28th overall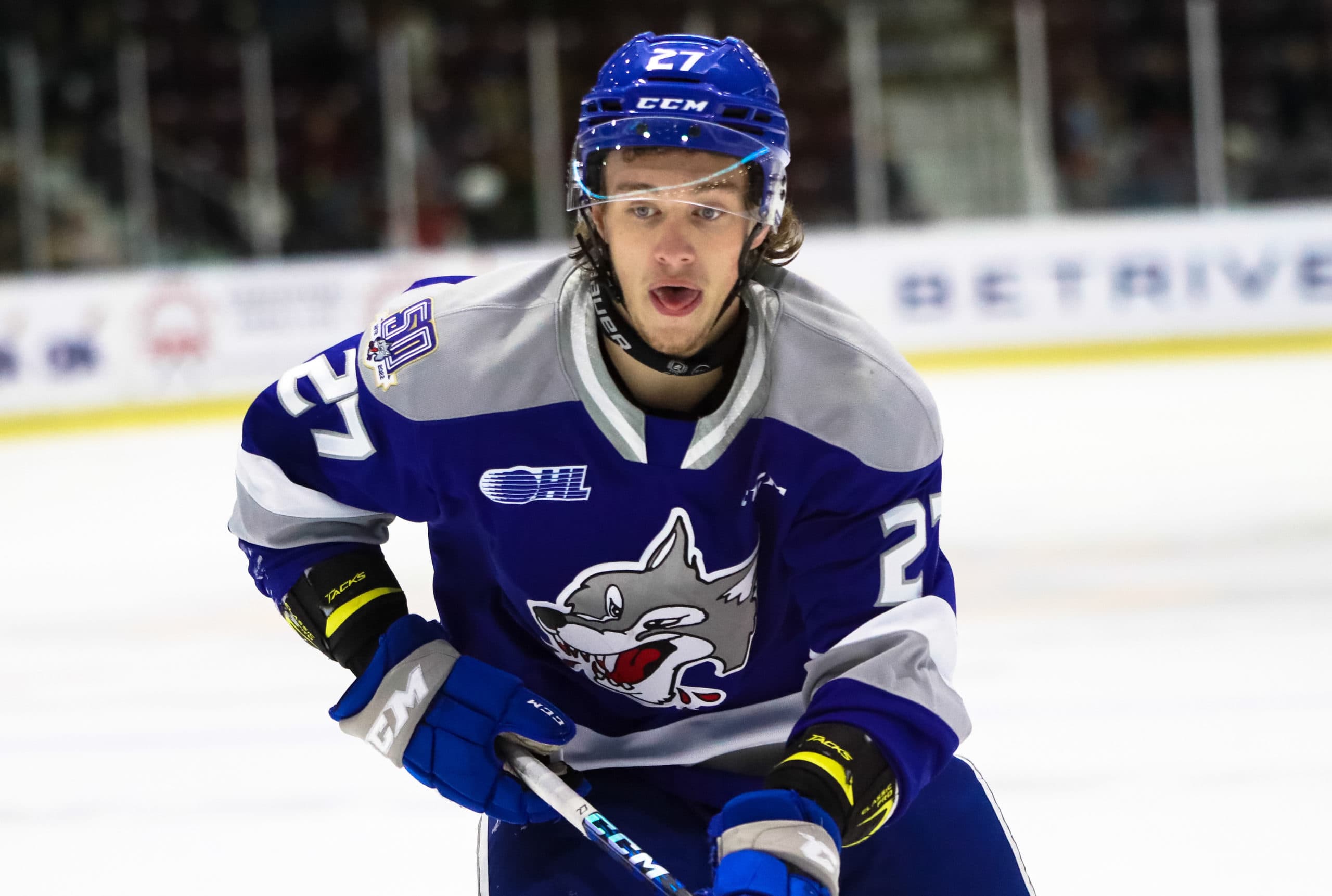 When a former first-overall pick of the OHL draft is not projected to be taken early in his NHL draft-eligible season, there are probably some concerning trends emerging that would suggest said player is losing momentum. But with so many quality players available at this year's draft, it shouldn't exactly be surprising that so much competition is impacting the rankings for such a prospect.
Having said that, there is quite a lot to like about the 2021 first-overall selection and he is someone who could slip right into the Leafs' grasp if they are lucky. This player is the subject of another entry in my series looking at some prospects that Toronto may go after when they are up at 28th overall.
Scouting Profile
Quentin Musty is an American winger currently playing for the Sudbury Wolves of the Ontario Hockey League. The 17-year-old is blessed with great size and weight as he clocks in at 6'2″ and 190 pounds, making him the ideal height for a power forward. He emerged as one of the best players on a mediocre Wolves team that got swept in the first round by the Peterborough Petes.
With 78 points in only 53 games, he finished only one point behind Colby Barlow for the OHL scoring lead among draft-eligible players. This is impressive given that he suffered an upper-body injury partway through the season, so who knows how much better he would have fared had he stayed healthy. He does a little bit of everything and has made a lot of growth in all aspects of the game, but it is his offensive play that is easily his best attribute. More specifically, his playmaking abilities are top-notch as he has great on-ice vision and constantly scans the ice in search of getting the puck to a high-danger area. Musty also isn't afraid to use his size to his advantage in the offensive end with him boxing out opponents, battling in front of the crease, wreaking havoc along the boards, and creating space while protecting the puck. He plays like a modern-day power forward and his playstyle is a good indicator of which way the sport is heading.
Musty isn't without his shortcomings, and that is a big reason why scouts are conflicted about where he will go on draft night. His defensive comments are inconsistent at best and his skating is average, which is concerning for a player of his size. While his playmaking abilities are fantastic, he is also a bit too pass-happy as there were instances where he would send a bad pass that would prematurely end offensive zone time. He also has a great shot that can fool goalies from range and in close but doesn't utilize it enough to make him a legitimate duel-scoring threat.
It goes without saying that he is still really young given that he has yet to turn 18, so there is still ample amount of time for Musty to develop and fine-tune the shortcomings in his game. As it stands, his high-end vision, size, and puck-handling abilities make him one of the most intriguing prospects available with all the tools needed to be an impactful top-six forward at the NHL level.
What the scouts are saying
Summary
Musty may not be as highly sought after as he was a few years ago, but there is definitely a lot to like about what he brings to the table. He has great size, high hockey sense, great passing, a deadly shot when he uses it, and some of the best hands in this draft class. Despite the inconsistent defensive commitment and subpar skating, he has the apparatus required to become an impactful forward should he reach his potential.
The Leafs will certainly be hoping that Musty remains available when they are set to pick because his potential is sky-high. With the direction that the game is heading, having a player of his skillset is going to be pivotal to remaining ahead of the curve. He will definitely need some time to correct the setbacks in his game and likely won't make the jump until maybe 2024 at the earliest, but he is a player worth being patient on.
There aren't many players like Musty available at this forthcoming draft, and the Leafs would be foolish to pass up on him should he stay unpicked when it's their turn to select.