Rookie goaltender Erik Kallgren will start for Maple Leafs against Hurricanes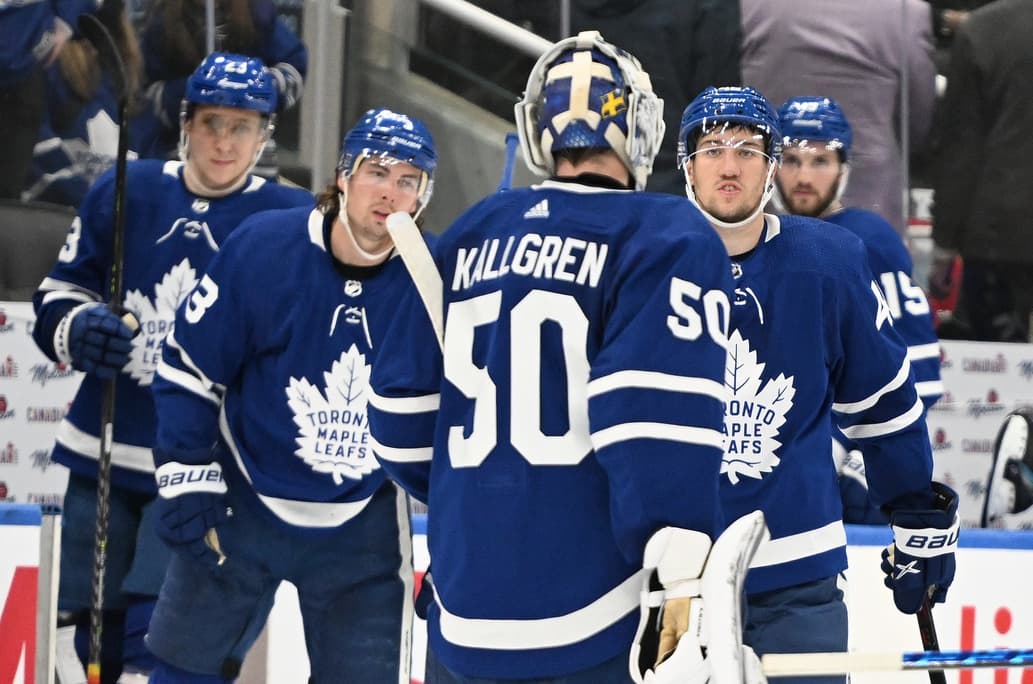 Photo credit:Dan Hamilton-USA TODAY Sports
Fresh off of his first NHL victory, goaltender Erik Kallgren will be between the pipes when the Toronto Maple Leafs host the Carolina Hurricanes on Thursday.
"He obviously earned it last night," Maple Leafs coach Sheldon Keefe said. "The way the guys played in front of him, it was an easy decision."
Kallgren made 35 saves to pick up his first career NHL shutout in his first start in a 4-0 win against the Dallas Stars on Tuesday. It was his second appearance in the league after making his debut in relief of struggling goaltender Petr Mrazek last week against the Arizona Coyotes.
Over the course of his two NHL appearances, Kallgren is 1-0-1 and has made 45 saves on 46 shots (.978 save percentage).
Kallgren said he went to bed around 12:30 a.m. ET last night, which is later than usual for him after a game night as he tried to come down from the emotions of Tuesday's big win.
He exchanged text messages with his family but has not actually seen or heard their voices yet.
"There's been a lot of things happening for me for the last week so I'm looking forward to having a FaceTime with them later today," Kallgren said.
Kallgren also heard from a lot of former teammates and other friends.
Last Thursday, the Maple Leafs announced that Jack Campbell would be out of the lineup for a minimum of two weeks with a rib injury. The club called up Kallgren for the first time this season to serve as a backup to Mrazek.
But with no back-to-back games on the schedule during Campbell's estimated absence, Mrazek had an excellent opportunity for Mrazek to go on a bit of a run in goal.
Instead, Mrazek struggled against the Coyotes, allowing four goals on 12 shots. He was given an opportunity to bounce back in the Heritage Classic against the Buffalo Sabres, but allowed the game-winning goal on a low-percentage scoring chance.
Mrazek is 10-6-0 this season with an .884 save percentage.
"It's a business and we go day-by-day and game-by-game," Mrazek said when he learned of Keefe's decision to start Kallgren on Tuesday. "He deserved the win and the first start and I'm happy for him."
Mrazek says he doesn't change his approach during down stretches like the one he's going through now. He's also had some bad luck this season when he only played 100 minutes of hockey in the first two months with a lingering groin injury."
"He's a confident guy and he's also been through this stuff in his career," Keefe said of Mrazek. "He's had some downswing and he's found his way back and he's also been a guy who has shared the net a lot.
"Erik's certainly earned another start and then use this time to your benefit. Clear your head, do your work and be ready for when your next opportunity comes."