Stars shine and Murray holds steady: Leafs Rundown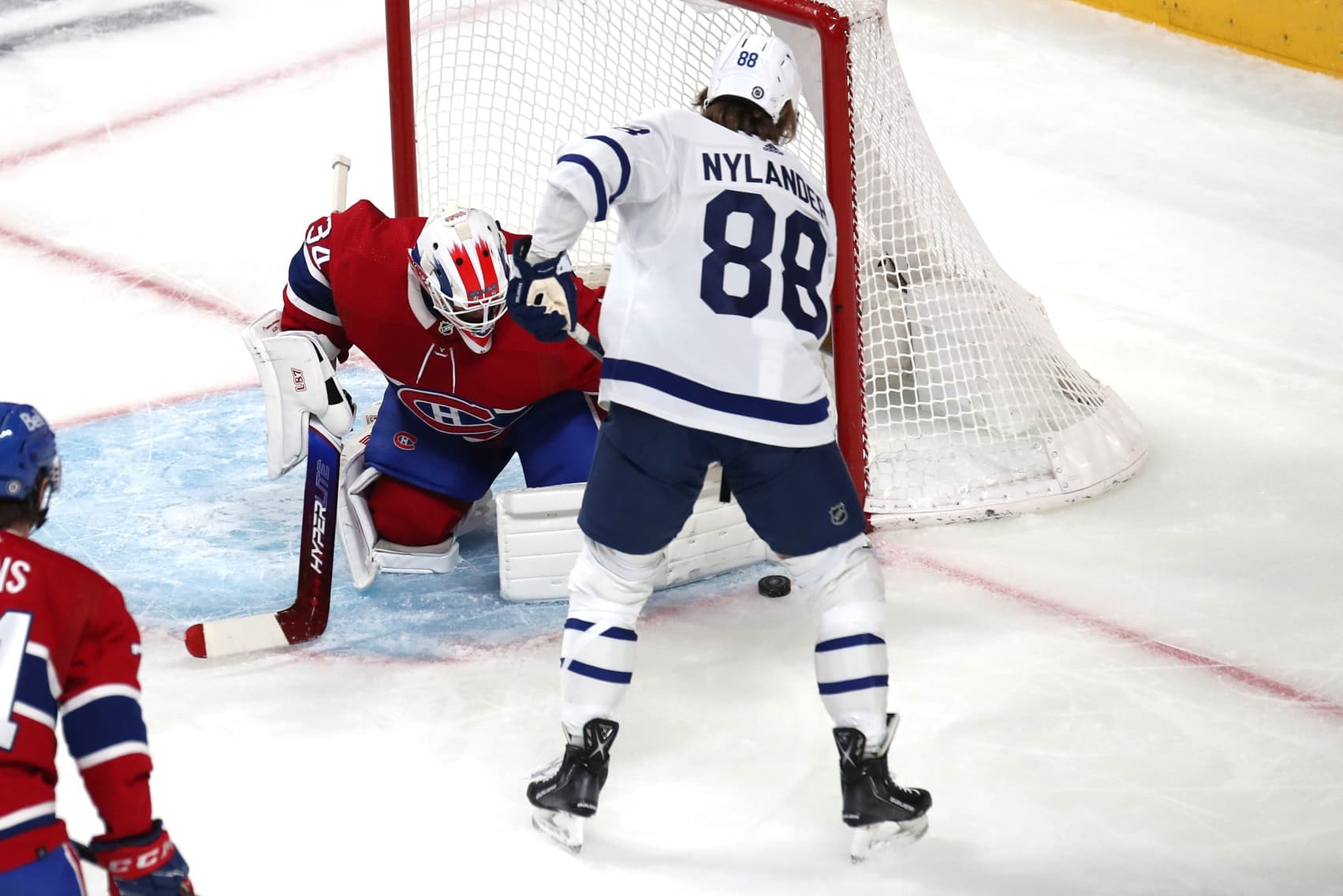 Photo credit:Jean-Yves Ahern-USA TODAY Sports
In a night where most of the opening night lineup was dressed, the Leafs easily powered through the Montreal Canadiens 5-1. Nick Robertson continued to impress and took over the team lead in preseason points with a three assist night, all but securing his place as the second-line left wing to open the season.
What Went Right?
Almost everything. Robertson as previously mentioned, tallied up points with the innate chemistry he seems to have with his linemates, William Nylander's star shone bright with a pair of beautiful goals, and perhaps most importantly, Matt Murray continued to show that he's more than up to the task of playing between the pipes for the Toronto Maple Leafs.
Yes, he allowed his first goal in a Leafs uniform tonight late in the game on a power play that probably shouldn't have even occurred, (it was a weak call, we'll get to that in a bit,) but he made the big saves when he was called upon all night. Murray was already an easy guy to root for knowing his struggles of the past few years and the Passion he clearly holds for this team, but seeing him perform well in these preseason games is at least some form of validation that things are gonna be alright between the pipes.
What went wrong?
I sincerely hope none of us here at TheLeafsNation have to write this sentence many (more) times before the situation resolves itself, but Justin Holl, once again, has zero awareness of what's happening at any given time in front of his own net.
On the Habs' lone goal of the night, Holl has absolutely zero clue that there's a player hanging out back door until he trips over said player's leg. Why did this happen? Because once again, Holl was puck-watching and/or daydreaming about the postgame meal. He's clearly the odd-man out once Liljegren is 100% healthy and it makes no sense to have a $2 million player as a healthy scratch, so Holl's day in the Blue and White may (finally) be numbered.
The only other thing that kind of went wrong for the Leafs was the endless parade to the penalty box late in the game. It's preseason for everybody sure, but some of those calls, particularly the Bunting hook and Marner "dive" were pretty blatantly even-up calls to give Montreal some extra opportunities with the man advantage.
Who stood out?
I spent enough time in the previous section laying into Holl, so there's no need to repeat that here. Other key players tonight were the entire second line. Kerfoot had a fairly quiet game until the two late goals, but Robertson and Nylander were the best players on the ice.
Robertson played the least of all Leafs in total ice time (11:34 per Natural Stat Trick's metrics) and walked away with three more points to bring him to a total of seven in four preseason games and making his claim for the 2LW spot even stronger.
Nylander had a similarly strong showing, dominating play from the second the puck dropped. Jake Allen will be seeing him in his nightmares tonight, particularly as he relives this play over and over:
By the numbers
Highlight of the night
The Leafs' first power play of the game was about as perfectly executed as you can get. All 5 members of the top unit kept in motion, opening themselves up for clean passes and rushing to collect the puck when shots didn't hit their mark. The final sequence in particular was a great pass from Marner to Bunting, who read the play that was developing perfectly and abandoned the net-front to take the pass and bump it to a wide open William Nylander.
Final notes
The Leafs won't be in action again until Friday, the first half of a home-and-home weekend series with the Detroit Red Wings to close out preseason.