The TLN Three Stars: They all deserve stars, what's not to love about this team?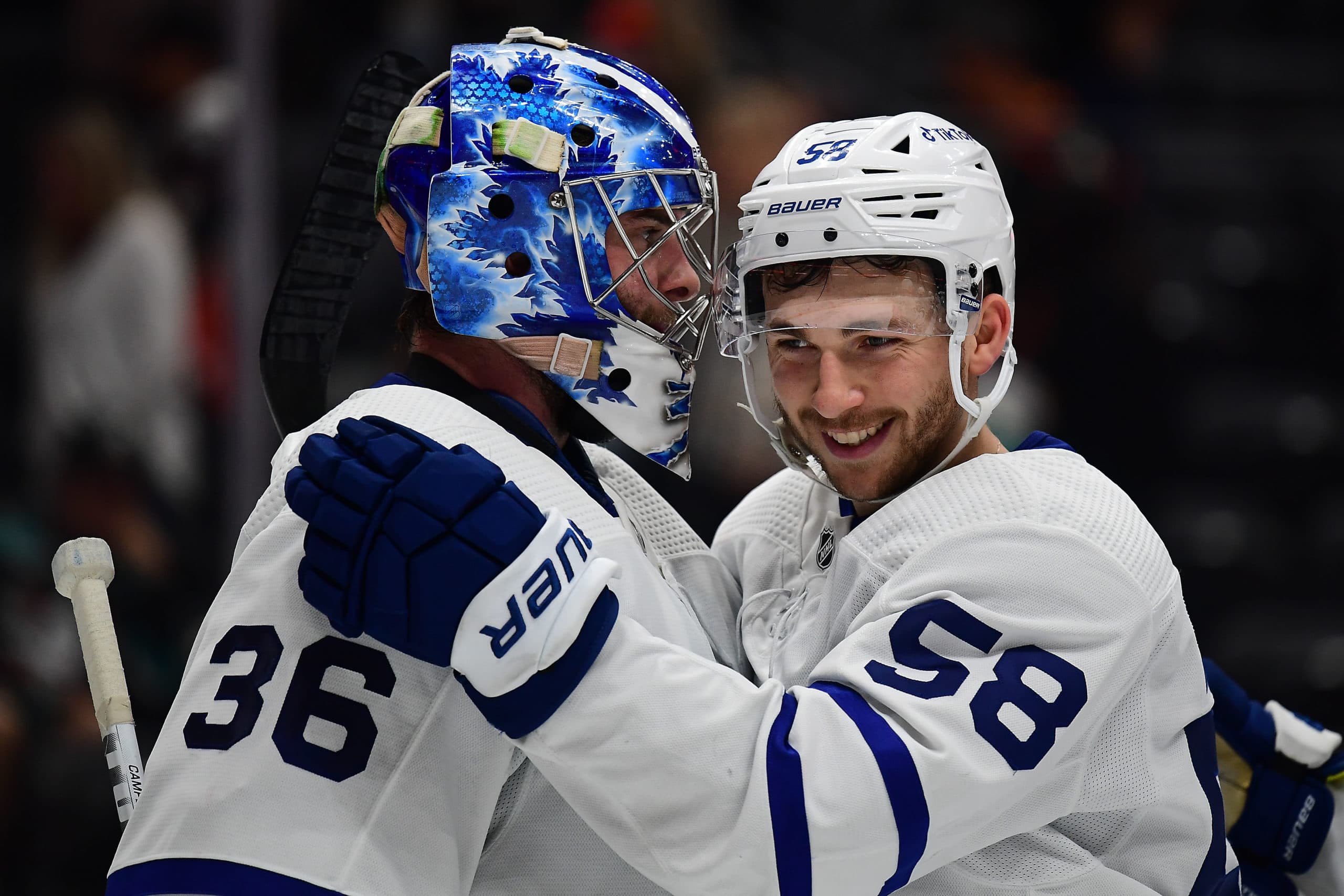 Photo credit:© Gary A. Vasquez-USA TODAY Sports
After an exciting 4-1 win against the San Jose Sharks on Friday night and a very rare Saturday night off, the Toronto Maple Leafs made their way to the Honda Center as they looked to take to take on the Anaheim Ducks to close off their road trip. As the puck dropped for the first, both teams had a lot of good chances and the energy was high on both ends of the ice. Auston Matthews opened up scoring in the second period, followed by another from Michael Bunting just a few minutes later. As the puck dropped for the third, Alexander Kerfoot wasted absolutely no time and added another to the tally, making it 3-0 just 17 seconds into the period. The Ducks eventually got one on the board as Hampus Lindholm got the puck past Jack Campbell later on in the third period. William Nylander was able to add an empty-netter, and they weren't done there as Wayne Simmonds scored another less than 20 seconds later making it 5-1, and the Leafs ended the night and their road trip with a big win.
3rd Star: Michael Bunting
With a beautiful goal (and an assist!) in the second period, Bunting earned tonight's third star. He's looked comfortable, has been effective, and has been playing his heart out on the first line. Bunting is already up to 6 goals and 12 points in 22 games played this season. He is without a doubt showing us why he deserves to be on that first line and I can't wait to see what else he does this season.
2nd Star: Auston Matthews
Auston Matthews has been on fire recently with 3 goals in the last 3 games. He's focused, playing his best every single night, and just trying to produce and score goals. And shocker,
he doesn't care what analysts or anyone else has to say about his play
(if you know, you know). Matthews is playing to win and that is quite clear every time he's on the ice. With 3 SOG and the first goal of the night, Matthews deservedly earned our 2nd Star.
1st Star: Jack Campbell
I was really looking forward to writing about a shutout for Campbell tonight, but it just wasn't in the stars. As always, Campbell showed up for this team, from the second the puck dropped to the very end. Campbell faced a total of 39 shots and ended the night with a .974 SV%. Campbell faced a flurry of shots late in the third period and was able to remain calm, cool, and collected, and not let anything in net. Dare I say that Campbell is the heart of the Toronto Maple Leafs? Maybe.
40th Star: The Old Leafs' Franchise Records
When watching this game I couldn't really pick a moment or a player to make 40th Star. They battled tonight and didn't give up. From the goals in the second to the empty netter where Nylander and Kerfoot were passing the puck back and forth because they wanted the other to get the goal, this team is doing their thing, and doing it well.
After tonight's win, the Leafs matched the franchise record for the longest road winning streak to 7-0-0. Here's hoping that they can add a few more games to their streak and make it one to remember for years to come, especially since this specific
franchise record is 36th all time according to the NHL records
. Come on boys, we know you can do better.
Tweet of the Night
I feel like I always say this, but we are so lucky that Auston Matthews is a Toronto Maple Leaf.
What's Next?
The Toronto Maple Leafs make their way back home to Scotiabank Arena as they look to take on the Colorado Avalanche for their first game in December on Wednesday night at 7:30PM EST. Will the Leafs extend their winning streak? We'll see! Tune in and catch all the action on Sportsnet.