This ain't a scene, it's an arms race: sizing up the Atlantic Division competition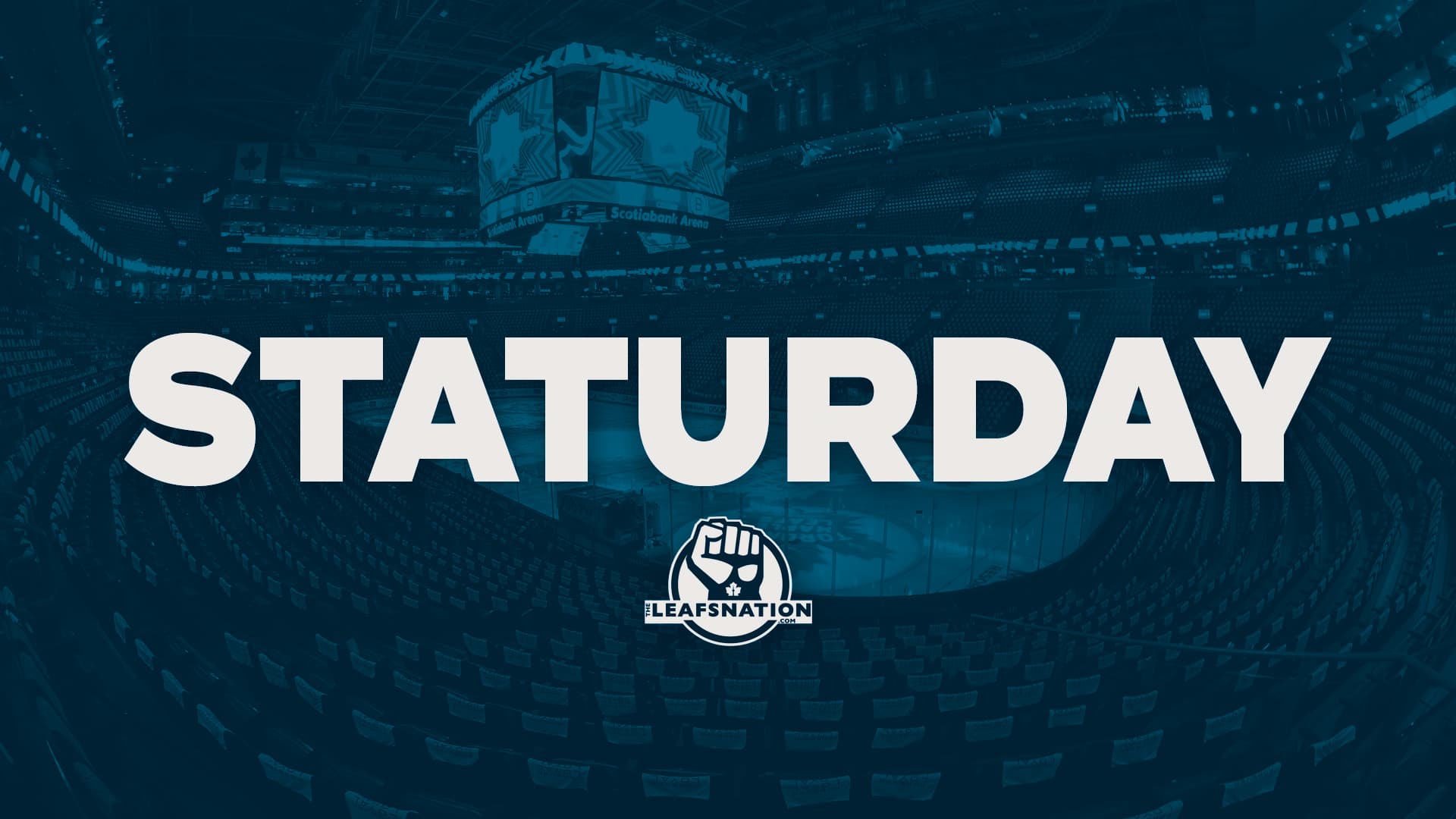 We are past a highly built-up and somewhat disappointing trade deadline yet again, and the Leafs' moves can be summed up simply. They made one trade of any consideration, but it was a big one. As you've almost certainly heard, the Leafs added @Mark Giordano to their back line, shoring up the left side that was supposed to rely on @Jake Muzzin and @Rasmus Sandin, both of whom are now recovering from injuries. They also brought on @Colin Blackwell, who is on the 4th line for now to try to improve the team's forward depth.
Kyle Dubas was trying to acquire Marc-Andre Fleury from Chicago and Kyle Davidson, but that didn't quite work out. Those two Fallout Boys got into a bit of a tiff as Dubas was quite upset about Davidson's office not keeping those discussions private.
Otherwise, the Leafs were pretty quiet on deadline day. But overall, the Atlantic Division was a prominent conversation topic throughout the day, as each of the four teams in playoff positions were looking to improve. Now that the lineups are set, it's a good time to take a look at the competition and see just how those teams managed to improve alongside the Leafs' additions.
Florida Panthers
The first team to move was the first place team in the division, the Florida Panthers. They started the commotion, Atlantic Division-wise, by acquiring the Canadiens' @Ben Chiarot for some future assets:
That is a very big package to pay for not a very good defenseman. Florida's obviously trying to improve at all areas of their lineup, so depth D is still important to them of course. It's also true that Chiarot played a role in Montreal's run to the Cup Final last year. However, his season has been pretty bad. When accounting for score state and venue, Chiarot is the 10th worst defender in the league in allowing shot attempts against (of defenders who have played at least 500 minutes this season).
The Panthers also moved out depth forward @Frank Vatrano to clear up some cap space and roster space.
They weren't satisfied with just Chiarot to fill out their depth, they also added @Robert Hagg from the Buffalo Sabres for a 6th round pick.
The other major acquisition for the Panthers for this playoff run is adding star veteran forward @Claude Giroux. They also got prospect @German Rubstov and depth forward @Connor Bunnaman. In exchange, they sent former first round pick and fellow ginger @Owen Tippett, along with
next year's first round pick.
Overall, the Panthers will be a force to be reckoned with, as they have been all season. They lead the league in score and venue adjusted Corsi For %, and are second in Expected Goals percentage,
according to Evolving Hockey
.
As it stands right now, according to
DailyFaceoff
, Florida's lines look something like this:
Verhaeghe – Barkov – Giroux
Huberdeau – Bennett – Duclair
Marchment – Lusotarinen – Reinhart
Thornton – Acciari – Mamin
Chiarot – Weegar
Forsling – Gudas
Hagg – Montour
This is with @Aaron Ekblad on LTIR, and their star rookie @Anton Lundell out of the lineup, as well as some other missing players.
Tampa Bay Lightning
It seems that every year, the Lightning are making big moves at the deadline to make the most of the insanely good team they have right now.
The major move by Julien BriseBois was adding Chicago's @Branden Hagel, in exchange for two firsts and two players on the cusp of being NHLers, @Taylor Raddysh and @Boris Katchouk.
The Lightning also added Ottawa's @Nick Paul in exchange for @Mathieu Joseph and a 4th round pick, improving their forward depth.
Once again as per
DailyFaceoff
, here's how the forward lines look now for Tampa Bay:
Killorn – Stamkos – Kucherov
Palat – Point – Hagel
Paul – Cirelli – Colton
Maroon – Bellemare – Perry
As they seek a three-peat, their forward core looks pretty well primed for success.
Hagel is having a great season, obviously. But is it a breakout year or a flash in the pan? Impossible to say. Raddysh and Joseph were also having good seasons according to
Evolving Hockey
. So far this season, the players that Tampa traded out were worth 13.3 goals more than a replacement player would provide, while Hagel himself has been worth 13.5, and Paul just 1.3.
In terms of expected goals above replacement, though, Raddysh is pretty well a replacement player. Hagel looks even better, and Paul takes a jump up to be about equal to Joseph. Katchouk is doing approximately what you'd expect.
Here are the tables from Evolving Hockey. If you aren't sure of some of these terms,
this glossary will help
. If you've never seen a goals above replacement or wins above replacement model before,
this link might help explain it
. They've definitely improved, but at a pretty high price.
| | | | | | |
| --- | --- | --- | --- | --- | --- |
| Player | GP | Off_GAR | Def_GAR | Pens_GAR | GAR |
| Boris Katchouk | 38 | -0.9 | 1.5 | 1.4 | 1.9 |
| Brandon Hagel | 55 | 11.1 | 0.2 | 2 | 13.3 |
| Mathieu Joseph | 58 | -0.6 | 3.4 | 1.4 | 4.2 |
| Nick Paul | 59 | -1.5 | 1.9 | 0.6 | 1.1 |
| Taylor Raddysh | 53 | 4.9 | 2.2 | 0.3 | 7.4 |
| | | | | | |
| --- | --- | --- | --- | --- | --- |
| Player | GP | xOff_GAR | xDef_GAR | Pens_GAR | xGAR |
| Boris Katchouk | 38 | -0.8 | 0.8 | 1.4 | 1.4 |
| Brandon Hagel | 55 | 13.6 | -0.7 | 2 | 14.9 |
| Mathieu Joseph | 58 | 1 | 3.8 | 1.4 | 6.1 |
| Nick Paul | 59 | 3.6 | 1.6 | 0.6 | 5.8 |
| Taylor Raddysh | 53 | -1.6 | 1.7 | 0.3 | 0.4 |
Overall, the Lightning aren't as scary as they once were. Their scorers have been on a bit of a cold streak lately, but the team overall is still certainly a contender. They're a middling team in both Corsi For % and Expected Goals %,
according again to Evolving Hockey.
Boston Bruins
Sitting at 4th in the division right now, the Bruins were less active at the trade deadline than the the rest of the Leafs' competition going into this year's playoffs, but still added.
Their major move was getting @Hampus Lindholm from the Anaheim Ducks, who they then extended to a big 8-year contract extension.
Lindholm has slotted right into Boston's top pairing, with their star right-hander @Charlie McAvoy, according to
DailyFaceoff.
The other major news out of Boston was someone they 
didn't
trade, and that's @Jake DeBrusk.
The forward had requested a trade,
but the Bruins instead chose to keep him and actually got him to sign a 3-year contract extension. As you'll find in the
DailyFaceoff lineups
, DeBrusk is currently playing on the Bruins' top line, with @Patrice Bergeron sidelined with a day-to-day injury and @David Pastrnak moved to the second line for more scoring balance.
I mentioned earlier that the Florida Panthers are second in the league in Expected Goals For %, per
Evolving Hockey
once more. It's the Boston Bruins in first. The Bruins also recently stepped above the Lightning in the standings, potentially creating a Boston/Toronto first round matchup. In fact, according to
HockeyViz's playoff projections
, the Leafs have the strongest chance of facing Boston in the first round, though just by a couple percent:
Final Thoughts
The Atlantic Divsion is even more loaded than it was before the trade deadline, and while the Leafs have to participate in that, they're also a part of it. Curses and emotional ineptitude aside, they can certainly hang with any of these other 3 Atlantic Division heavyweights.
The veteran presence of @Mark Giordano and the tenacious energy of @Colin Blackwell could certainly help push the Leafs over the hump. But I'm sure each of these teams feel that their new toy will do the same for them. The answers will come soon enough, when this Division has to duke it out in the playoffs.