Throwback: Mikhail Grabovski's feud with the Kostitsyn brothers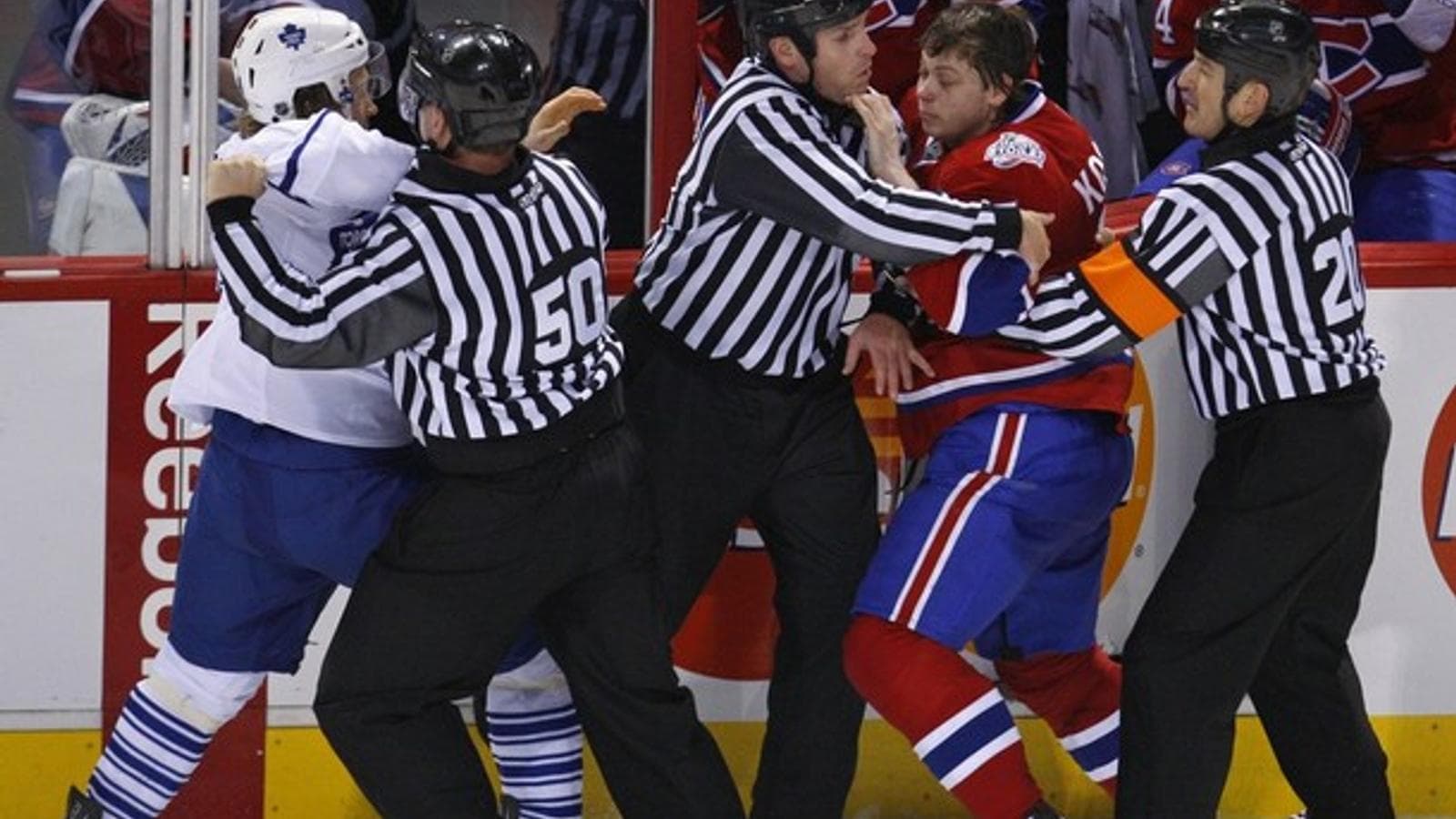 The Toronto Maple Leafs and Montreal Canadiens have both been around since the dawn of time but the two teams have only linked up on a handful of trades throughout their history.
This, of course, is because neither side wants to get burned and watch one of their own castoffs have success with their most bitter rival. It happened to Montreal with Hall of Famer Ted Kennedy, who they traded to Toronto in 1943, and it happened to the Leafs with four-time Stanley Cup winner Doug Jarvis, who was sent to the Habs in 1975.
This is why it's all the more surprising that the Habs were willing to send a struggling hotshot prospect to the Leafs in the late 2000s.
Montreal selected Mikhail Grabovski in the fifth round of the 2004 NHL Draft and he started to gain notoriety as a prospect when he led Nizhnekamsk Neftekhimik in scoring as a 20-year-old while the NHL was locked out. Grabovski came overseas a couple of years later and put up big numbers in the AHL, scoring 54 points in 66 games in 2006-07 and 20 points in 12 games in 2007-08, but he couldn't find consistency playing with Montreal.
During Free Agent Frenzy in July of 2008, the Habs sent Grabovski to the Leafs in exchange for defenceman Greg Pateryn, who Toronto had selected in the fifth round of the draft a few days earlier, and a second-round pick in the 2010 draft…
Pateryn made his debut with the Habs in 2012-13 and was traded a few years later to the Dallas Stars for defenceman Jordie Benn. The Habs moved that second-round pick to the Chicago Blackhawks for veteran Robert Lang, who scored 39 points for Montreal in 2008-09 before leaving the following summer as a free agent. Toronto wound up acquiring that second-round pick from Chicago and flipping it to Boston as part of the Phil Kessel trade. The Bruins would use it on Jared Knight, who never played a game in the NHL.
Grabovski wanted more ice time with the Habs and he was granted that wish in Toronto. In his first season with the Leafs, Grabovski centered the team's second line with Nikolay Kulemin and Niklas Hagman and he broke out with 20 goals and 48 points over 78 games.
Over the next few seasons, Grabovski emerged as one of Toronto's most productive forwards. He scored 29 goals and 58 points in 2010-11 and 23 goals and 51 points in 2011-12. With unrestricted free agency on the horizon, general manager Brian Burke inked Grabovski to a five-year, $27.5 million extension in March of 2012.
Things went south quickly. Grabovski struggled during the lockout-shortened 2013 season playing under head coach Randy Carlyle. He scored only 16 points over 46 games during the regular season and had a horrendous 2-to-12 on-ice goal differential during the playoffs. The Leafs bought out his contract in the off-season, just 16 months after it had been signed.
The Grabovski era in Toronto was a bit of a rollercoaster ride as he was a controversial player among Leafs fans. Many old-school types criticized Grabovski's inconsistent effort and poor defensive play while the analytics community noted that he was undervalued because of preconceived biases.
But beyond all of that, one of the most memorable parts of Grabovski's time in Toronto is how he sparked a new chapter in the Leafs-Habs rivalry…
In the second meeting of the 2008-09 season between Montreal and Toronto, Sergei Kostitsyn took a run at Grabovski, his fellow Belarussian and former teammate while playing with the Habs' AHL affiliate the previous season. Grabovski tried to fight back but the officials got in the way.
The next meeting between the two teams came in January of 2009 and it was Grabovski's first time playing at the Bell Centre in Montreal since the trade. Fans booed Grabovski every time he touched the puck and things again started to heat up in the third period as Grabovski went after Kostitsyn.
Just like the last time, the officials broke things up so the two Belarussians weren't able to scrap, but Grabovski was able to give the crowd in Montreal a salute as the exited the ice…
After the game, Grabovski took a shot at Kostitsyn, saying that he would be willing to fight in the streets at any time…
"I think he is not Belarussian now, he is French because I never fight with Belarussian guys," Grabovski said. "I don't know why he wants to fight with me. If he wants to fight, we'll go in the street and every minute of every day I'll wait for him and we'll fight."
Grabovski didn't go into any detail about why there was a feud between the two, but Kostitsyn said that Grabovski had spoken "too much in the Russian papers about [him] and [his] brother [Andrei]."
To that, Grabovski said that he had no issue with Andrei, only the younger brother Sergei…
"He's not smart, because the older Kostitsyn, Andrei, he never fights with me and he never will fight because he plays hockey, he plays the game," he said. "I think it's stupid."
A few weeks later, Grabovski told Russian media that he was ready to put the beef behind him…
Q: By the way, during the All Star weekend Ovechkin and Malkin made peace ending a two year feud.  It's time for you and Sergei Kostitsyn to follow this example.

A: "We didn't really start a feud.  We just had a little misunderstanding during a game. Can't it happen to anyone?  I hope there is no conflict between us. Toronto plays Montreal six times a season.  I want to believe, that all the bad between us is forgotten. And what's left is a healthy sports rivalry."

Q: Are you ready to make the first step?

A: "Why not? I hope in the future Sergei and I will have a normal relationship in the future and when we meet we'll just laugh about this situation. Whatever happened is gone. Ovechkin and Malkin gave us an excellent example."
When Kostitsyn learned that Grabovski was willing to make peace, he told Russian media that he needed to discuss certain details…
A: "Do I agree to shake his hand? I am an open person. And I am ready to make peace."

Q: Will it happen on February 7 during the game against Toronto?

A: "Perhaps. But before then Grabovski and I need to discuss certain details."

Q: A man-talk?

A: "Something like that. Tell Mikhail that I am waiting for his call. In America, you have heart-to-heart. In Russia, we have man-talk."
Did the two Belarussians ever actually have this chat and iron out the details of their beef? Who knows. But the next game between the Leafs and Habs didn't feature any Grabovski vs. Kostitsyn scraps, so we can safely assume that they reached some kind of understanding.