TLN Prospect #2: Nick Robertson proves ready for a true test with the Maple Leafs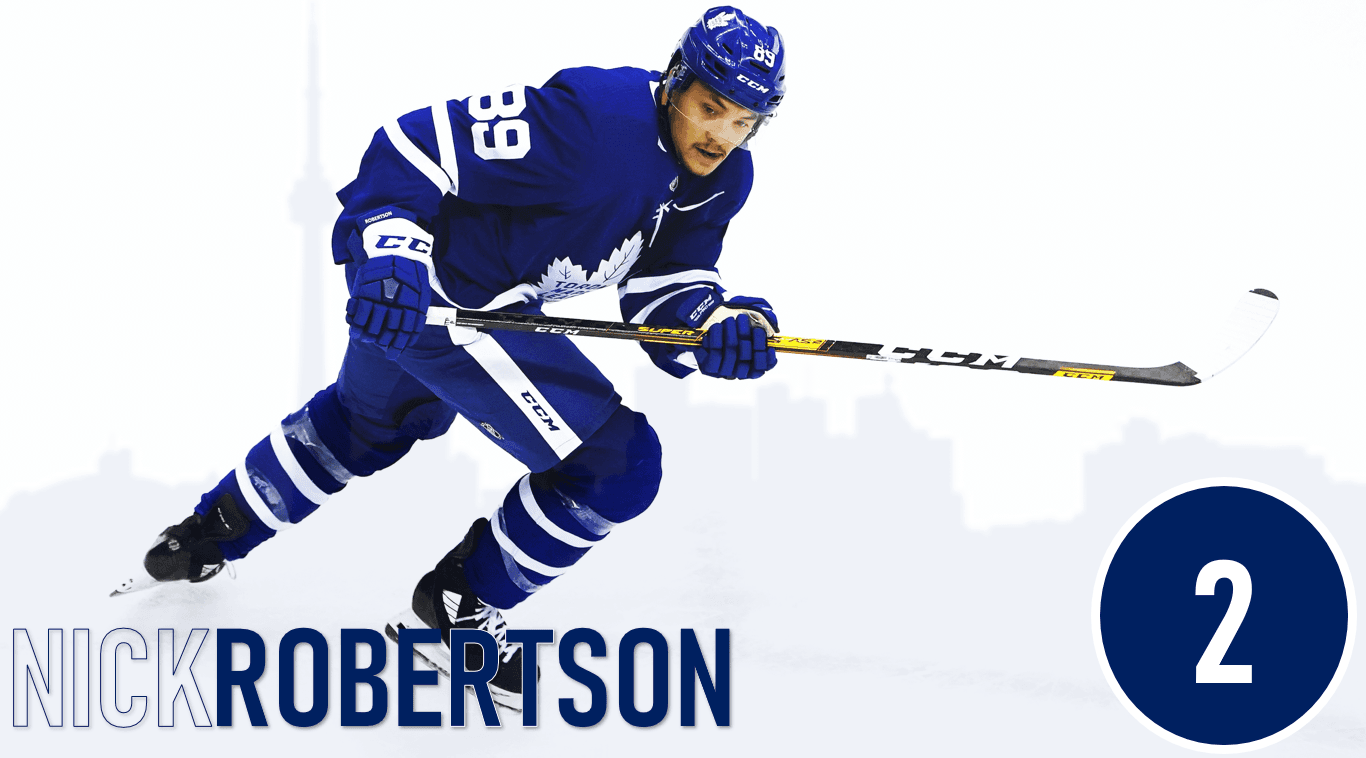 Nick Robertson has had a rough go throughout the past few seasons, but it might finally be time to take the next step in the Maple Leafs organization.
It feels like the 20-year-old has been through it all — from lighting up the OHL, to playing for Toronto in the NHL bubble, to sustaining major injuries in both seasons with the Marlies — all within the last three years.
Robertson is someone who believes he needs a chance to showcase his worth at the NHL level, and in October, he might just get that opportunity.
LW | Toronto (AHL) | Age: 20 | 5-foot-9 | 164 lbs | Shoots: L
Acquired: 2019 2rd Round, 53th Overall | 2021 Ranking: 2
To say this is a huge year for Robertson would be an understatement. This is a massive year for the 20-year-old.
Although he's been injured for much of the past two seasons, Robertson has improved majorly throughout — when it might not have seemed possible to do so.
Looking back to his first year with the Marlies, there was a lot of room for the 20-year-old to grow. Robertson is a part of unique company in the AHL — being one of the few players to play in the league while he wasn't supposed to because of the CHL and NHL agreement.
(The agreement states that players who are ages 18 or 19 and are claimed by a CHL club must report to them if they're not retained by their NHL club.)
While the pandemic was going on, this rule was set aside to allow players who wouldn't be able to play due to the shutdown to still have a league to participate in. This allowed Robertson to enter his first year of pro early.
After a number of injuries in his first season with the Marlies, there was hope the second year could be different.
Already with a few NHL games under his belt, the 20-year-old thought this could be the year he finally made it to the NHL. It was early on, though, that he found out it wouldn't be the case as he was sent down to the Marlies during training camp.
Now, this wasn't necessarily a bad thing for the Maple Leafs prospect. It was an opportunity for him to get a lot of playing time in the AHL, while facing some stiff competition.
But after one-and-a-half games, his season was stopped at a standstill.
Robertson suffered a fracture to his right fibula and would be out of the lineup for three-and-a-half months. Another year, another road block for the 20-year-old. Similar to the last, though, he didn't let that stop him from improving off the ice.
Over the course of his injury, Robertson was working constantly — watching video, increasing his upper body strength — doing anything to improve and be around the Marlies as much as possible.
The 20-year-old made sure that he hit the ground running once he returned, and he did just that.
Robertson was an instant hit when he re-entered the Marlies lineup, scoring six points in as many games before he was swiftly called up to the NHL.
Being back up with the Maple Leafs, Robertson began his stint on the fourth line with Jason Spezza and Wayne Simmonds. A big first test that allowed himself to eventually catapult to Toronto's second line with John Tavares and William Nylander.
And in his first game with the line, he was able to do what he does best — put the puck in the back of the net.
In the clip above, you can clearly see why Robertson is valued as a prospect. His shot is lethal and his release, when he can get it off properly, is quite remarkable.
Over the course of his next six games with the Maple Leafs, Robertson went silent, not being able to put up a point against some of the NHL's worst teams. The highlight of it all, though, was the opportunity he got to play against his brother, Jason Robertson, for the first time in their professional careers.
A game that won't be forgotten — forever.
Following the six-game stint where the 20-year-old struggled, he was sent back down to the Marlies only to light up the AHL once again. Over the next 19 games, Robertson put up 20 points, 12 of which were goals.
Robertson's shot is clearly his most unique quality, and it's leveled up more than I thought it could. Along with his release and his strength that he puts into every shot, the 20-year-old is able to let it go at an incredible speed which makes it tough for goalies to stop.
If we're discussing how he's leveled up even more, we should talk about his shot selection.
Throughout his first season with the Marlies, it was clear Robertson was shooting everything that came to him. However, over the course of his injury, he learned that he doesn't need to shoot every shot, and instead should put himself in the best positions for a good chance.
Although Toronto has the man advantage in the clip above, Robertson is able to look around, open himself up, and receive a pass which he puts into the back of the net. This, if it were to happen last season, might not occur because Robertson found himself in cluttered spaced fairly often.
Adding this ability, especially at the pro level where his shot might be easier for goalies to stop, brought another level to his game. It allowed him to score more goals than many thought he would.
What stood out to me most about the 20-year-old, though, was his confidence. And when that aspect of his game is rolling, he's an incredibly scary player to go up against.
Once he becomes confident with the puck, Robertson isn't afraid to use his hands to get around players and set himself up for scoring chances. With all the time off his feet, he was able to spend a lot of hours stickhandling and becoming much stronger with the puck.
Robertson has the shot, he has the speed, he even has the determination to make his goal of becoming a full-time NHLer true. What he doesn't have, though, is the size — yet he plays like he's six-feet tall.
One of the biggest things that the 20-year-old has learned is how to be physical while standing under six-feet. He's became more familiar with how to use his body in certain ways to shield and hold onto the puck much longer.
Mixing that together with his tenacity and want to improve against bigger players — Robertson is able to be someone others hate to play against.
Robertson isn't afraid to do whatever it takes to get the puck from his opponent, and that allows him to be a valuable prospect to the Maple Leafs system (along with all of his other traits). If he's able to stay healthy, there's a lot the 20-year-old can provide at the NHL level.
The biggest thing for him is that he needs to be put in a position to succeed with the Maple Leafs. The addition of Calle Jarnkrok and the re-signing of Pierre Engvall make it evidently clear that the third line is likely set in stone. Though, if I were Toronto, I wouldn't even think of putting Robertson outside the top-six.
Think about it; the 20-year-old needs confidence and you can get that from placing him higher in the lineup with players who'll help drive play. Until he's fully capable of driving his own line, I believe this has to be the case or it won't work.
Once Robertson finds the confidence and plays at a level similar to how he did at the AHL level, you know you're in good hands. But until then, he needs to be put into a position to succeed. He also needs to stay healthy.
The final step is to show his worth at training camp and prove that he's ready for the next level.
More from The Leafs Nation: