TLN Rumour Recap: Sharks trade candidates, Oilers/Leafs deal & the latest on Patrick Kane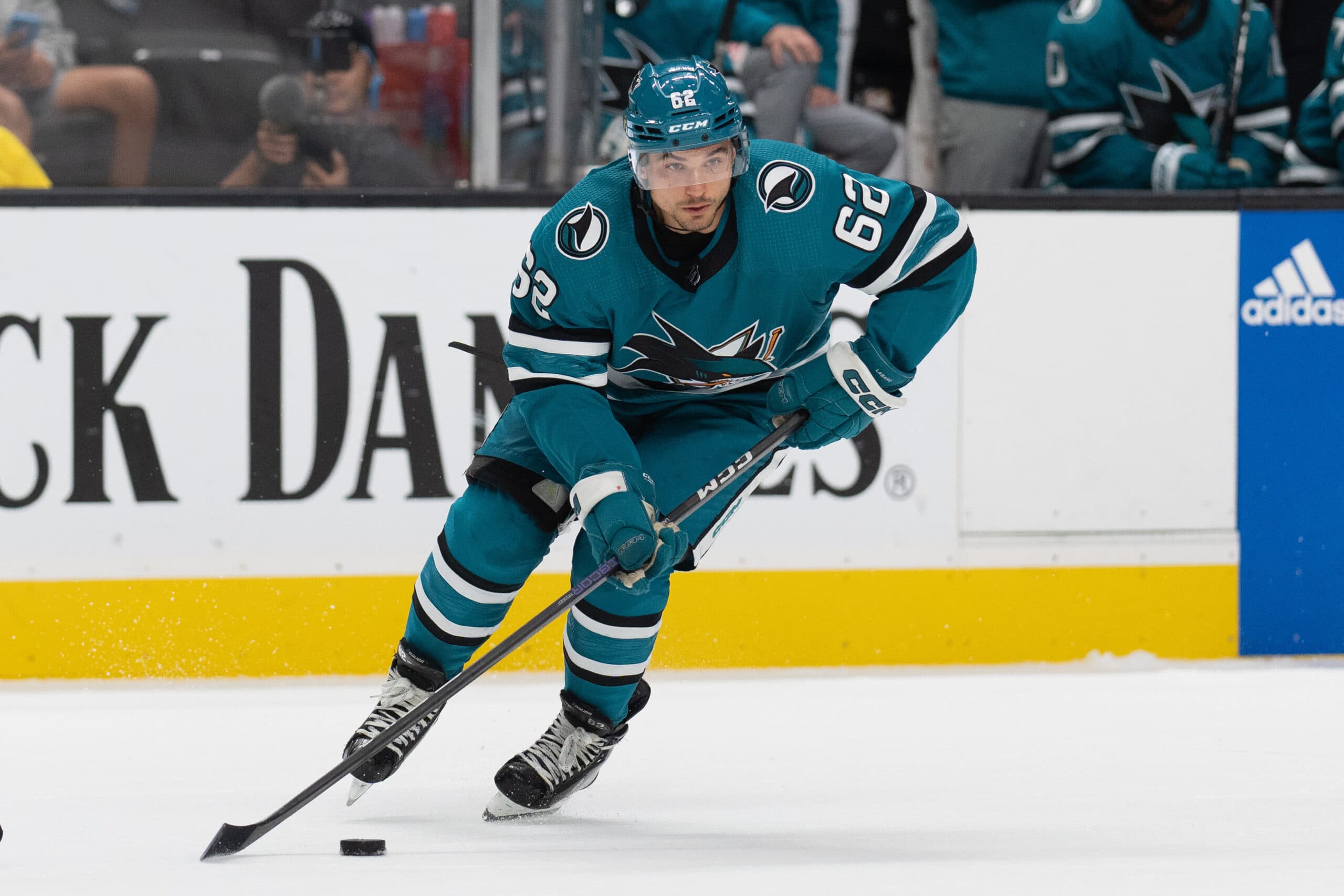 Photo credit:Stan Szeto-USA TODAY Sports
Welcome back for our third rendition of the TLN Rumour Recap, our weekly column to keep you informed of all the buzz around the NHL and of course, how it could tie in with the Maple Leafs. It's been an eventful few weeks across the show and the fun is just getting started.
San Jose Sharks Quickly Becoming Sellers
The Sharks have started the season with a dismal 0-5-1 record and have only scored eight goals in six games. This is by far the worst offensive output of any team in the league and things have been as ugly as you'd expect at the Shark Tank. Daily Faceoff's Frank Seravalli brought to light that Sharks forward Kevin Labanc's camp was informed he'd be going on waivers last week, just for the team to turn around and say 'actually no', we will dress you instead.
Labanc was a healthy scratch the first three games of the season and has since appeared in three games, although he's yet to record a point. The 27-year-old versatile winger is a pending unrestricted free agent and is surely a player Sharks GM Mike Grier will eventually move for future assets this season. Labanc's making $4.72 million in the final year of his deal and is coming off a 15-goal and 33-point season in 72 games played.
Along with Labanc, the
Sharks are open to listening
on just about anyone, including Tomas Hertl and Logan Couture. Grier could also dangle a number of rentals on the trade market including forwards Mike Hoffman, Anthony Duclair, and the recently injured Alexander Barabanov.
Duclair and Barabanov could make some sense for the Maple Leafs and I'm sure Brad Treliving will be in touch with Grier at different parts of the season to check in on availability, and more importantly, price tags. Both Duclair and Barabanov are versatile and can play either wing; this is the type of depth the Maple Leafs will search for closing to the trade deadline.
Duclair is more suited for a top-six role, meanwhile Barabanov is a bang-and-crasher and the ex-Maple Leaf could be perfectly suited for the Leafs third line. Once he's healthy of course, as an upper-body injury is going to sideline him 'for awhile'. He is the least expensive of the two at $2.5 million against the cap and the Russian winger does hold trade protection which includes 10 teams on his no-fly zone. A return to Toronto is very likely something he'd consider given there's a chance to win the Stanley Cup.
Oilers Defenceman Likely Still on Leafs' Radar
Before Treliving and the
Leafs moved Sam Lafferty
to the Vancouver Canucks, they did hold trade discussions with the Edmonton Oilers about Vincent Desharnais. The 27-year-old right-handed defenceman is 6-foot-6 and plays with an edge, two things Treliving absolutely loves. So far in four appearances this season, Desharnais hasn't recorded a point, and has seen some significant time killing penalties. The Oilers blueliner is a late bloomer, a former seventh-round pick who has only played 40 career games in the show. Treliving must have saw something he liked last season out west and it's apparently caught his eye.
With the Oilers off to a brutal 1-4-1 start and with Connor McDavid potentially missing some action, it could go from bad to worse in Edmonton and GM Ken Holland could start to feel some pressure to tinker with his roster with a minor deal. The Leafs will be waiting to see what Holland's game plan is and surely will circle back at points throughout the early parts of this season.
As far as depth forwards who the Oilers may have interest go, Bobby McMann comes to mind. He is off to a great start in the AHL and has some size at 6-foot-2 and cleared waivers already this season. If the Leafs decide to pursue a depth defenceman, the Marlie could be a good fit for a dress rehearsal on the Oilers third or fourth line.
Patrick Kane's Coming Back Soon
Patrick Kane has been rehabbing his hip and is chomping at the bit to get back into the NHL. Depending on how creative he's willing to work his contract and for how many seasons, there's going to be a number of different teams interested.
Yes, the Maple Leafs will at least inquire to see how much money he wants and if it's on a one, two or three-year deal. Kane turns 35 years old in late November, so we'll be curious to see what he signs for on the dotted line, but of course, where!?
The buzz around the league is that the
Dallas Stars are the heavy favourite
. A team who is a contender for the Cup, it makes sense as a potential Kane destination. Like most teams across the NHL, the Stars don't have much for cap space and currently couldn't even afford Kane on the league minimum. Regardless of where the future hall-of-famer signs, it's likely a trade takes place first to free up some money.
Toronto would go absolutely nuts if Kane jumped on board and while it's surely a long shot, it's not impossible. It would just take some serious creativity from Treliving and company to make the financials work and they'd need to figure out who they are throwing overboard to make room for #88. TJ Brodie? Calle Jarnkrok? Move Ilya Samsonov? Let's not get too carried away now.
If it's not Dallas, or the long shot Leafs, look for the New York Rangers, Buffalo Sabres and even the Edmonton Oilers to check in. By all accounts, Kane looks as healthy as ever and given he's joining for roughly half of the regular season, he should be fresh come playoff time when the games matter the most. 138 points in 143 career Stanley Cup playoff games is nothing to shake a stick at.
There we have it folks, another TLN Rumour Recap in the books as the Maple Leafs continue on their road trip with stops in Dallas on Thursday and a visit to Ryan O'Reilly and company in Nashville on Saturday. Let's hope the Leafs stay away from Broadway street on Friday night.