TLN Three Stars: Battle of the Goaltenders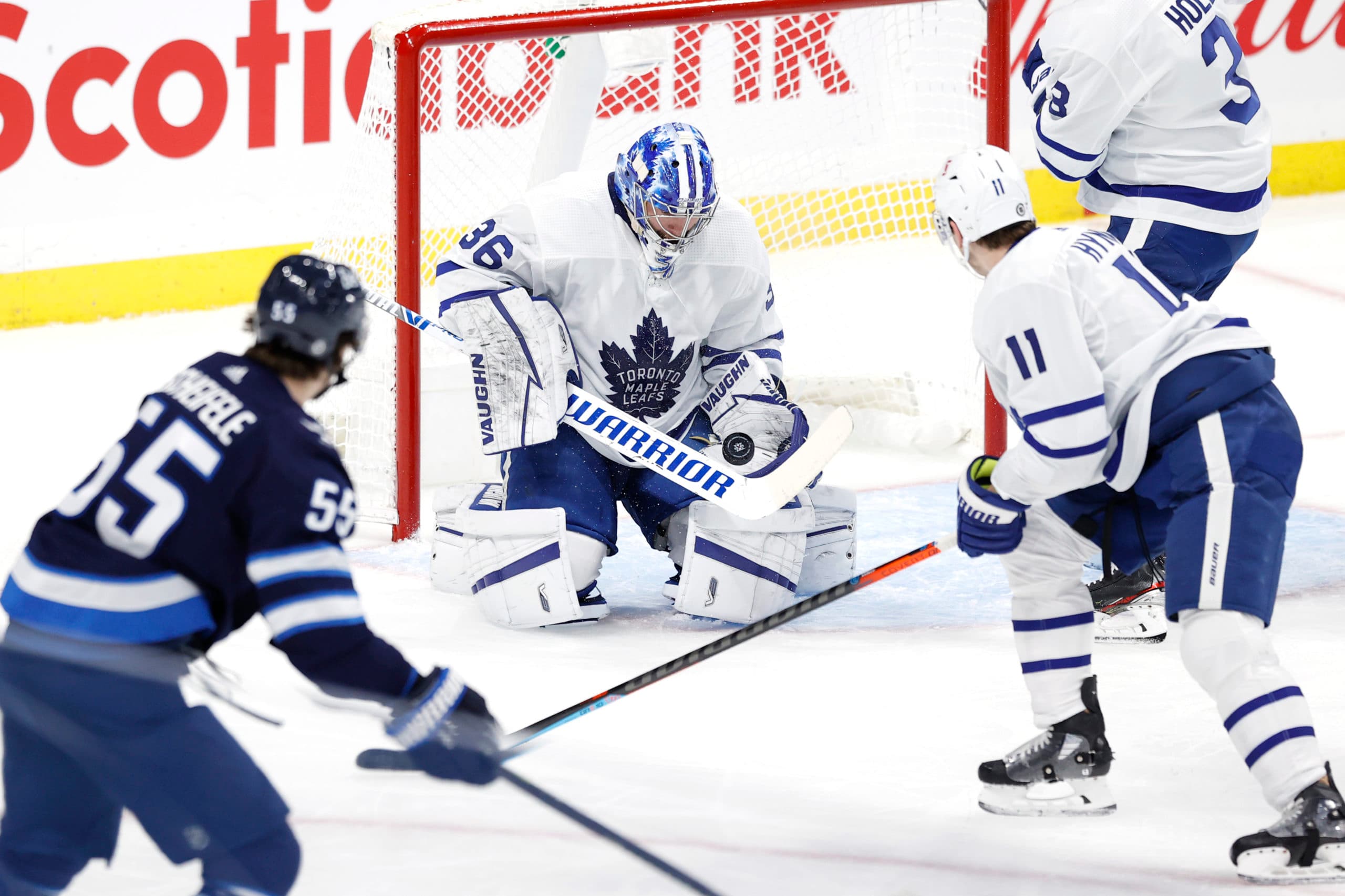 Photo credit:James Carey Lauder-USA TODAY Sports
The Leafs entered tonight's game looking to extend their division lead over the Winnipeg Jets by five points (They got it to four points which is good enough).
Unlike last game, the Leafs and Jets were scoreless through the first period. Early in the second period, @Travis Dermott opened the scoring, floating a point shot through traffic past @Connor Hellebuyck. @Andrew Copp would respond for the Jets midway through the second.
In the third period, the Jets took over the game, spending the majority of the period in the Leafs zone. @Jack Campbell however, held down the fort and kept the Jets from taking the lead.
Three Stars
24th Star: The Powerplay
Zero for the last 24 powerplay attempts. Oh boy, you are not going to win a lot of playoff games with a powerplay operating at zero percent.
3rd Star: Travis Dermott
It's been a weird season for Travis Dermott. He's had to fight for his NHL job since the beginning of the season, fighting off @Mikko Lehtonen and briefly @Rasmus Sandin. Dermott has also had to fight for ice time this season. Last game, Dermott recorded a mere eight minutes and change of ice-time. Dermott gets a nice confidence booster with this goal tonight and I thought he once again teased us with his unique skillset here tonight. Two games in a row Dermott has looked solid.
2nd Star: Jason Spezza
Vintage was at it again in the shootout. @Jason Spezza records the only goal scored in the shootout to help the Leafs secure the victory. For the league min $700k, Spezza has been dynamite for the buds. I hope this team can do something special for him in the playoffs this year.
1st Star: Jack Campbell
Man is it amazing to have competent goaltending. Campbell has done everything asked of him and more this season when he's started in goal for the Leafs. Campbell turned aside 31 of 32 shots during regulation and OT and all three shots he faced in the shootout. Campbell now stands at a perfect 8-0-0 on the season, filling a gaping hole this season for the Leafs. Where Campbell really shined tonight was in the third period. The Jets dominated the Leafs in the third, generating scoring chance, after scoring chance and yet, Campbell didn't waver once.
Tweet of the Night:
What's Next?
The Leafs head to Calgary for a Sunday night date with the Flames. Puck drop is at 9:00pm EST on TSN.