TLN Top 20 Leafs: #17 Ilya Mikheyev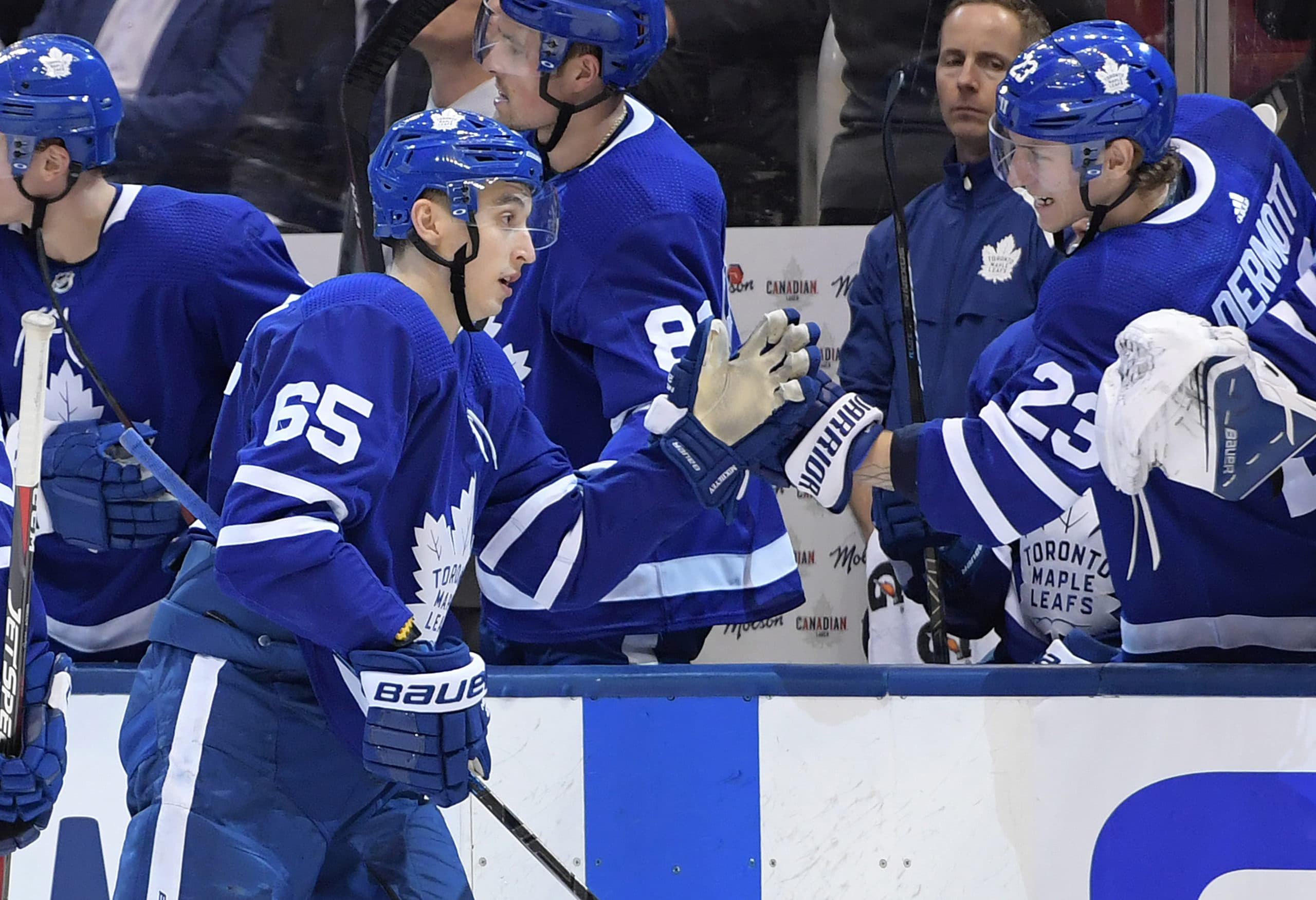 Photo credit:© Dan Hamilton-USA TODAY Sports
@Ilya Mikheyev came into the Leafs' organization as a relative unknown after signing as an undrafted free agent out of the KHL in the 2019 offseason. It didn't take long for him to endear himself to the Leafs faithful, however, due in large part to his up-tempo style of play and his famous plea for more soup during his early days in Toronto.
His strong play prior to a scary injury that derailed his rookie season brought on increased expectations for Mikheyev in the 2020-21 season but he was unable to take a step forward in terms of his offensive production. Following a bit of a down year, an offseason that saw the Leafs add multiple depth forwards to the roster, and a trade request spurred by frustration with his usage, Mikheyev lands at #17 on our countdown.
Five Interesting Stats
| | | | | |
| --- | --- | --- | --- | --- |
| 5v5 TOI/GP | ixG | ixG (Penalty Kill) | Sh% | 5v5 GA/60 |
| 12:02 | 11.28 | 1.71 | 6.54% | 1.75 |
Mikheyev's complaints about his role and ice time don't hold much water when you consider that he played the seventh most minutes at 5v5 among Leafs forwards (excluding @Nick Foligno who played just seven regular season games with Toronto) but his concerns likely stem from his lack of opportunity in the top-six and on the powerplay. He drives play well enough at even strength but hasn't shown enough finishing ability to be considered for a prominent role with the man advantage.
Though he hasn't had much success putting the puck in the net, Mikheyev generates plenty of opportunities. Among Leafs forwards, he was sixth in individual expected goals behind the big four and the since departed @Zach Hyman. He has great speed to separate from opposing defenders and he gets the puck into dangerous scoring areas. Mikheyev does, however, have a tendency to settle for low danger shots a bit too often and his shot isn't much of a threat to beat goaltenders from distance.
A large portion of Mikheyev's scoring chances came while playing a man short where his ability to quickly turn play the other way presented a threat to opposing powerplay units. Nobody who watched a significant amount of Leafs hockey last season will be surprised by how the eye test and statistics align on this one as Mikheyev's 1.71 individual expected goals while shorthanded ranked third in the entire league, just behind @Connor Brown and @Blake Coleman. The difference being that Brown and Coleman both converted on some of those chances while Mikheyev was held off the board.
The sheer number of quality scoring chances and the variety of ways in which he was denied became almost comical as the season wore on. He finished the season with just seven goals on 107 shots on goal, and his shooting percentage of just 6.54% was the lowest among all Leafs forwards that managed at least one goal – more than 2% behind @Alex Galchenyuk who was somewhat snakebitten in his own right. There is an element of bad luck to Mikheyev's numbers but the sample size is getting larger and a 7.3% shooting percentage through 93 career games isn't exactly encouraging.
While Mikheyev might be leaving some meat on the bone offensively, his goal prevention numbers help balance the scales. Among Leafs forwards who played at least 100 minutes at 5v5 in 2020-21, he ranked fourth best in goals against per 60 minutes played and did it all with tough deployment. The three forwards ahead of him – @Alexander Barabanov, @Adam Brooks, and @Wayne Simmonds – all played fewer, more sheltered minutes than Mikheyev as well, save for a brief stint in the top-six for Simmonds before he was injured.
Last season…
Mikheyev entered last season hoping to secure a role in Toronto's top-six and there appeared to be openings on the left side. Instead, Sheldon Keefe opted to deploy him on a defensively oriented third line with Alexander Kerfoot and Zach Hyman to begin the season and he was never given a significant run alongside @Auston Matthews or @John Tavares.
As the Leafs tried various options – including a rehabilated Galchenyuk and waiver bound @Jimmy Vesey – in their top-six during the year, Mikheyev remained almost completely resigned to a checking role on the third line. He was never given a look on a powerplay unit that struggled mightily for most of the season, but he was Toronto's second most heavily used forward on the penalty kill behind @Mitch Marner.
Even though it didn't show up on the scoresheet every night, Mikheyev was perhaps the most consistent player in the Leafs' bottom-six outside of @Jason Spezza. His speed and smarts helped him turn defensive zone starts into offensive zone possessions and he created quality scoring chances at a high rate. In a bottom-six forward group that was a bit older and slower than we've seen in recent years, Mikheyev's pace of play stood out in a positive way more often than not.
Reports recently surfaced indicating that Mikheyev grew frustrated with his role over the course of the season and requested a trade earlier this summer – a request the Leafs denied.
What to expect…
Perhaps even moreso than last year, there are questions surrounding the left side of Toronto's top-six forward group entering the season. The Leafs added several forwards with NHL experience this offseason but none of them are sure bets to play near the top of the lineup. As it stands, there are more bodies than there are available roster spots and there are a wide range of outcomes in terms of where Mikheyev could slot in to begin the season.
Unless the Leafs acquiesce to his trade request, Mikheyev is all but guaranteed a spot in the opening night lineup. Just where that spot is, however, remains to be seen. Will Keefe stick with what he knows and continue to utilize him in a shutdown role? Will he be given a look with Matthews or Tavares or force Keefe to put him there with a strong performance in camp?
Wherever he ends up, you can bet that Mikheyev will continue to bring speed and energy on a consistent basis. He hasn't found his scoring touch at the NHL level yet but creating chances is half the battle and he has proven capable in that regard. He wouldn't be the first player to make good on strong underlying numbers and figure out how to capitalize more often after gaining some experience in the league, either. If he can do that, Mikheyev could be an impactful third member on one of the top two lines or a reliable secondary scoring option on the third line.
With so many players vying for spots and Mikheyev's apparent desire for an opportunity to play elsewhere, his situation will be an interesting one to monitor right from the opening day of training camp.
Mikheyev's goal song
For a player that found new and creative ways to not score all season long in 2020-21, it feels like "Hit Me With Your Best Shot" by Pat Benatar would make for an appropriate goal song for Mikheyev. He had plenty of great looks throughout the year that he was unable to capitalize on and if he can find his "best shot" with a bit more frequency, he could be an important secondary scoring option for the Leafs this coming season.