TLN's 2022-23 Midseason Leafs Prospect Rankings: Prospects 5-1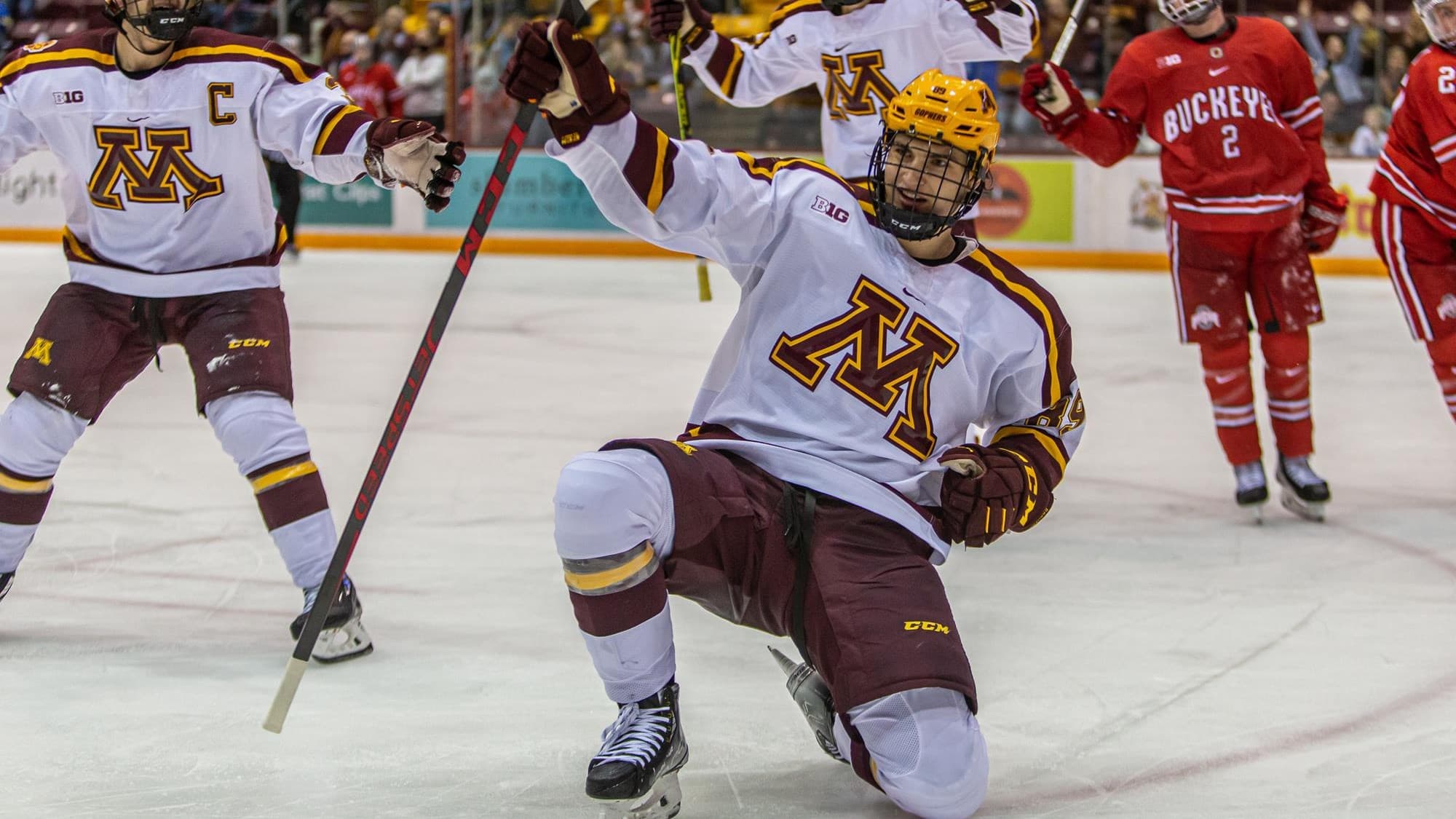 Photo credit:gophersports.com
With the calendar turning over to 2023 and the World Juniors signaling the unofficial halfway point in the hockey calendar, it's an excellent time to reassess the Leafs' prospect pipeline. There have been some standout performances by players throughout the system and underwhelming starts for others, leading to some noteworthy changes from TLN's most recent prospect ranking in the offseason.
Before we wrap things up with the top 5 prospects in the Leafs' organization, you can catch up on the rest of the countdown here:
Today, we conclude our midseason countdown of the best prospects in the Leafs' organization with my top five ranked players. This group of players will be key to the Leafs' being able to sustain success in the coming seasons, with some already contributing to the big club. The Leafs may lack a true blue-chip prospect but each of the players in the top five have the potential to be impactful pieces on an NHL roster.
Without further ado, here are my top five prospects in the Toronto Maple Leafs' system:
While I have consulted TLN colleagues and others who are familiar with the Leafs' prospect pool, these rankings are purely my own. Following the criteria from past TLN Prospect Rankings, only players who are under the age of 24 and have played fewer than 42 NHL games are considered "prospects." As a result, players such as Mac Hollowell, Joseph Woll, and Joey Anderson weren't considered. 2020 first-round pick Rodion Amirov has also been excluded, as the primary focus remains his health and well-being as he continues to undergo treatment for a brain tumor. 
5 | Pontus Holmberg | C | Toronto (NHL)
6'0″ | 202 lbs | Shoots: L | Drafted 2018 round 6, 156th overall
Holmberg's rise has been one of the biggest stories in Leafs land this season, but for those who have followed his career since Toronto traded up to select him in the sixth round of the 2018 draft, his success hasn't been all that surprising. He was passed over in his first year of draft eligibility, and his numbers weren't anything special the following year either, but Swedish super scout Thommie Bergman saw something in Holmberg, and he has rewarded that faith ever since.
Holmberg became an SHL regular with Växjö in 2018-19, but his real breakout didn't come until the 2021 SHL playoffs. He scored seven goals and seven assists in 14 postseason games, earning playoff MVP honors and leading Växjö to an SHL title. He carried his strong play into last season and had a career year for the Lakers, finishing second in team scoring with 11 goals and 30 assists in 46 games. Holmberg also represented Sweden at the Olympics, notching a pair of assists in six tournament games.
Playing his first games with the Marlies to close out last season, Holmberg made an immediate impact with two goals and two assists in six contests while showcasing his mature two-way game. He participated in his first NHL training camp this past fall, and his solid play in the preseason made it apparent that he wouldn't be long for the AHL. He didn't crack the Leafs' roster out of camp, but after just nine games with the Marlies, Holmberg was recalled to the Leafs for the second time, and he hasn't looked back.
Holmberg's detail-oriented game has earned him a big fan in head coach Sheldon Keefe. He is almost always on the right side of the puck, proactively supporting play and taking away space in the defensive zone. He isn't flashy, but he moves the puck quickly and efficiently, often acting as the link that connects one play to another. Holmberg has bulked up over the last couple of years as well, making him a difficult player to handle along the wall as he battles for possession. His overall offensive upside is somewhat limited by his average puck skills and shooting ability, but he will generate opportunities for himself and his teammates through quick and calculated decision-making.
He is unlikely to ever be a prolific offensive player but Holmberg has really solidified the Leafs' bottom-six with his solid two-way play, looking every bit the part of an NHL player. He just doesn't make many mistakes, and even fewer of those mistakes are the result of poor decisions on the ice. His ceiling is likely that of a defensively-minded third-line center, but he is a readymade replacement for David Kämpf should the Leafs be unable to retain him this offseason, and we have seen how valuable that role is to the team's success.
4 | Fraser Minten | C | Kamloops (WHL)
6'2″ | 192 lbs | Shoots: L | Drafted 2022 round 2, 38th overall
The Leafs went a bit off the board when they selected Minten early in the second round of last summer's draft, but just a few short months later, it's not hard to see why they were drawn to him. He has helped to diversify the organization's prospect pool, standing out as a big-bodied pivot with translatable physical skills.
One of the youngest players in the 2022 draft class, the Leafs were sold on Minten's upside after he posted 20 goals and 35 assists in 67 games for Kamloops. He showed notable improvement as the season wore on and was one of the Blazers' top postseason performers, helping to lead them on a deep run, netting six goals and 10 assists in 17 playoff games.
Taking on a larger role and serving as one of Kamloops' alternate captains, Minten's production has taken a leap in 2022-23. It is worth noting that a lot of that production has come on the powerplay, but his 19 goals and 18 assists through just 28 games are impressive nonetheless. At his current rate, Minten is on pace to double last season's goal output in fewer games after missing the beginning of the season with a wrist injury he suffered at Leafs training camp.
Before that injury cut his first NHL camp short, Minten turned heads in the organization, earning praise from coaches and players alike.
Minten has all the tools to be impactful at the pro level, but he is still working to layer all of those skills together with consistency. His greatest attribute is his heavy curl-and-drag wrister which has made him such a prolific powerplay threat this season, but getting into dangerous spots to use it at even strength is still a work in progress. He isn't a dynamic playmaker, but he has shown improved distribution skills, particularly in transition with a strong give-and-go game. Minten is also a committed defensive player who rarely cheats for offense, and he is more than willing to engage physically to separate opposing players from the puck. He is strong along the boards and has shown a knack for taking pucks off the wall into the middle of the ice, opening up space in the offensive zone.
Minten lands the fourth spot on my list due to his combination of upside and projectability. He has enough offensive talent to believe that he could eventually develop into a solid second-liner, but his base of skills also makes him a pretty safe bet to at least become a high-end bottom-six forward who brings physicality and solid defensive play. Look for Minten to push for a spot on Team Canada's roster at next year's World Juniors, but for now, he will have his sights set on a Memorial Cup with Kamloops set to host the tournament in the spring.
3 | Topi Niemelä | D | Kärpät (Liiga)
5'11" | 170 lbs | Shoots: R | Drafted 2020 round 3, 64th overall
The Leafs don't have much help on the way in their defensive pipeline, but it looks like they landed a good one when they selected Niemelä 64th overall in the 2020 draft. Like sixth-ranked prospect Roni Hirvonen, Niemelä was considered a fringe first-rounder by many in the public scouting sphere. That they managed to land him, as well as Hirvonen, after trading down from the 44th spot makes it look like even more of a coup.
Niemelä spent the majority of his draft year playing professional hockey as a 17-year-old defenseman, speaking to the level of maturity in his game. Following his selection, the Leafs praised his defensive ability, with former Director of Amateur Scouting John Lilley stating Niemelä had some of the best defensive instincts in the entire draft class. His offensive breakout came at the 2021 World Juniors, where he put up two goals and six assists in seven games, leading all blueliners in scoring on his way to being named the tournament's top defenseman.
Last season, however, was when Niemelä truly cemented himself as a high-end NHL prospect. He was outstanding for Kärpat and drove offense from the back end all season long, setting a new Liiga record for most points in a season by a U20 defenseman with 10 goals and 22 assists in 48 games. The defensive acumen was still there, but Niemelä showed that he could be a dynamic offensive threat as well.
It was always going to be difficult for him to replicate that production, and the points haven't come at nearly the same rate for Niemelä this season, but context is important. He saw the third-most ice time among Kärpät defensemen last season and ran their top powerplay unit for most of the year, but veteran additions this past offseason have impacted his role, and he is actually playing slightly less than he did a year ago. He is still putting up impressive underlying numbers, however, and his true offensive upside likely lies somewhere in between what he showed last season and what he has done so far this year.
The first thing that stood out when I watched Niemelä in his draft year was how proactive he was defensively. Rather than always reacting to what attacking forwards are doing, he takes away their time and space, whether that be smothering a passing option in transition or stepping into a lane to eliminate their primary point of attack. He processes the game very well, identifying threats and killing a lot of plays before they even get started. That proactive nature has lent itself to his offensive play as well, as he is quick to join the rush and make plays in transition. Niemelä controls the offensive blue line with poise, drawing defenders to him before finding an open teammate down low, and he activates from the point to put himself in dangerous scoring positions as well. His heavy point shot is another weapon, and it is part of what forces defenders to attack him at the blue line, which helps to facilitate the rest of his offensive game. Though he is undersized and doesn't have blazing speed, Niemelä has smooth four-way mobility, and he doesn't shy away from the physical game either.
Like Hirvonen, Niemelä should join the Marlies at the conclusion of his Liiga season and be a full-time player for them in 2023-24. His well-rounded game and experience at the pro level should make for an easy transition, and it might not be long before he finds himself pushing for NHL minutes.
2 | Nick Robertson | W | Toronto (NHL)
5'10" | 183 lbs | Shoots: L | Drafted 2019 round 2, 53rd overall
It feels like Robertson has been around for a long time, but he is still just 21 years of age with 82 games under his belt between the AHL and NHL. The limited game action is mostly the result of various injuries, but it is also important to remember that the pandemic accelerated his timeline and forced him into pro hockey before he would have been eligible otherwise. Under normal circumstances, 2021-22 would have been Robertson's first professional season, but it has now been almost three years since he debuted for the Leafs in the 2020 bubble playoffs.
Robertson had a fine draft year, tallying 27 goals and 28 assists in 54 games for the Peterborough Petes, but exploded for an eye-popping 55 goals – the most in the OHL – and 31 assists in just 46 games the following year, establishing himself as one of the top prospects in hockey. His outstanding production probably set expectations too high, however, and his development has been a bit of a slower burn since then.
Injuries limited Robertson to just six games with the Leafs and 21 with the Marlies in the abbreviated 2020-21 season, but he put up respectable numbers for a teenager in the AHL, finishing with five goals and 11 assists. His poor luck continued into the 2021-22 season, however, as he took an awkward fall and broke his leg in just the Marlies second game of the year. But Robertson's resilience and work ethic have been well documented, and he came back with a vengeance later in the season, finishing with an impressive 16 goals and 12 assists in 28 games.
Robertson came into training camp in October on a mission to crack the Leafs' opening-day lineup, and he did just about everything he could to earn a spot. Despite registering eight points in five preseason contests, the waiver-exempt Robertson was assigned to the Marlies to begin the season. It wasn't long before he returned, showcasing his game-breaking potential in his season debut with a pair of goals, including the overtime winner. But Robertson was unable to sustain that momentum as he bounced in and out of the lineup, and it's fair to wonder if sticking with Denis Malgin rather than giving Robertson an extended look following his strong camp played a part in that. Unfortunately, the injury bug would strike again for the young sniper, and he has been out of action since early December with a shoulder injury.
At his best, Robertson is a dynamic scoring threat who plays with energy and tenacity. He is an elite shooter with a violent release that comes off his blade with tremendous power and accuracy, and he's got a heavy one-timer from the half-wall on the powerplay. Even when he doesn't find twine, his shot usually causes havoc around the opposing net. He has an extremely hunched-over skating posture, but he has good speed and does well to get under checks as he hunts pucks on the forecheck. For all his shooting prowess, Robertson's playmaking skills are probably a bit underrated. He's got good vision in the offensive zone to find teammates in open space but can be too reliant on his shot at times. Aside from the seemingly constant injury troubles, Robertson's biggest issue at the NHL level so far might be that he is playing too fast or trying to do too much rather than letting the game come to him. While he is an elite shooter, he isn't an elite shot creator, and slowing things down a bit as he hunts space in the offensive zone will help unlock his offensive game in the NHL.
We haven't seen the best of Robertson in the NHL just yet, and this latest injury is another significant setback in his pursuit of a full-time job with the Leafs. An extended run with the Marlies when he's healthy is probably the best course of action, giving Robertson a chance to get his legs under him and regain some of that confidence he was playing with early in the season. The beginning of his pro career hasn't gone the way anyone hoped it would, but it's still far too early to write off a player with Robertson's potential as a top-six goalscoring winger.
1 | Matthew Knies | W | Minnesota (NCAA)
6'3″ | 210 lbs | Shoots: L | Drafted 2021 round 2, 57th overall
The Leafs strayed from their typical strategy when they selected Knies with their first pick of the 2021 draft. Known for swinging on smaller, high-upside prospects who may have been overlooked by other teams, they opted for the big-bodied, power forward who was considered at the time to be more of a "safe" pick.
Knies had an up-and-down draft year due to an early season bout with COVID but it didn't take long for the Arizona native to look like a steal at 57th overall, and Leafs fans started salivating at the prospect of adding him to their lineup almost immediately. He stepped into Minnesota's lineup and became one of the best players on one of the NCAA's top teams as a freshman, looking like a man amongst boys at times. He finished his first season of college hockey with 15 goals and 18 assists in 33 games, earning selections to the BIG10 All-Rookie Team and Second All-Star Team. He also suited up for Team USA at the Olympics alongside fellow Leafs prospect Nick Abruzzese, notching a goal and an assist in four games.
Returning to Minnesota for his sophomore year, Knies has taken on an even larger role for the Gophers. He is still a focal point of their offensive attack, skating alongside star prospects Logan Cooley and Jimmy Snuggerud on the first line while manning the net-front position on the powerplay, but he has taken on added penalty killing duties this year as well.
Knies has helped that line drive play all season with his impressive transition game and relentlessness on the forecheck. He plays a true power game but also shows finesse with the puck on his stick, routinely facilitating clean entries to set up offensive possessions. He is exceptional playing through contact, bulldozing his way to the middle of the ice, but he is also agile for a big man and possesses impressive small-area skill. Knies can dangle his way around defenders into open space, and he doesn't need much time to fire a slick pass or unleash his lethal wrister. What makes him so valuable is that he combines those offensive tools with an elite physical game. Knies is always physically engaged, ready to throw a big hit on the forecheck or battle for space in front of the net, and he has refined puck protection skills. His combination of physical strength, solid positioning, and slick hands allows him to consistently make plays coming off the wall, getting pucks to the middle of the ice to create scoring opportunities. Knies doesn't have many holes in his game, and players with his skillset have become premium assets in the NHL.
As good as Knies has been, expecting him to step in and immediately fill a top-six role for a Leafs team with championship aspirations is probably asking too much. Depending on how far the Gophers go this season and whether or not Knies decides to turn pro, the Leafs could be left with little runway to get a look at him in the NHL this season.
The hype has probably gotten a little out of control over the last year or so, but when you watch Knies play, it's easy to understand why the Leafs and the fanbase are so high on him. He has legitimate top-six potential, brings a style of play that would be unique to the Leafs' forward group, and appears close to being NHL-ready, making him the clear choice as the top prospect in the Leafs' organization.
---
| | | | | | |
| --- | --- | --- | --- | --- | --- |
| Rank | Player | Age | Position | Team | League |
| 1 | Matthew Knies | 20 | W | Minnesota | NCAA |
| 2 | Nick Robertson | 21 | W | Toronto | NHL |
| 3 | Topi Niemelä | 20 | D | Kärpät | Liiga |
| 4 | Fraser Minten | 18 | C | Kamloops | WHL |
| 5 | Pontus Holmberg | 23 | C | Toronto | NHL |
| 6 | Roni Hirvonen | 21 | C/W | HIFK | Liiga |
| 7 | Nick Moldenhauer | 18 | C/W | Chicago | USHL |
| 8 | Ty Voit | 19 | W | Sarnia | OHL |
| 9 | Semyon Der-Arguchintsev | 22 | C/W | Toronto | AHL |
| 10 | Nick Abruzzese | 23 | C/W | Toronto | AHL |
| 11 | Alex Steeves | 23 | W | Toronto | AHL |
| 12 | Ryan Tverberg | 20 | C/W | UConn | NCAA |
| 13 | Filip Král | 23 | D | Toronto | AHL |
| 14 | Dennis Hildeby | 21 | G | Färjestad | SHL |
| 15 | William Villeneuve | 20 | D | Toronto | AHL |
| 16 | Nikita Grebyonkin | 19 | W | Amur Khabarovsk | KHL |
| 17 | Brandon Lisowsky | 18 | W | Saskatoon | WHL |
| 18 | Mikko Kokkonen | 21 | D | Toronto | AHL |
| 19 | Mikhail Abramov | 21 | C/W | Toronto | AHL |
| 20 | Artur Akhtyamov | 21 | G | Neftyanik Almetievsk | VHL |
| HM | Dmitry Ovchinnikov | 20 | W | Sibir Novosibirsk | KHL |
| HM | Veeti Miettinen | 21 | W | St. Cloud State | NCAA |
| HM | Keith Petruzzelli | 23 | G | Toronto | AHL |
| HM | Braeden Kressler | 20 | C/W | Flint | OHL |
| HM | Vyacheslav Peksa | 20 | G | Bars Kazan | VHL |
(Statistics from EliteProspects.com & Liiga.fi)