TLN's 2023 Offseason Leafs Prospect Rankings: #11 Ty Voit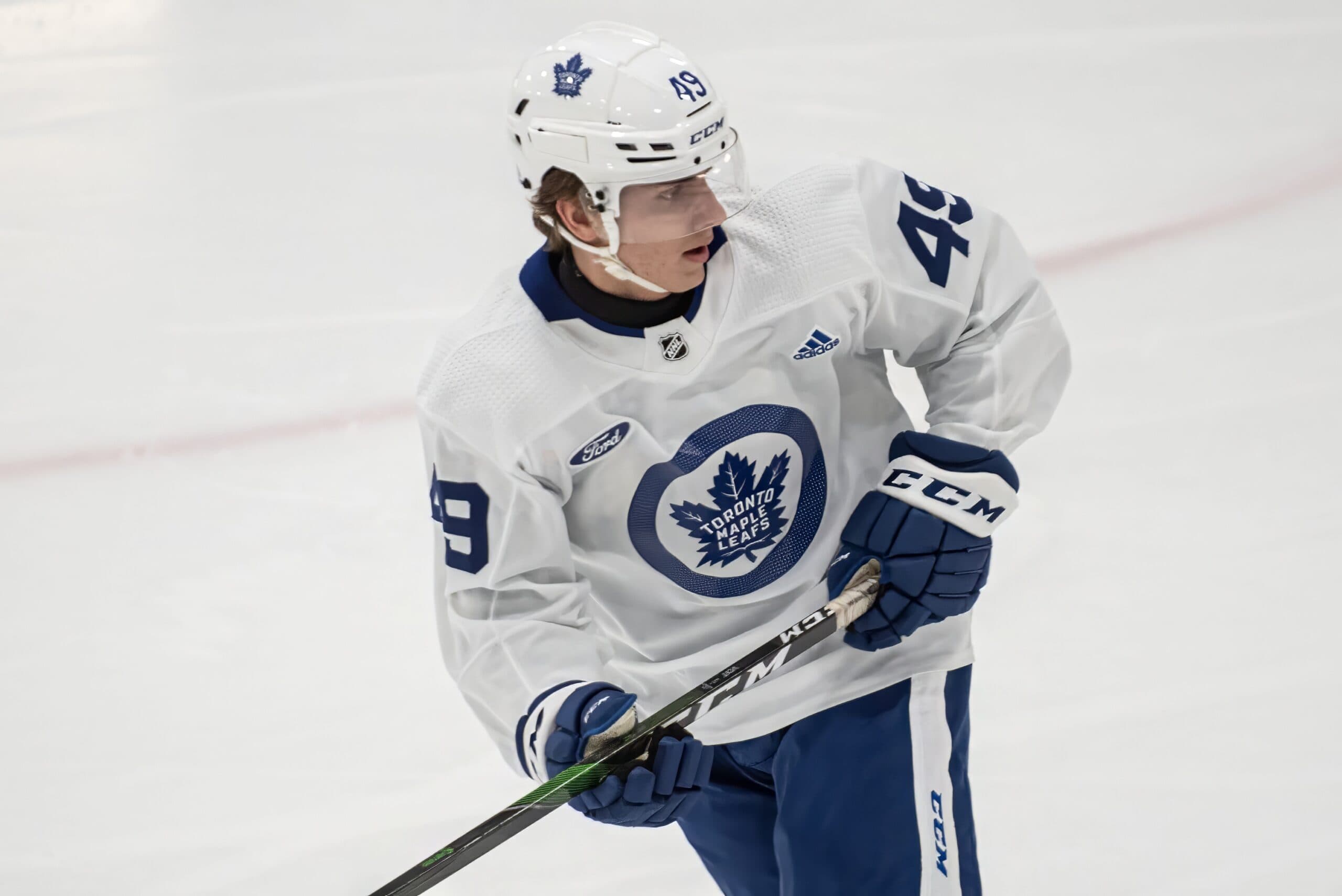 Photo credit:(Photo by Steven Ellis)
We have updated the criteria from previous editions of TLN's prospect rankings regarding who is considered a "prospect" for the purpose of this exercise. Rather than hard and fast limits on age or NHL games played, our group decided on a more nuanced approach to include any reasonably young player who is either under contract with the Leafs or on the club's reserve list, who has not yet established himself as a full-time NHLer. This includes players such as Matthew Knies and Joseph Woll, who made strong impressions in limited NHL action last season and are expected to make the 2023-24 opening day roster but does not include late-bloomer Bobby McMann, who will also be vying for an NHL roster spot heading into his age-27 season.
TheLeafsNation would also like to acknowledge and honour the memory of 2020 first-round pick Rodion Amirov who tragically passed away after a courageous and inspiring battle against cancer. We offer our sincerest condolences to Rodion's teammates, friends, and family in this difficult time.
Nobody in the Toronto Maple Leafs' system had more points than Ty Voit's 105 last year.
Granted, there's nothing overly special about a 19-year-old putting a beating on the junior ranks. But if someone's going to do it, it's best to have them in your prospect pool, right?
The Pittsburgh, Pennsylvania native has become quite the value pick for the Leafs since getting selected 153rd overall in 2021. And now, at 20, he's set to make his pro debut this fall with the Toronto Marlies. It'll be a big step forward, but after obliterating the junior ranks over the past two years, there's a reason to get excited,
Voit didn't let the lost season to COVID-19 slow him down. In 2021-22, after going in the fifth round the year prior, Voit had 80 points in 67 games, 21 points clear of Nashville Predators prospect Nolan Burke. So big things were expected from the playmaking forward in 2022-23, and he delivered. Voit led the OHL with 81 assists, and his 105 points were good for second behind New York Islanders' prospect Matthew Maggio.
Voit was a surprise omission from USA's world junior team last winter, but offense wasn't a general concern. That's why they also left off Anaheim's Sasha Pastukov, who dominated the scoring charts at the time. They needed more dynamic players, and, unfortunately, that's where Voit's game starts to trail off a little bit.
As a playmaker, Voit is excellent. He sees the ice exceptionally well, and can find lanes through traffic. It's the sign of a smart player, and Voit fits the mold. On the puck, he can be dynamic, and while scoring isn't his strong suit, he doesn't miss many opportunities in close. He's also a decent enough skater, but could use an extra step if he's going to be able to blow past pro defensemen.
But his 5-foot-9 frame is definitely a concern. Smaller players are the exception, not the rule, regarding NHL success. For every Johnny Gaudreau and Brayden Point, there are dozens and dozens of players who dominated the junior ranks but couldn't find their footing against men.
At 161 pounds, he's easy to push around. He got outmuscled too often in the OHL when he couldn't use his speed or heads-up passing to get himself out of trouble. It won't work in the NHL if you're relying solely on your skill to beat players.
Think: Nic Petan, a former Leaf that obliterated the WHL. Once he turned pro, he became an AAAA player bouncing between the NHL and AHL. Nobody doubted his skill, but he didn't have enough else to offer if he wasn't in a top-six position. At least Voit's defensive game is good, but he needs to bulk up to become a more complete player. He can't fix his vertical shortcomings but can add more muscle to become a more physically prevalent attacker.
Luckily, that can come with time spent in the AHL. There's no rush to get him up to the Leafs soon, especially being in win-now mode. The Marlies have a revamped roster with a focus on giving younger prospects an opportunity, and Voit could end up becoming a top-six player out of the gate.
"The way he sees the ice, the way he finds his teammates, it's pro-level," a scout said. "As long as he's not losing physical battles, he should be fine."
It's hard to project what type of offense we'll see out of Voit in 2023-24. Is 35 points a solid target? Maybe 40? Getting a read on AHL teams this far before the season is tough. But Voit has an opportunity here to become a high-impact playmaker for a Marlies group that could use one. He's riding a wave of momentum with a handful of strong campaigns in junior hockey. The pro game is a completely different animal, but if the offense follows, he could be quite the solid steal.
(Statistics from EliteProspects.com)