Trading Mitch Marner is the best option if the Leafs blow up their core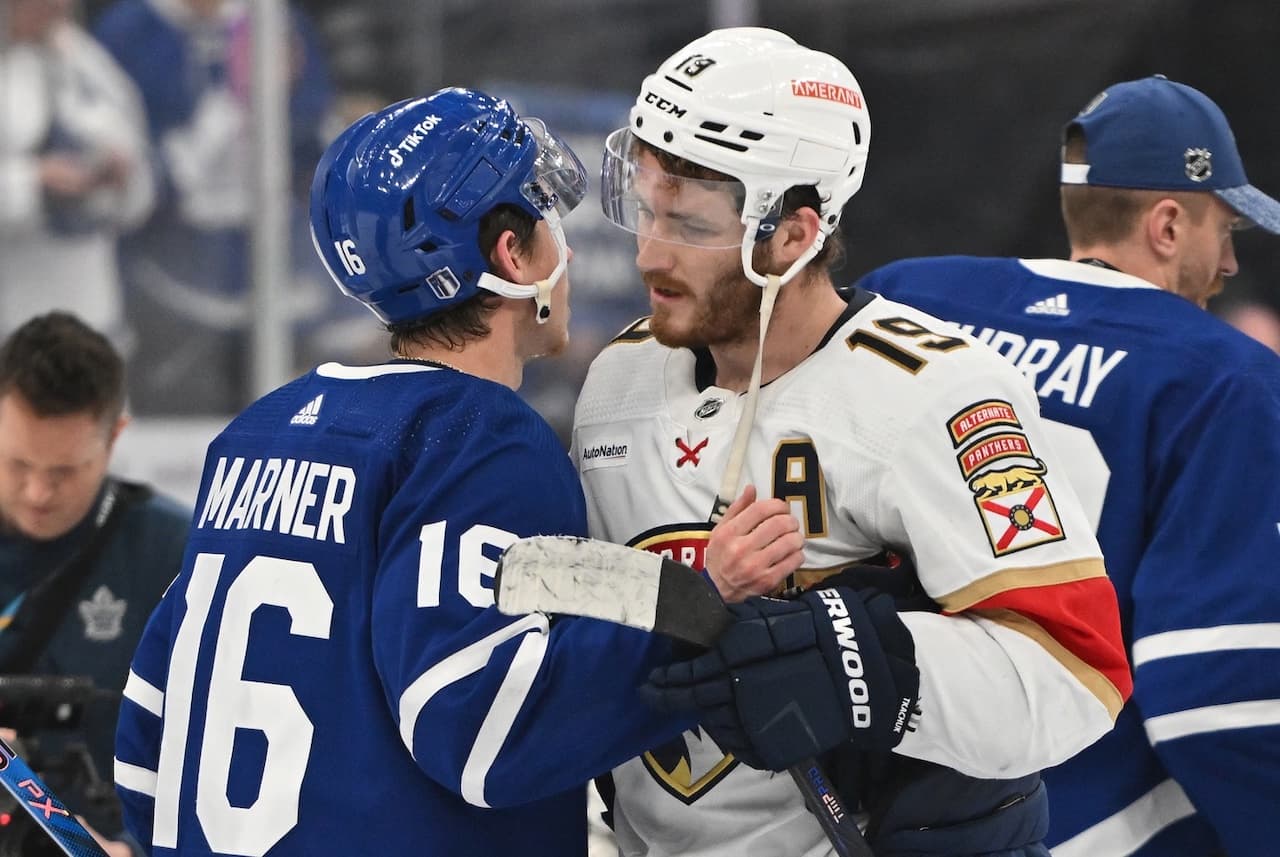 Photo credit:Dan Hamilton-USA TODAY Sports
I have two competing viewpoints at the moment and I think they do wonders to define me as a hypocrite. The first view is that the Leafs shouldn't move on from their core. They have a lot of available cap space to make other meaningful changes and with the Lightning and Bruins seeing their time at the top coming to an end, the path forward for the Leafs favours sticking with the loaded lineup. That makes sense.
The other point of view I have is that an $11M winger is a luxury that few teams can afford and other than in goal, the next most frivolous place to spend $11M on a single player is on the wing. When your team needs to make a significant change of direction starting with the $11M winger seems like a good place to start.
There, my hypocrisy has been established and now I feel we can move forward with a meaningful discussion about why the Leafs will or will not trade Mitch Marner.
Let's start with the outrage associated with the Leafs coming out of the playoffs. This is pretty much an annual thing and it often transitions from blow it up, they need to be tougher and meaner to an acceptance of good teams lose too, and by October everyone is happy to run it back with the core and the narrative around Marner not showing up in the playoffs is replaced with a quick glance at 14 points in 11 games and clearly everyone saying he was bad is an idiot. Of course, you are very smart and will know that he only had points in two games in the Florida series, and only had goals in two games total. There is also something to be said for the eroding defensive play in the postseason and his legacy of making one move too many throughout the month of May.
NARRATIVES!!!
Anyway, that's how we've come to talk about blowing it up and specifically Mitch Marner moving. The faults that people have with Auston Matthews may or may not be valid, but an elite level goal scoring center is someone you accept a few warts with more than a smaller, nearly equally expensive winger. Matthews isn't moving. Tavares has the full no movement clause and he isn't going anywhere either, end of story. William Nylander is the other player that will be explored in the same regard as Mitch Marner, but when you trade a $6.9M winger in your top six, you probably are going to spend around $6M backfilling him with a less good winger. You trade an $11M winger from your top six, and suddenly you are backfilling him with a downgraded $6M winger, but you also have picked up $5M in cap space to put towards that Tyler Bertuzzi type of forward you've had your eye on. You might be downgrading from a 99 point player to a 70 point player, but you also have money left over to upgrade from Alex Kerfoot's 32 points to potentially a 65 point option.
Like I said, I'm a hypocrite, and it seems strange to me being back to beating the trade Marner drum when this regular season more than any other was when I came to appreciate what a special player Marner is. His takeaway ability is generational. He can grab the puck in transition and quickly turn it into a high probability scoring chance for the Leafs. His passing is unmatched and a lot of the success that Tavares and Matthews have had can be attributed to an elite set up guy. Marner is so much more than a sudden stop and turn on the wall followed by a pass to the middle of the ice. That said, he's still $11M.
There is one last very important sticking point when it comes to why moving on from Marner now makes sense and that is his full no movement clause that will kick in on July 1st. This pretty much makes trading Marner a now or never type thing. He will have full control and a lot of leverage heading into negotiating his next contract. The last negotiation didn't go particularly well and that's how he became a $10.9M (I'll stop rounding up for effect) winger. If there is any doubt on the side of the Leafs that he is their top line winger, they need to make that decision now.
So if the Leafs do decide to trade him, what are the scenarios that make the most sense? Kyle Dubas clearly laid out what the first trade model would be:
This is funny because if I were to compare Mitch Marner to any other player around the NHL, Jonathan Huberdeau would be one the first players I would think of (obviously this year isn't a favourable comparison). I'm curious who would be the Weegar for the Leafs in this deal and who the potential Matthew Tkachuk options are, but there is also the possibility that in this scenario Dubas was viewing Marner as the Tkachuk commodity and hoping that someone would come to him with two very good pieces and futures to offer up.
Of course, trades like that are anything but the norm, and it is far more likely that the Leafs receive something futures-driven, and then most scramble with those futures and cap space to ice the best Leafs team possible. In this scenario, I don't think it's completely out of line to look at the Jack Eichel trade as a template.
Grade A prospect, 1st round pick, 3rd round pick, and a young roster player who has now comfortably found a home in the Sabres top six. All the while letting the Sabres dump around $5M of Eichel's $10M salary.
No matter the template for the trade, it's a high risk process and when you are trading someone like Mitch Marner you have to go into the deal prepared to come out of it looking like a bit of an ass. He'll very likely be the best player in the deal and there isn't going to be that instant satisfaction of feeling you've won a trade. It would very much be a "let's see what they do next" type of situation.
There is also the matter of who is looking to add someone like Marner and who would have the cap space for him and you don't have to be overly inspired to come up with the first potential landing spot for Marner. With Chicago on the cusp of adding Connor Bedard to their lineup and being armed with a ton of cap space, bringing in Marner is the quickest path back to being competitive. They have good draft picks aside from the untouchable Bedard pick and they have enough promising prospects that the Leafs might be able to shake one or two away from them. A team like Anaheim isn't going to be far off thinking that same way and it's not a coincidence that I'm suggesting Western teams. The catch with Anaheim is they lack a second 1st round pick in 202 that they'd cough up. I know that there is no way that a team does Bedard for Marner, but is it too much to suggest Fantelli for Marner? Probably and this somehow seems capable of universally upsetting all Ducks and Leafs fans, so I never mentioned it.
So yeah, there are some options where trading Marner might make some sense, but there is also the fact that this year has very limited options when it comes to reshaping the Leafs roster with significant pieces. Do you move on from Marner just to overpay Vladimir Tarasenko? I sure hope not. Do you give up on an elite winger so you can reshape the middle of your roster with Tyler Bertuzzi, Ivan Barbashev, and J.T. Compher? You'd hope there'd be a better way if that really is the path you want to go down.
Moving Marner is messy if it happens. And while it will be something talked about at nauseating length throughout the offseason, it probably makes sense until the Leafs know who their GM is going to be before expecting any clarity on this.