Why the Maple Leafs called up Semyon Der-Arguchintsev, and will he play?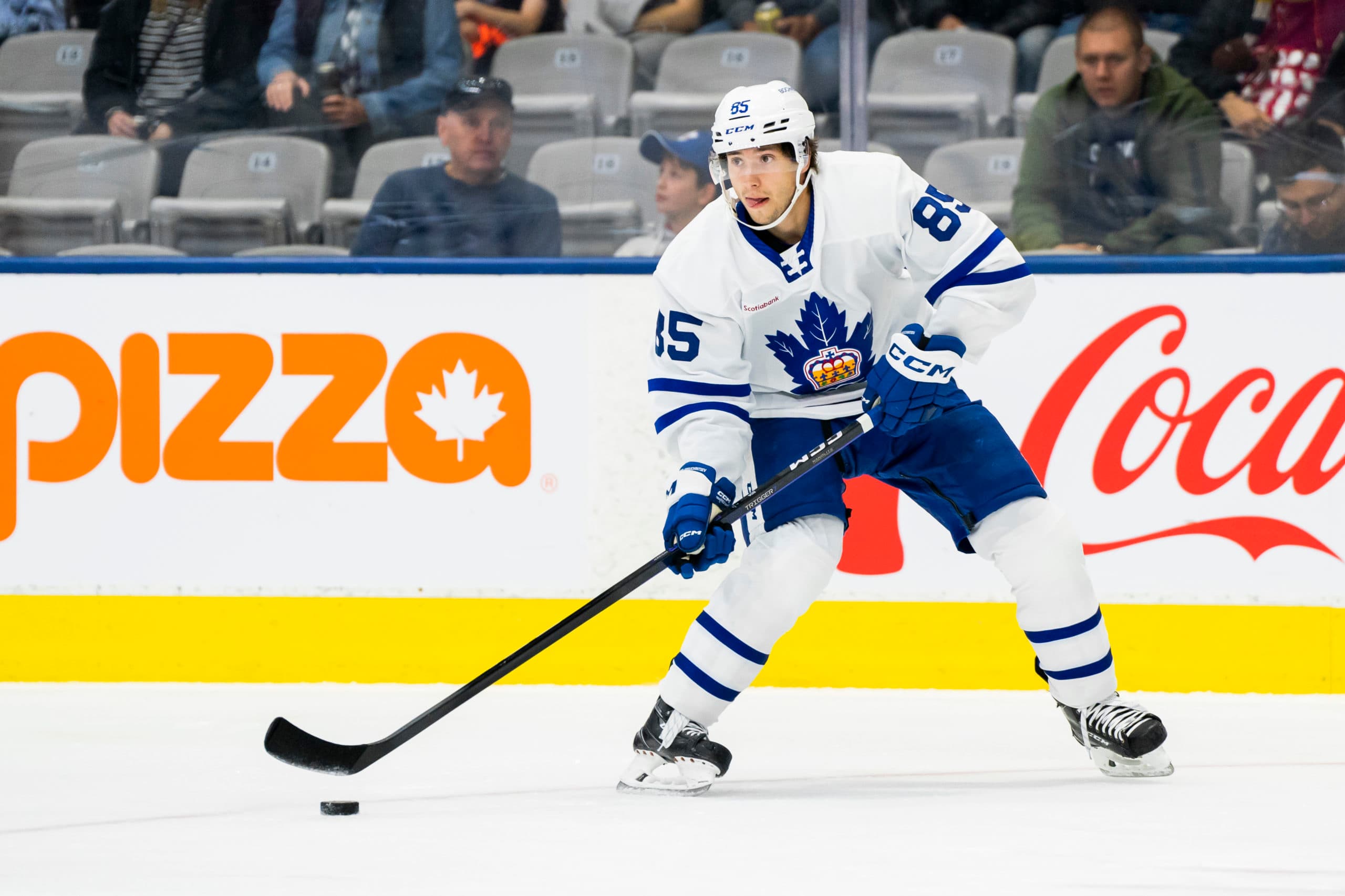 Photo credit:Thomas Skrlj / Toronto Marlies
When the Maple Leafs announced that Semyon Der-Arguchintsev had been called up, it caught many off guard.
But, really, it shouldn't have.
The surprise wasn't because he hadn't deserved it, because he rightfully earned it with his play early this season. It was more so because Toronto already has Pontus Holmberg, Nick Robertson, Denis Malgin, and Wayne Simmonds bouncing in and out of the lineup.
Even with the Calle Jarnkrok injury, not many would've guessed that Der-Arguchinstev's name would be the next to be called. Either way, it's a good moment for the 22-year-old, who's worked hard throughout the past two years to put himself in this position.
"Anytime someone gets called up, everyone's happy for them and excited for their opportunity," said Marlies head coach Greg Moore on Sunday night. "He's earned it.
"He's worked so hard over the last couple of years to improve his game and everyone could see the skill and the ability, and now he's piecing together the defence, the structure, the responsibility, and the trust when he's on the ice."
Der-Arguchintsev struggled a fair bit last season with finding his game at the professional level. It was never a matter of if he could do it, but more of a when and how type of scenario for the 22-year-old.
Everything was there — his playmaking, hockey-IQ, skill with the puck in the offensive zone — yet he needed to become stronger, more consistent, and harder to play against.
On the back-half of last season, Der-Arguchintsev did just that.
"[Der-Arguchintsev] was maybe one of the most improved players of the year." Moore said at the conclusion of last season. "Early in the season, I think it was getting used to the consistency, the pace of play, and the strength of the league. He started to put in a lot of work in the weight room, in practice, and the consistency of how hard he pushed himself to elevate physically and building stronger habits, which started to show up in the second half of the year. Way more competitive in game, really strong on pucks.
"And obviously when he gets the puck through the middle of the rink, he's pretty special in what he can create and what he can do, how he can think off of his teammates, how he can make his teammates look really good with getting them the puck in really tight areas. It's unfortunate that he had a couple of injuries there that took him out when he was gaining that momentum. But he put in a lot of good work this year and really excited about the progress he made and where that can lead into next season."
The 22-year-old's play in the transition has allowed him to take another step at the professional level. The more strength and comfortability he's gained over the last couple of months has allowed him to play with the same confidence he had while in the OHL.
Der-Arguchintsev has even taken strides in the defensive end, too, breaking up plays or getting back on a difficult back check to take away a scoring chance. There are
so many
pieces to his game
that have evolved
over the last calendar year, and it's allowed him to be where he is now.
When it comes to skilled players such as Der-Arguchintsev, I often find it fascinating to hear what goaltenders think. They face them every day in practice and also get a first-hand look at the sheer brilliance of players on a game-to-game basis.
It was perfect that Joseph Woll, who's been Der-Arguchintsev's teammate since he entered the AHL, spoke with the media on Sunday night after the Marlies' win.
"Pretty awesome, he definitely earned it," said Woll with a gigantic grin. "I've been with him for a couple of years and he's one of the most skilled players that I've seen. I hope he does as well as he can."
---
The big question everyone might have is: Will Der-Arguchintsev get to make his NHL debut on Tuesday in Dallas?
I have to think he will.
Like I said earlier, the Maple Leafs already have a couple of players who bounce in and out of the lineup. They wouldn't fly the 22-year-old all the way to Dallas just to have him sit in the press box. Maybe they do, but I'd be quite shocked if that was the case.
It would be understandable if that was the situation while the Maple Leafs were in Toronto. Have him come up, experience what the NHL is about, and just take everything all in. However, the fact that they've flew him out to Dallas makes me believe he'll make his NHL debut on Tuesday night.
Maybe we see him reunited with Robertson — his teammate going all the way back to the junior days in Peterborough — which would be an incredible story.
But any news surrounding Der-Arguchintsev's NHL debut will have to wait until later on Monday when the Maple Leafs practice in Dallas.