With substantial (probably) money on the board, Leafs cash in against Caps: Muzzy's Muzings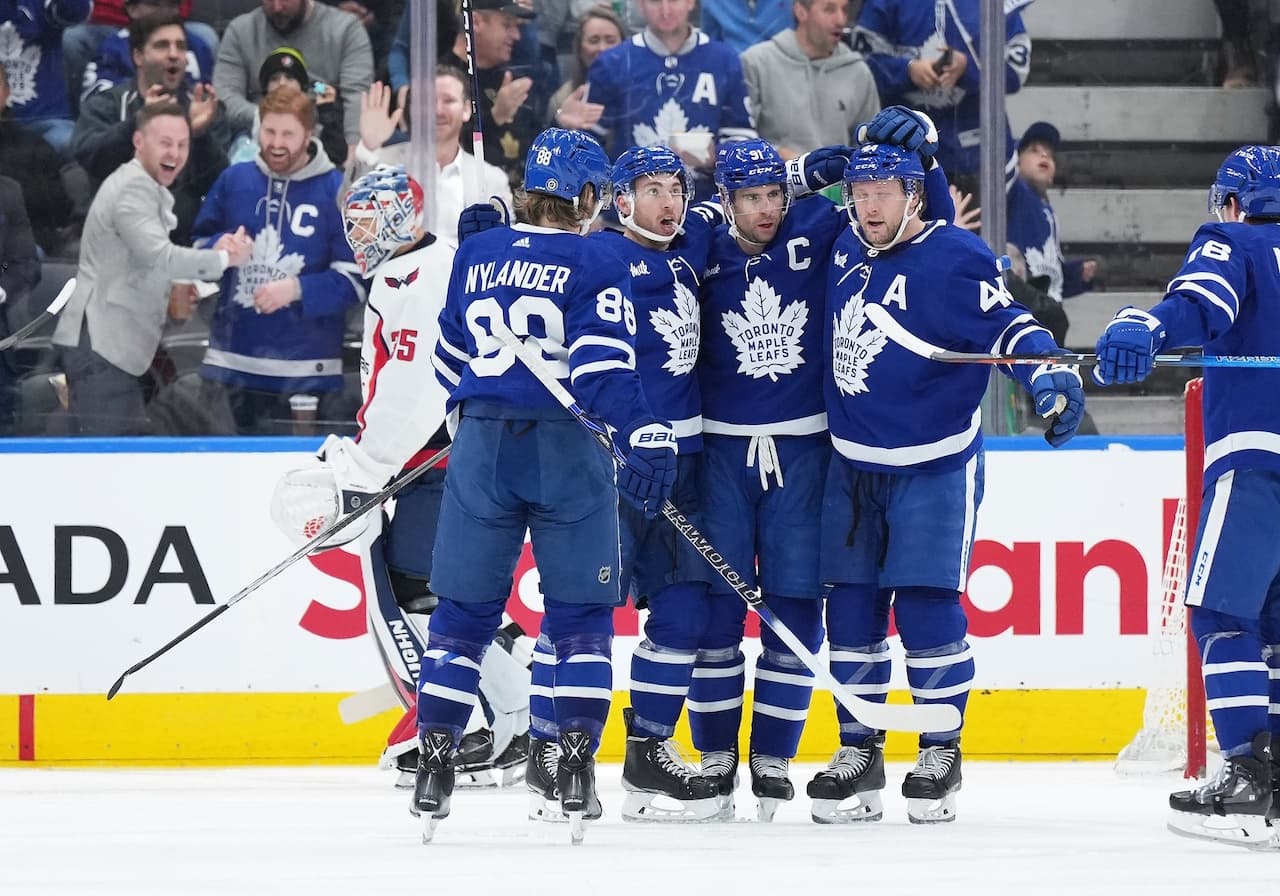 Photo credit:Nick Turchiaro-USA TODAY Sports
John Tavares notched two assists in his 1000th NHL game as the Leafs erupted for four unanswered second period goals on route to a 5-1 beatdown of the Washington Capitals.
With the victory, Toronto (31-12-8), who chased the red-hot Darcy Kuemper after he surrendered four goals on 20 shots, improved to 3-1-0 on its five game homestand.
Furthermore, it took 36 games, but finally, the goal drought is over for Morgan Rielly. The 28-year-old scored for the first time since Game 7 against Tampa last spring. Additionally, Michael Bunting notched a goal and an assist while Ilya Samsonov made 23 stops to beat his former mates for the second time and improve to 15-1-1 on home ice this season.
After missing 10 games with a rib injury, T.J. Brodie tallied an assist and logged 21:15 of ice in his return to the lineup. Meantime, William Nylander potted his 28th to extend his point streak to seven games. Also, Pierre Engvall chipped in with his 10th of the campaign.
12 different Leafs registered at least a point on Sunday night.
MUZZY'S MUZINGS:
JT1000
First and foremost, I thought the Leafs put on a terrific pre-game ceremony to commemorate John Tavares' 1000th NHL game. From a young age dating back to when he was granted exceptional status at 15 in the OHL, Tavares has been the epitome of class. He just gets it. If there was ever a night to be distracted, it was this one, but knowing what we know about the captain, of course he played an instrumental role in another Maple Leafs victory. I've said it time and time again, right now, Tavares is the perfect captain for this squad. Nothing seems to faze him. It's remarkable.
RIELLY FINALLY SCORES
If you have a heart, you can't help but feel good for Morgan Rielly. It took 36 games, but finally, the 28-year-old tallied that elusive first goal of the season. Furthermore, it's not how you start, it's how you finish. If the Leafs are going to do anything substantial this spring, they'll need their No. 1 defenceman. If you can believe it, that was his first goal since Game 7 against Tampa. Here's hoping that Rielly's best hockey this season is ahead of him. That's a good start. Atta boy, Mo!
GOOD RESPONSE
After letting the Ottawa game get away from them a bit on Friday night, I thought the Leafs had a really good first period. Despite that, they trailed 1-0 at the intermission after Nick Backstrom's late power play tally. That said, they deserve a lot of credit for sticking with the program. Ultimately, it paid off for them.
ANOTHER SOLID SECOND
It's been their bread and butter all season long, and Sunday night was no different. Toronto erupted for four unanswered second period goals to go from a 1-0 deficit after one to a commanding 4-1 lead after two. For some reason, Sheldon Keefe's squad just has this second period thing figured out, regardless of how the opening 20 goes. The Caps had no answer.
HIGHLIGHT OF THE NIGHT:
WHAT'S NEXT?
 In their final outing before a nine-day layoff (All-Star Break/Bye Week), the Leafs will host the Boston Bruins (38-7-5) on Wednesday night to finish off their five game homestand (3-1-0). The two Atlantic Division rivals have split their two previous meetings this season with the home team winning both times.