Woll shows off his skills, analyzing Voit's production, Lisowsky lighting lamps: Leafs Prospect Roundup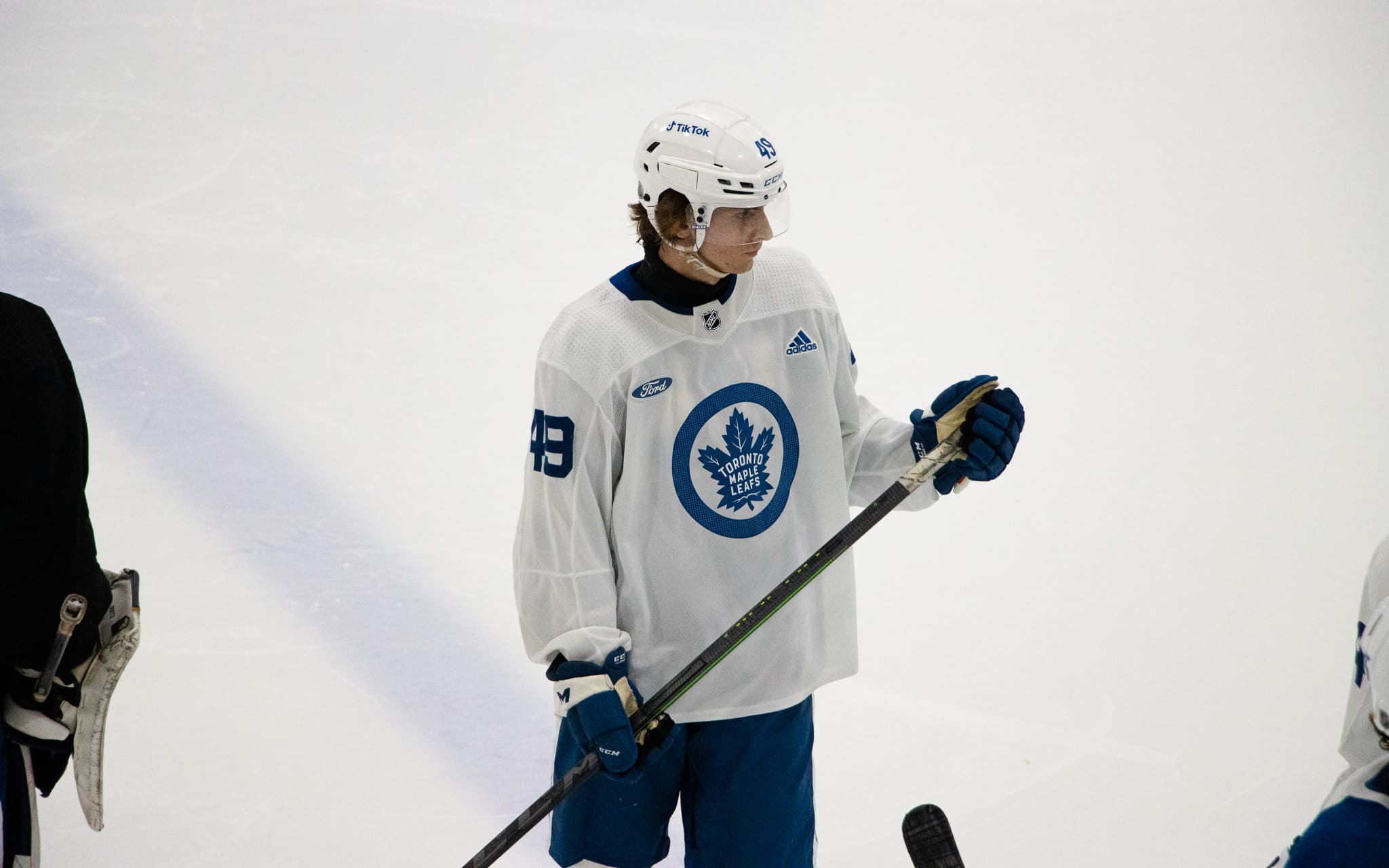 Photo credit:Nick Barden
The spotlight was shining bright on Mitch Marner and the rest of the NHL All-Stars in Florida this past weekend, but the AHL also got their All-Star festivities underway with their skills competition on Sunday night.
The Marlies are well-represented at the AHL's All-Star event, with netminder Joseph Woll, defenseman Noel Hoefenmayer, and captain Logan Shaw taking part. Hoefenmayer is having a fantastic season for the Marlies playing on an AHL contract, and he had a solid showing in the hardest shot event when he clocked in at 99.2 mph with his second attempt, but it was Joseph Woll who stole the show as he has so many times this season.
In his first appearance of the evening, Woll stopped eight of ten attempts in the rapid-fire event, tying Bruins prospect Brandon Bussi for the top score. He was just getting started, however, and didn't allow a goal on three attempts in the Pass and Score Challenge before stopping four of five attempts in the breakaway relay.
Woll played a big part in the Eastern Conference coming away victorious on Sunday night and was named the event's top goaltender for his efforts. It was a continuation of what has been a spectacular season for Woll thus far, coming off a 25-save performance in a 4-1 win over Laval on Friday that brought his record to 13-1-0 to go along with a 2.36 GAA and .930 SV%.
Matt Murray's progress from an ankle injury that sidelined him just prior to the NHL All-Star break remains unclear, and if he is unable to play when the Leafs return to action against Columbus on Friday, Woll will be the one backing up Ilya Samsonov. The clubs will face off again on Saturday night, so if Murray is indeed unavailable, we could see Woll make his first NHL start since December of 2021.
Woll performed admirably in his first NHL stint, going 3-1-0 with a 2.76 GAA and .911 SV% in four appearances, and he has certainly proven worthy of another opportunity with his play in the AHL this season. Murray's injury could end up being a blessing in disguise if it allows the Leafs to get another look at Woll against NHL competition before he loses his waiver-exempt status next season.
Ty Voit | W | Sarnia (OHL)
Voit came out of the gate incredibly hot, putting up video game numbers for Sarnia while leading the OHL scoring race throughout the entire first half of the season. Voit has since "slowed down" with only 11 points in his last ten games, and he has been overtaken in his chase for the league's scoring title by Islanders prospect Matthew Maggio as well as Oilers prospect Matvei Petrov.
The Sting have relied on Voit to be their primary offensive driver for much of the last two seasons. Last year, he led the club in scoring with 26 goals and 54 assists, putting him 21 points clear of his team's next highest-scoring player. This year, his 71 points currently have him ahead of Sarnia's second-leading scorer by 19 points. The organization has made some significant additions to their roster over the last several weeks, however, with the additions of Ducks prospect Sasha Pastujov and Blue Jackets prospect Luca Del Bel Belluz helping to lighten some of the offensive load that Voit has been shouldering.
It would stand to reason that Voit would be even more productive with some added offensive firepower around him, but his rate of production has actually decreased following each of those additions. Voit recorded 32 points in 18 games (1.77 ppg) prior to Pastujov entering Sarnia's lineup, 26 points in the next 17 games (1.53 ppg) before Del Bel Belluz was acquired, and after going pointless in Sunday's loss to Ottawa, has 13 points in 11 games (1.18 ppg) since Del Bel Belluz joined the club.
Comparatively, Pastujov has put up 16 goals and 31 assists in just 25 games (1.88 ppg) with the Sting, while Del Bel Belluz has also outscored Voit with 14 points in the 11 games since he was acquired. It is worth noting that Voit has still been charged with driving his own line, playing on different units than Pastujov and Del Bel Belluz at even strength for the most part, but after being the Sting's driving force for over a year, he has taken a bit of a backseat to the club's recent additions.
Voit did have a big outing on Friday as the Sting destroyed the Soo Greyhounds by a score of 12-1. Voit and Del Bel Belluz actually had dueling three-goal, one-assist performances in the blowout win. Despite slowing down as the season has worn on, the Leafs' 2021 fifth-rounder has been a revelation, already with 71 points through just 46 games.
He will almost certainly be in contention for the OHL's scoring title until the very end of the season, but the real challenge for Voit will come next year when his sublime offensive skills will be put to the test at the AHL level against bigger, stronger, smarter, and more skillful competition.
Brandon Lisowsky | W | Saskatoon (WHL)
Drafted by the Leafs in the seventh round of last summer's draft, Lisowsky is putting together an impressive season for the Saskatoon Blades in the WHL. He has been particularly hot as of late, scoring five goals while going without a point just once in his last eight games, and now has 26 goals to go along with 23 assists in 45 games.
Lauded for his shot and pure goalscoring upside in his draft year, Lisowsky has kept up and even improved his impressive goal production this year while also becoming a more efficient playmaker. Make no mistake; he is still very much a shoot-first player, but he has looked to distribute to teammates rather than settling for low-percentage shots more often this season, and it has helped to make him into a more dynamic threat with the puck on his stick.
Lisowksy doesn't just dish the puck off and let his linemates do the rest. He moves around the offensive zone with purpose, hunting space off of passes, either to draw defenders and open up space for his teammates or to get himself into a prime shooting area. His shot is already NHL quality, so an improved ability to get into positions to utilize it has been an encouraging development.
Late-round picks are never a sure thing, and there is still a long way to go, but Lisowsky's game has taken a step forward this season. Projected by many to be selected much earlier than where the Leafs landed him, he has shown why so many in the public scouting sphere believed in his offensive game.
Notes from the rest of the prospect pool:
Fraser Minten has hit a bit of a cold patch, being held off the scoresheet in each of Kamloops' last four games. He did have a solid showing in Sunday's thrilling comeback win over Victoria, winning a number of key faceoffs and providing a partial screen on Olen Zellweger's game-winner in the dying seconds of the game. Minten now has 23 goals and 22 assists in 38 games so far this season.
Roni Hirvonen continued his strong second half with a two-goal performance in a 4-1 win over Tappara on Saturday, bringing him to 13 goals and 11 assists in 46 games. After a slow start for not only him but the entire HIFK team, 10 of Hirvonen's 24 points on the season have come in the last 13 games.
Nick Moldenhauer had a pair of assists in Friday's 6-2 win over Cedar Rapids but had his three-game point streak snapped in the rematch the following night. Prior to Saturday, Moldenhauer had put up a goal and five assists over that three-game span, and he now has 16 goals and 28 assists in 34 games for the Chicago Steel this season.
Alex Steeves has been on a bit of a heater for the Marlies, picking up three goals and a pair of assists in his last four games. Now up to 16 goals and 22 assists in 44 games with the Marlies, don't be surprised if Steeves is the next one to earn a look in the Leafs' bottom-six.
Dennis Hildeby has struggled mightily over the last few weeks, owning an ugly .883 SV% in four appearances since the calendar flipped over to 2023. Hildeby's .917 SV% over 15 games this season is still more than respectable, but his recent stretch of poor play won't help him steal any more starts from Matt Tomkins, who owns a .913 SV% through 26 games.
It's hard to refer to what Nikita Grebyonkin is doing in the KHL as a hot streak at this point. He notched another goal and an assist over three games this past week, bringing him to nine goals and 14 assists in 40 games with Amur this season. Grebyonkin now owns a healthy lead in the scoring race among U20 KHL players, seven points clear of second place.
Artur Akhtyamov played just one game last week, but it was another impressive outing for the Leafs' 2020 fourth-rounder. He stopped 37 of 38 shots he faced in regulation and overtime before closing the door to lead his club to a shootout victory. For the season, Akhtyamov has a ridiculous .944 SV% to go along with a 1.73 GAA in 36 games.
Vyacheslav Peksa played in a pair of games, coming away with two losses despite his best efforts. He stopped 39 of 40 shots in a 1-0 loss on Tuesday and then surrendered three goals on 33 shots in a shootout loss on Thursday. After matching Akhtyamov save for save early in the season, Peksa has settled in with an impressive .921 SV% through 40 games.
Braeden Kressler tallied a pair of goals over three games this past week and now has 22 goals and 22 assists in 38 games for Flint in his overage season. Check out this highlight reel effort:
Remember Vladislav Kara? No one could blame you if not. Drafted by the Leafs in the fourth round way back in 2017, the now 24-year-old Kara has finally broken through at the KHL level. With four goals and an assist in his last five games, he is up to 19 goals and 12 assists in 58 games. He is likely considered a write-off by the organization at this point, but they own his exclusive NHL rights indefinitely, so you never know.
(Statistics from EliteProspects.com)