10 Bieber Jackets Out Of 10 + Guest Luke Fox: Leafs Morning Take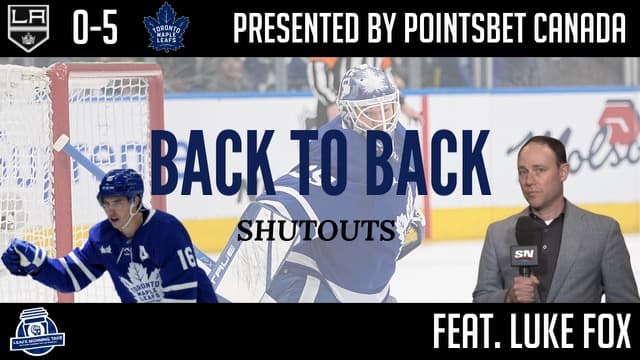 Waking up on a Friday after another Maple Leafs victory just hits differently.
Ilya Samsonov notched the 29 save shutout and Mitch Marner scored to extend his point streak to a whopping 21 games, Toronto spanked Los Angeles 5-0 on Thursday night at Scotiabank Arena.
I won't lie, even though my main man Rosie wasn't physically in the mix for today's edition of
Leafs Morning Take
, it was a lot of fun dissecting yet another Leafs victory. In addition to 3 Hits With Rosie, Luke Fox, who covers the Leafs for Sportsnet, dropped by for a deeper dive on this team right now. Also, it hit the wire while we were chatting, so we dove into the Pierre Engvall high-stick on Sean Durzi as well:
And so, the Leafs get set to host the Calgary Flames on Saturday night, but before that, the Flames are in Columbus tonight to tangle with Johnny Gaudreau and the Blue Jackets. With that in mind, suffice it is to say, I'm dabbling into the revenge narrative for today's
PointsBet Canada bet of the day
:
Alright, have a great weekend! Rosie and I will be back on Monday at 11 AM ET for an extensive breakdown of Saturday night's tilt, plus a preview of another busy week for the Maple Leafs.
Don't forget to subscribe, like, and leave us a review wherever you're checking us out!