A Who's Who of 2021 NCAA Free Agency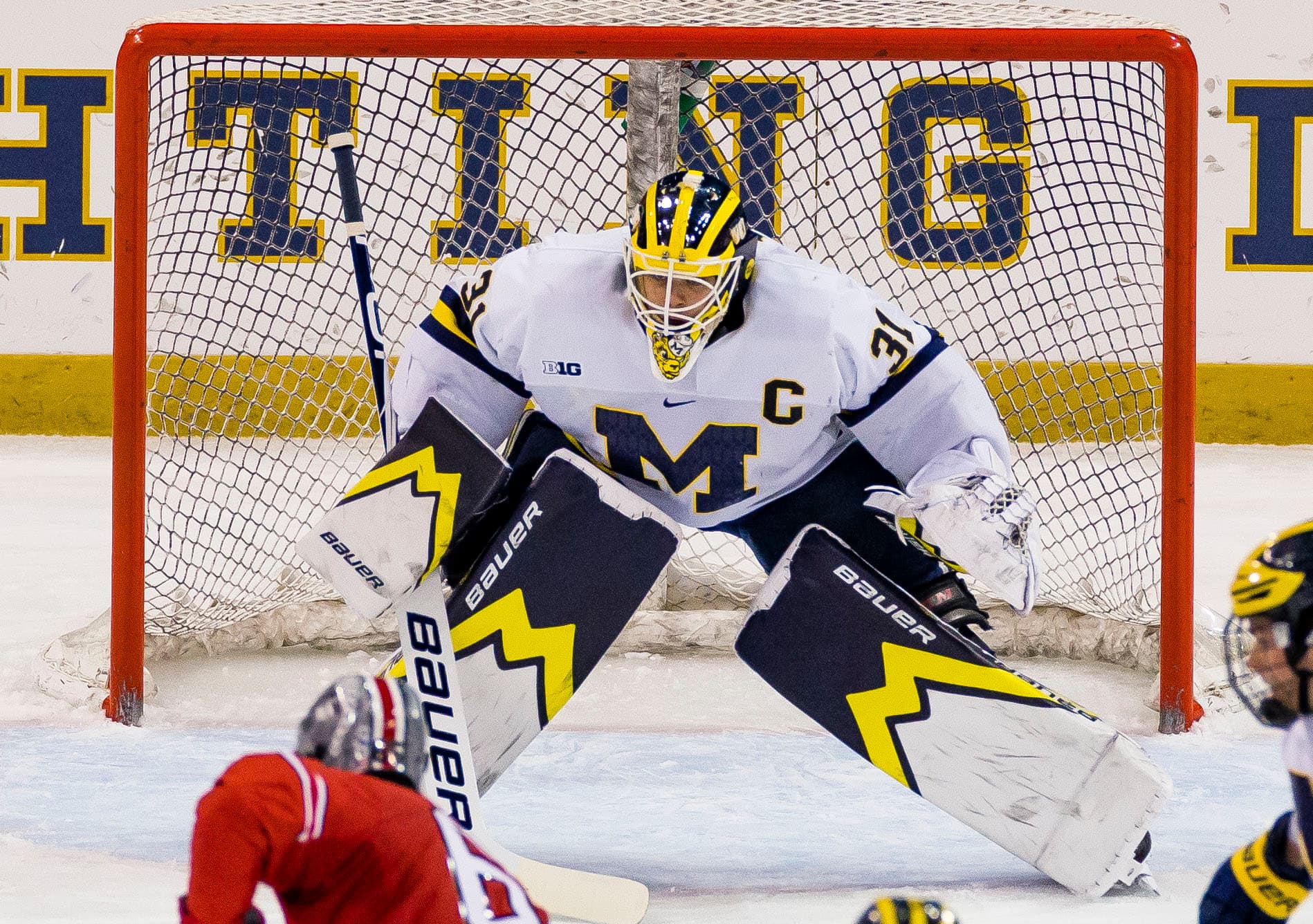 Photo credit:South Bend Tribune-USA TODAY NETWORK
Every year the NCAA season begins to wind down and the players who have earned some NHL attention begin to have their names bubble to the surface. Not every player that garners interest signs a contract and many never result in much more than quality AHL depth but the NCAA market always seems to be a hotly contested one. This season's crop of college free agents may face some barriers because of the COVID-19 pandemic as teams are strapped for cash and have been hesitant to spend in some cases. This could give teams like the Leafs, Rangers, and Bruins a bit more of an advantage as they are not held to the same monetary restrictions as others.
The drop, in general, is fairly average in terms of talent and there may not be a Tyler Bozak but you could get a Zach Whitecloud or a Zach Aston-Reese from this group. Bottom of the roster players need to be contributors and they need to be on good, cheap deals. NCAA free agents are a good way to give yourself extra options to fill those roles with cheap talent. If they don't work out, the only asset that has been spent is a bit of cash and a contract slot, which won't be an issue if the player signs an AHL deal.
There are a number of intriguing goalies and a few really solid blueliners sprinkled with some skilled forwards who may not pan out. It's a pretty typical NCAA group when you look at the big picture. With no order to the list, let's get to know this year's crop of NCAA prospects.
This year's top NCAA free agent, Kiersted is a bit of an interesting projection. He has some very nice moments that make him look like he could be a top-four defenseman in the NHL in a year or two. His puck-moving ability thrives on him making quick, precise passes out of his own zone to find forwards up ice in position to push the pace. He has the mobility to rush up ice with the kind of pep in his step that the modern NHL requires but it is a bit hit-and-miss because of some tendency to skate himself into trouble at times. Offensively, he has a good shot that can be utilized on the powerplay but he is most effective as a distributor who can find teammates.
His defensive game has shown some refinement in college. He angles players off quite well, keeping the gap tight in transition and keeping the attacker to the outside. He struggles to shadow defenders in-zone at times when the opposition is sustaining zone time but he has shown a propensity for jumping on loose pucks and moving it to an advantageous position for his team. There will need to be work done on tightening up his game, likely with a season of AHL time but there could be a bottom-pair, versatile defender. 
One of the best goaltenders in NCAA hockey over the last few seasons, Mann has been rumoured to be the most coveted crease protector in free agency. He lacks prototypical size, standing at just 6'0", but his in-game adjustments and ability to track the play are pretty solid. He has the track record and statistical profile that teams look for in a goalie and certainly has earned himself a look from NHL clubs. 
He has a .926 save percentage over the course of his career with the Wolverines including a .939 and .930 the past two years. He was a rare goalie to be given the C as co-captain with Jack Becker, showing just how much the Wolverines' coaching staff and the team felt about the junior goaltender. He certainly isn't going to walk in on day one and take over a job in the NHL but once Michigan's run at the NCAA Tournament comes to an end, he could step onto an AHL roster and get a gauge for where he's at.
Akito Hirose, D, Minnesota State (WCHA)
The brother of Detroit's Taro Hirose might be a name to watch for next season and Akito has some NHL potential. The younger Hirose is a defender who is willing to establish body position and keep play to the outside in his own end. He doesn't have the big hit in him with any sort of consistency but he isn't afraid of physicality either. He can move pucks up ice with good vision and a solid first-pass, finding his outlets up ice. 
He has flashed potential on the offensive end of the ice but he's certainly not a player that you should be expecting to come in and run a powerplay. He is a capable puck distributor in the attacking zone and should be competent with the puck on his stick at the next level. The freshman played in the BCHL until he aged out which means he is already 21 years old. With that said, while there have been some rumblings around whether he signs after one college season, he would be benefitted by going back to Minnesota State for at least one more season.
One of the top forwards available among NCAA free agents, Kawaguchi has some major 'fun factor' to his game. Let's get the concerns out of the way first with the NoDak product. At 5'9", he doesn't have the size that NHL teams covet and his skating is average. The combination of those two things is always going to be a concern for pro clubs. With that said, Kawaguchi is going to garner a boatload of interest from NHL squads because of everything else that his game encapsulates. His skill and offensive instincts are impressive enough to take the chance on the young Canadian forward.
With playmaking ability off his backhand that is uncommon among many players in today's game, Kawaguchi presents an interesting mix of being a scorer or a set-up man. He can be lethal on the powerplay where he has a bit more time and space to operate. He finds seams and shooting lanes with some cheeky fakes and deception that leads defenders to believe that he will be passing when he is shooting and visa-versa. Patience and an acceptance that he may not turn into anything will be key for any team that signs the skilled winger. 
Parker Ford, C, Providence (Hockey East)
Ford is a player that many thought would have been taken in the draft last season but alas, the defensive-minded center is available without having to spend any draft capital. His niche at the next level will be that of a bottom-six energy guy who can provide solid minutes and should at least keep play moving in the right direction. His uptempo game thrives because of his non-stop motor and if he can get his hands to be a bit cleaner in front of the net, he could become a scoring asset from in tight. 
Any team looking to sign Ford will be looking to their development staff to really push the skill development. There likely isn't a reality where Ford works his way to being any more than a fourth-line center but if a team can get him to be a Travis Boyd-type that just outkicks the coverage consistently with good play driving metrics and the ability to just eat up some minutes while the stars rest up for their next shift.
A name that hasn't been getting the love that he should, possibly because his plans on returning to Ann Arbor for his senior season are unknown, but Blankenburg is a defender that a team should be looking to get their hands on. He's played with Owen Power on most nights and he's helped mitigate some of the freshman mistakes that the 2021 NHL Draft prospect made, especially early in the year. He is a bit undersized but his mobility and brain allow him to make the right play on a nightly basis in all three zones.
Blankenburg shows poise and without the puck, which will be one thing that has to translate in order for the undersized blueliner to succeed when he takes the next step. He needs to continue to develop his strengths and AHL time is going to be necessary. His outlook at the NHL level is likely a bottom-pair defender who can keep things positive while on the ice without the worry of being burned. He may not be anything more than a solid AHL option at the end of the day but his play warrants a look from an NHL team. 
Adam Scheel, G, North Dakota (NCHC)
Goalies are a bet on the best days and complete shots in the dark on the worst of them. Scheel has been very good during his North Dakota career, earning NCHC Goaltender of the Year honours this season. He backstopped a powerhouse team this season to the tune of a .926 save percentage and he's primed for a long run in the NCAA Hockey Tournament. He meets the size requirements of NHL teams, standing at 6'3" and he does a good job of staying big in his net. 
There have been concerns of whether he has been propped up a bit by a stout defense that features Jake Sanderson, Jacob Bernard-Docker, and everyone's favourite defender Tyler Kleven (who could have been a Leaf). The fact of the matter is, the projectability is there for Scheel, and if he ends up being an AHL netminder that just plays some solid minutes for your minor league team, it's nothing more than a contract slot. 
Dryden McKay, G, Minnesota State (WCHA)
There are pros and cons with Dryden McKay and they are pretty easy to distinguish. The con is that he is a bit small – 5'11" – for a goalie which means he may lack the frame and length to stop those pucks that reflexes can't get to at the next level. The pros are pretty much everything else. His statistical output is borderline ridiculous and he has proven himself each and every year in the WCHA. 
He moves well in his crease and has the athleticism that can help make up for the size disadvantage. He seems to have the ability to put himself in a position to make every save with his mobility and puck tracking ability. His career .802 win-percentage at Minnesota State is comical when you think about just how good it is and his .933 save percentage over certainly doesn't hurt his case. The Hober Baker finalist has been a hot topic of conversation all year because of his gaudy numbers. His size may wind up being the reason he goes back to the NCAA next season for his senior year but his track record speaks for itself. 
Leading the nation in assists by double digits, Tufto is a playmaker extraordinaire! He is on the small side of the small side at just 5'7" and he is already 24 years old which means the runway for improvement isn't a long one. He gives 110% effort and does a good job of working by his size issue by virtue of effort alone at times. His maneuverability with the puck gets him out of messes in the corners and along the boards but the question of whether he can do it at an even higher level is valid. 
He may top out as an AHL scorer or tweener who isn't quite a full-time NHLer but there is value to be had in a skilled playmaker who can put teammates in the right position to score. His vision and touch on his passes are smooth, finding tape regularly. He is at his best in space with the man advantage and could make a living doing that in the AHL. Where the Hobey Baker finalist signs will be interesting. 
The 69th Walter Brown Award winner is set to attend New York Rangers development camp which likely means there isn't much of a reason to include the Long Island native. An invite to camp is far from a contract in hand, however, and the UMass winger is sure talented enough to bring up in the discussion of players looking to take a step up from the college ranks. The Hockey East Tournament MVP put up solid numbers and doesn't shy away from cutting across a defender's face to get to the middle of the ice. 
 Trivigno was an integral part of the UMass attack and was a catalyst for making plays happen when he had the puck. His off-puck game may need a bit of work and he could stand to get a bit faster at his top speed but he has a bit of runway with having just turned 22. He seems destined for a bottom-six energy role at the next level who can occasionally flash you back to his college days with a really nice skilled play from time-to-time. As previously mentioned, he will be attending Rangers' development camp so he may have his mind set of his childhood team as it is. 
With plenty of speculation as to where Limoges will sign, the Penn State captain will likely have a few options. His sophomore year was massive as he put up 50 points in 39 games but he's been largely a point-per-game player since and hasn't been able to capture that same magic quite to the full extent. He is, however, a
well-respected player in the college ranks
that should get an opportunity with an NHL club. 
The 23-year-old is going to need a bit of AHL seasoning but he could play a bottom-six role for a team late in the shortened NHL season just to see where he is along his development path. His offensive tools are what they are and he seems to understand that he isn't going to be 'the guy' on every play, working off his teammates and getting himself into space. He doesn't have the size issue that many players on the list have as he stands 6'1" with a willingness to use his frame. There may not be anything special here but he could be a bottom of the roster contributor for an NHL club.
Will any of these guys turn out to be NHL stars? Not likely. Could a few of them become solid, productive NHLers? Sure. The key to many of these players succeeding will be finding the right situation with the right development staff for their needs. Whether it be cleaning up a skating stride or adding a bit more strength to their frame, these kids will likely have to earn all the ice they get at the next level.