Knies picks up an assist and provides a physical presence in USA win over Sweden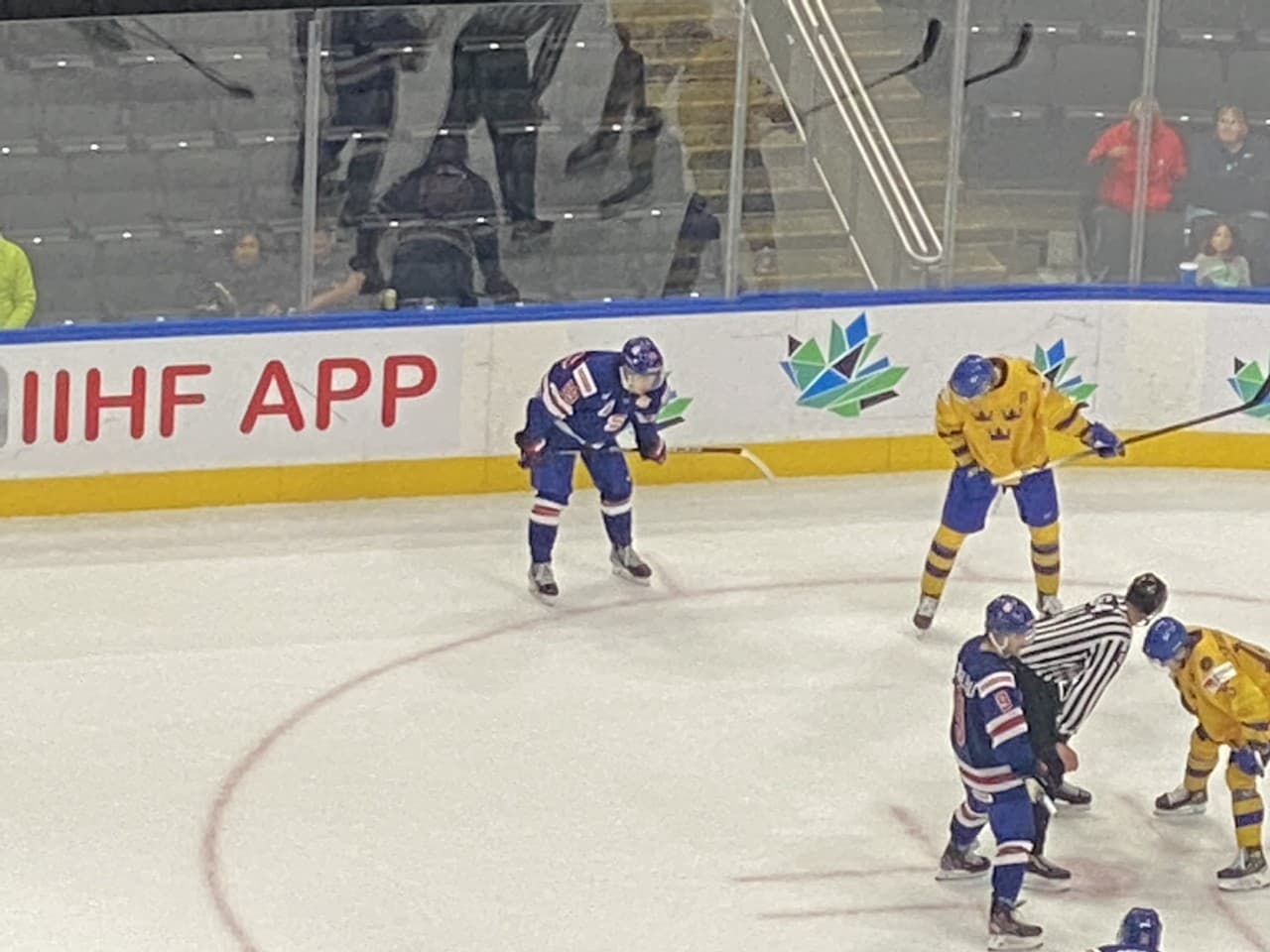 Photo credit:Jon Steitzer
It's been an interesting day at the World Juniors. Nothing more shocking than Latvia pulling off an upset over Czechia, but from a Leafs perspective there was another multi-point game from Roni Hirvonen this afternoon for Finland, and Topi Niemela also found the scoresheet. I'll have much more of them throughout the remainder of the tournament, I promise.
The night cap game features Matthew Knies facing Team USA's toughest competition of the tournament so far against Sweden. Again on a line with Matt Coronato and Logan Cooley, the game offered a chance for Knies to show that his style adds value against tough competition within his peer group.
Here's the breakdown of his game:
The first period
To say this game has a different feel than USA vs. Austria is an understatement. Nate Leaman was a lot more careful about how he was running his bench. Shift length is far more controlled. It's also worth noting that there is very little interest in starting the Knies line of Knies-Cooley-Coronato in the defensive zone.
The other switch we are seeing in this game is that Team USA is attempting to put Knies and Coronato on their opposite sides in the offensive zone. Knies was frequently setting up on the right side and returning to left in his own zone.
The first period also a look at Knies on the powerplay. He was primarily posting up to the side of the net looking to sweep pucks towards the net rather than acting as a full net presence. It did allow him to control puck movement behind the Swedish goal a bit more, but unfortunately no results beyond a shot on goal.
Knies has had more zone entries in the first than we saw from him last game and looks more comfortable carrying the puck. He looks like he wants the puck more than against Austria, and had a nice give and go with Coronato that didn't yield anything, but a nice shot assist to Cooley around the midway point in the first.
Knies and his line did get pinned in their own zone at one point, and Knies aided in retrieving the puck with a hit behind his own goal. He and Cooley would partner on a zone exit leading to a dump-in to end the threat.
A couple of good drives at the net were how Knies ended the period including a more aggressive move to win a race to the puck. The aggressive elements of his game clearly need to be encouraged as he doesn't do a lot of good when he's floated near the blueline waiting for plays to develop so he can jump in. He needs to be the catalyst.
The Second Period
Here's where you get to read about the stuff you definitely want to hear about Matthew Knies.
Knies was using his size throughout the period establishing aggressive forechecks and laying a couple of bigger hits in the period. He also picked up an assist, so that's good stuff too.
There was a lot of powerplay time for the Americans in the second and that showcased a lot more of what Knies does on the powerplay. He was very much the low post option, but as the puck was more established on the perimeter or the point, Knies moved to where you'd expect to see him in front of the net.
Knies was quickly jumping in to grab any rebounds and keep the Americans in control of the puck on the powerplay.
There was also a lot of checking of boxes when it comes to his grittiness quota. After apparently injuring himself on a hit early in the second, Knies went to the bench but didn't miss a shift. By the end of the period Knies was playing with tissues wedged up his nose and generally looking ready to engage on every shift.
That said, puck handling and decision making continue to stick out as areas that Knies can improve on. He's now in the right place, but is struggling to make the most of the opportunities compared to some of peers.
The Third Period
The third period was a different story for Matthew Knies. He found himself on a line with Thomas Bordeleau and Carter Mazur, but spent the majority of the period looking out of place.
There were very few opportunities for Knies to set up any offensive opportunities, nor was he set up for them. It seemed like Knies relied on the most simple aspect of his game to provide some value and he was a physical presence whenever he could be.
To make things a bit worse for he was on the ice for the first Sweden goal. He was doing a solid job of taking away the point shot, but not the pass, and Sweden would score from the blueline to get back into the game.
There interesting twist from the primarily offensive situations that Knies was in earlier, with his new line he found himself defending late in the third with less than a minute to go on for defensive zone starts. Knies had a critical shot block during that time.
What to takeaway from this game
Knies certainly has a lot of value as a physical winger, but his offensive toolkit is certainly a few notches below Cooley and Coronato.
It will be interesting to see what comes out of the lineup change in the third and if Knies can find a groove with his new linemates once he gets in a practice or two with them. It's important to note that Knies' icetime trended upward in the third period, playing an additional shift (7 compared to 6 in the second period.) Knies wasn't in the dog house, this was a coach trying something new.
For anyone expecting Knies to be an offensive dynamo I can appreciate this tournament being a bit disappointing. Generally I assume that power forwards are going to be projects and Knies is bringing the size, toughness, and aggressive net attack you'd expect to see. It's just going to be a matter of time to see if he adds complimentary skills.
Knies and Team USA will back at it on Wednesday for the first playoff round when they face Czechia.
More from The Leafs Nation: