Another year, another demoralizing postseason exit: Muzzy's Muzings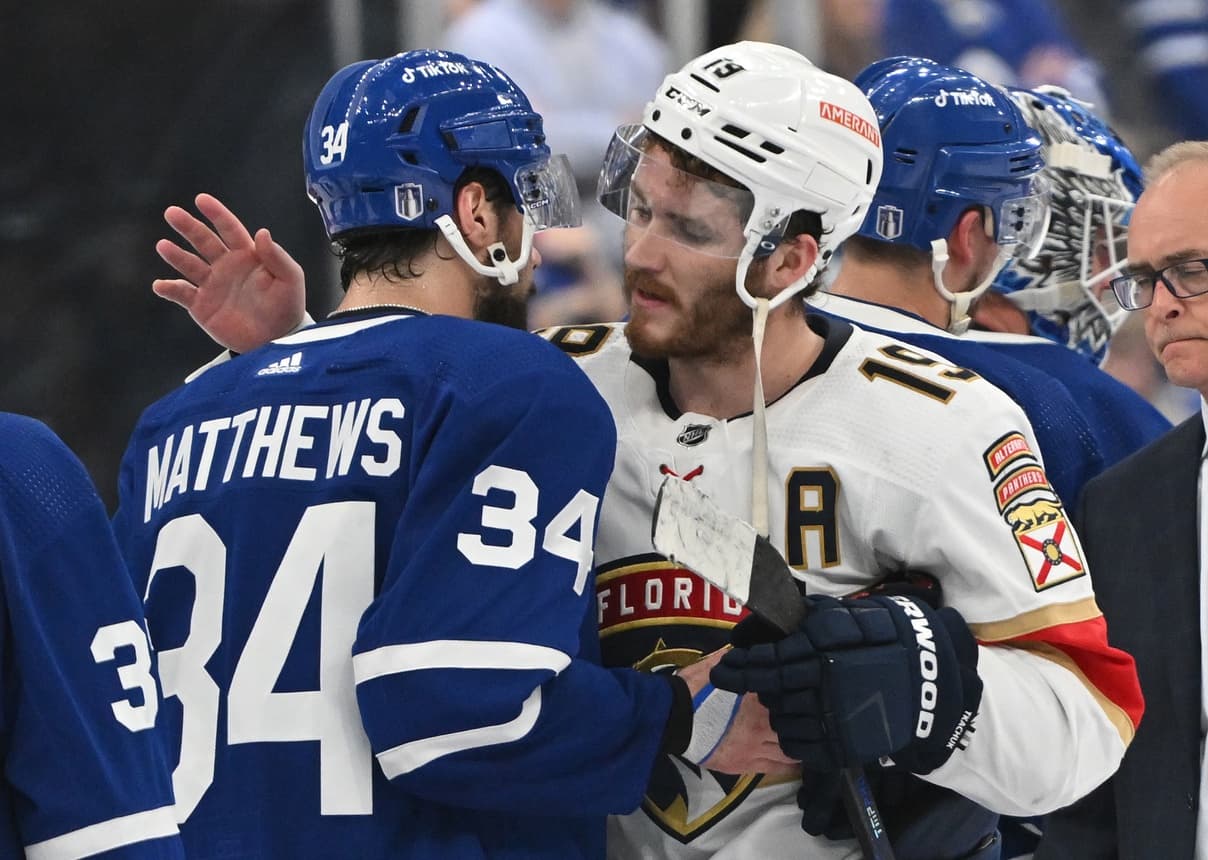 Photo credit:Dan Hamilton-USA TODAY Sports
The Leafs may have won their first playoff series in 19 years, but once again, the feeling is a hollow one as another long offseason commences in Leafs Nation.
Nick Cousins scored the game winner at the 15:32 mark of overtime as the Panthers upended the Leafs 3-2 to take their best-of-7 series in five games.
Unbelievably, the Leafs scored two goals in each of their final seven postseason outings. Both goaltenders were fantastic. Sergei Bobrovsky made 51 stops while Joseph Woll turned aside 41.
William Nylander tied the game at two with just 4:28 remaining in regulation. It was a back and forth OT.
Toronto finished the postseason 1-5 at Scotiabank Arena.
MUZZY'S MUZINGS:
ANOTHER TOUGH START
Despite outshooting the Cats 13-12 in the first period, the Leafs found themselves in a 2-0 hole at the first intermission. All in all, I didn't think they played that bad in the opening 20, however. That said, as they did all series long, the Panthers capitalized on Toronto's mistakes and made them pay. Specifically, it was a tough period for Timothy Liljegren. He took the high sticking penalty that led to the Ekblad PPG and then he overplayed a bouncing puck that led to the Verhaeghe one-timer. On top of that, unsurprisingly, Sergei Bobrovksy was dialled in. The Leafs did a decent job of generating chances, but unfortunately, they just couldn't beat the two-time Vezina Trophy winner. Strong goaltending goes a long way in the Stanley Cup Playoffs.
IN WOLL WE TRUST
If there was a silver lining in yet another crippling postseason exit, it's that the future looks extremely bright in between the pipes for the Maple Leafs. Once again, Joseph Woll was very solid, and at the very least, he figures to be one of Toronto's two netminders heading into next season. And quite frankly, he's earned it. Furthermore, I'm intrigued to see what they do with Matt Murray this summer. Robidas Island anyone? In a perfect world, I would love the Leafs to move forward with a Samsonov/Woll tandem. Not too shabby if you ask me.
VEZINA BOB
In recent years, it was Andrei Vasilevskiy and Carey Price, respectively, who shut the door on Toronto's postseason aspirations. This time around, it was two-time Vezina Trophy winner Sergei Bobrovsky. Simply put, the 34-year-old was fantastic and is a big reason why the Florida Panthers are headed to the Eastern Conference Final. In general, there's two glaring stats that stick out to me: 1) Bobrovsky has surrendered two goals in five straight outings, 2) The Leafs scored two goals in each of their final seven playoff games. Firstly, Bobrovsky deserves a lot of credit. He was THAT good. Having said that, ironically, offence has been Toronto's Achilles' heel in the playoffs recently and this year was no different. It was just another stern reminder that the regular season means squat.
NO GOAL
It was the right call. Let's not dwell on this. Some calls go in your favour, some do not. Contrary to popular belief, the NHL is not against the Toronto Maple Leafs. Every fan base despises the league equally. It's kind of comical.
WHAT NOW?
Undoubtedly, it's going to be a long offseason with tons of soul searching. They were set up favourably, and once again, they couldn't get the job done. Any way you slice it, it figures to be an interesting offseason in Toronto. For starters, Kyle Dubas is UFA. Does he want to stay? What kind of offers will be out there? Then there's the whole Sheldon Keefe debate. Should he say, should he go? At this point, I would think everything's on the table as the board evaluates things over the next few days/weeks. Once that picture is clear, the conversation will steer to the players on the roster. Is it time for a big trade? Can the Core Four hack it? Auston Matthews and William Nylander are eligible for extensions on July 1; what happens there? Keep it locked to theleafsnation.com for the very latest. We'll be busy.
WILLY STYLES
Seriously, I don't know how they can move on from this guy this summer. He just means too much to the franchise. Most importantly, he shows up when it matters most. And that's not throwing shade at anyone. Of the big four, William Nylander has been the best playoff performer season in and season out. He was a monster on Friday night. Furthermore, I think he relishes the big moments. He certainly doesn't shy away from things, that's for sure.
WHAT'S NEXT?
See you next fall.