Avoiding Patrick Kane seems like the best route forward for the Leafs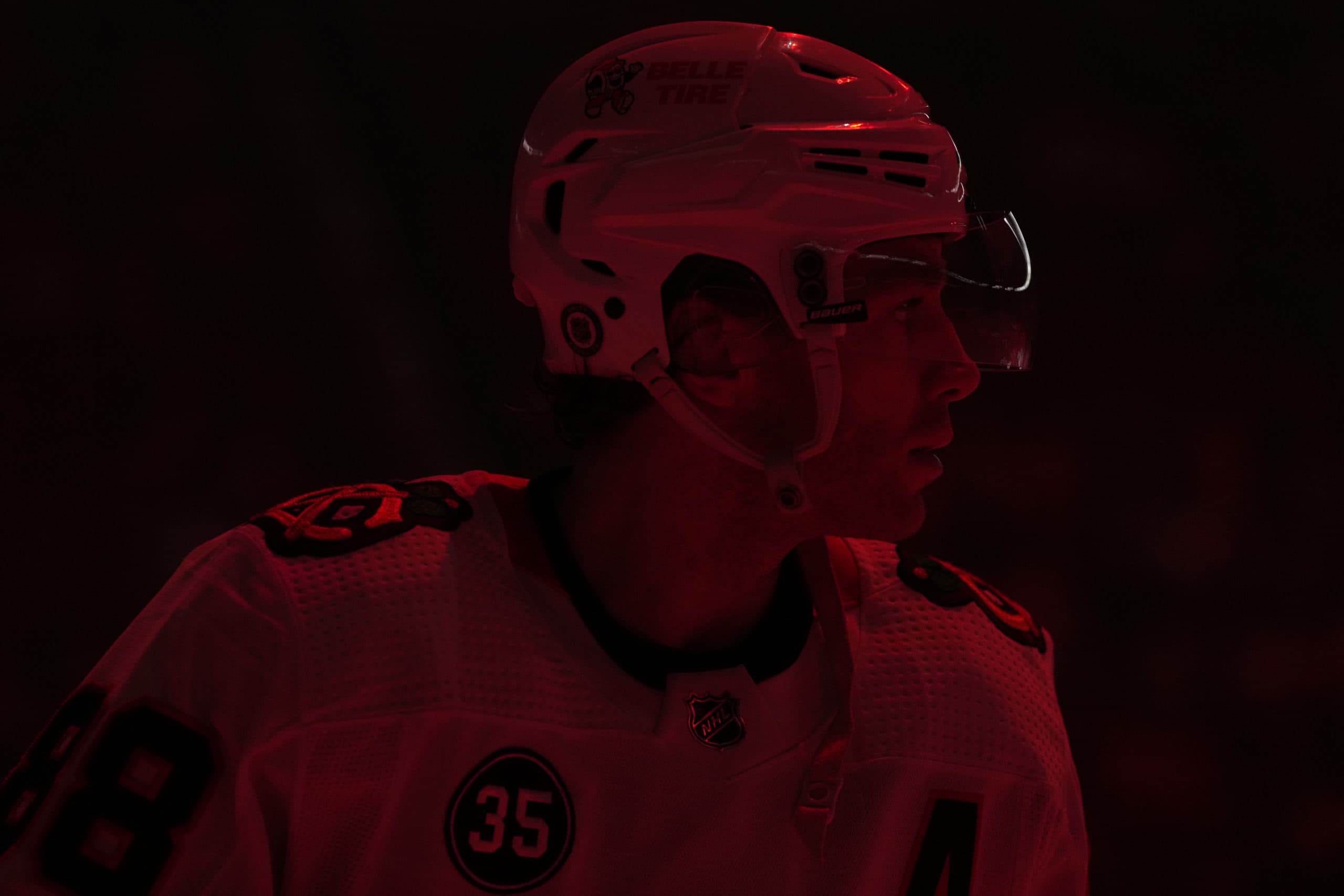 Photo credit:Joe Camporeale-USA TODAY Sports
Sometimes the trade deadline really sucks. One of those instances is when the team you follow is connected to a player you truly despise. If it was just a matter of the Leafs being interested in an overachieving, overpriced shutdown defenseman who is a crapshoot to mirror his success with a new partner in a new system, that would be one thing. Instead, we're talking about Patrick Kane who has given people plenty of reasons to dislike him.
I feel like we've moved past the obvious reasons for not wanting Patrick Kane on the Leafs and now can focus a bit more on hockey-related ones. I say that the myriad of questions that come along with bringing Kane into the Leafs' locker room would create a three-ring circus environment that typically doesn't work out so well for the Leafs. If the Leafs think they need a chaotic element to a potential playoff run, I guess you can ignore the fact that the Toronto media will be very interested in reliving the questionable moments of Patrick Kane's career through questions and in print from before he even gets on the plane to Toronto.
Now that we've gotten that out of the way, let's move on to the other reasons that you don't look at Patrick Kane.
A wonky hip
When a 34-year-old player is likely destined for hip surgery in the offseason, you have to make a trade for that player, right? Okay, so Kane has been able to show that he has been able to stick in Chicago, but considering that much of his game requires him to be fast and agile, you most certainly aren't getting that Patrick Kane.
Untreated injuries also have the habit of getting worse and there is no guarantee that Patrick Kane even makes it into the playoffs. This more than any other current trade scenario should be setting off Nick Foligno style red flags.
$10.5M
So we know there is going to be 50% retention off the hop. That's still a $5.25M cap hit that isn't easily absorbed by the Leafs. Now we can assume the Leafs would look for a third party to retain again in this situation but that's potentially adding to a price that is already going to be steep.
Now getting Kane at $2.625M through double retention admitted looks decent, and given that the actual dollar amount they'd be asking a team to pay would be under $1M, that might only cost the Leafs a 5th round pick or something of that nature. The catch being this is already on top of what it costs to acquire Kane.
The cost to acquire
The Rangers have already given up their best assets to acquire Vladimir Tarasenko, and if Patrick Kane, the owner of a full no movement clause, only wants to go to two places other than stay in Chicago, the Leafs could potentially underpay to get Kane.
Okay, so those are all already some pretty decent sticking points, some that can be overcome, but now it's worth looking at the on ice stuff.
I've purposely gone with the three year look at Patrick Kane because I wanted to illustrate that it isn't just this year that he's been a bit of a disaster. His numbers are certainly worse this season and he's always been unusable defensively, you have to go back to the 2020-21 season to see remotely dynamic offense from him as well.
Here's a look at what Kane has been offering up this year. If you put stock in the data you should already be looking at Kane as a hard no, if you want to qualify it by saying that Patrick Kane is playing on a bad team, can you not make the argument that the $10.5M star winger should be able to elevate that team in some way. Being reasonable about this, Kane is at the point in his career where he should be in more of a complimentary role than being a primary offensive driver and if you want to look at it that way it's just a matter of how many concessions you will make to prioritize a name brand winger over someone with better current numbers but not on a Hockey Hall of Fame trajectory.
When it comes to Kane's points this season, 16 of his 35 points have come on the powerplay, so if the plan is to bulk up the powerplay, Kane can join Rielly, Marner, and Nylander as the capable puck movers looking for Auston Matthews and/or John Tavares. Only 18 of Kane's points have come 5v5, a number that puts him behind Calle Jarnkrok and just ahead of Alex Kerfoot 5v5 production-wise. Sure, he could get more on a better team, but what is a fair number to expect and what number makes the cost to acquire him worthwhile?
There is also the matter that Kane's 9 goals have him on pace for his worst goal production save for the 56 game season in 2020-21 which saw Kane finish with 15 goals. With the number of games remaining and his pace so far, he might be able to tie that number if he's lucky. Again, that can change with a better team, but to what extent is that possible?
Last season Kane had 92 points with 28 goals, so that's a fun number to cite when making the case for Kane. Surely both I and the above graphs are wrong about him. Kane achieved those numbers on a 68 point team with 2.6 goals for per game, this year they are on pace to be a 58 point team (lower likely after the deadline sell-off) and have 2.4 goals per game. The biggest changes that came are associated with Patrick Kane's line as Alex DeBrincat and Dylan Strome are the most notable departures from last season. Bringing in Max Domi offsets Dylan Strome, but the Blackhawks not having a 40 goal scorer for Kane to pass to obviously takes a toll. While DeBrincat has experienced a drop off away from Kane with scoring at 67% of his previous season and accumulating points at 87% of what he did, it's not as significant as Kane's 61% point production compared to last season, and he is at 55% of his goal production. Sometimes you have to trust the numbers when it says a 34 year old with hip issues is struggling and believe that they won't get it back even in an ideal situation.
There is always something to linemates, and while DeBrincat hasn't been replaced it's not like Patrick Kane has had to do without at least second line tier linemates. He's played a ton of time of Max Domi, who is far and away his most frequent linemate. That is followed by Andreas Athanasiou, Jonathan Toews, and Tyler Johnson. Kane has had a chance to do Kane things and he hasn't done enough of them.
To some extent, I feel like we are being sold a bill of goods from Pat Brisson when it comes to his client because Patrick Kane does not appear to be the answer in any way and that brings us to the question that needs to be asked first and foremost, "how would he fit on the Leafs?"
Kane and the Leafs fit
If you want to believe that three Stanley Cups and wanting to add a fourth is enough, you've probably skipped this article entirely. Your mind has been made up and while I won't completely discount the importance of experience and that being a Conn Smythe winner is great experience, I'd personally rather take my chances on Ryan O'Reilly who has a few more fallbacks to his game than Kane does.
The starting point of the discussion with Kane is that he doesn't bring defense, he doesn't bring physical play, he's not agitating anyone, he's a great passer, and little more at this point. If you put him with Matthews, you've given him a less productive player who can't replace Bunting's physical play, Marner's defensive zone responsibility, or Nylander's puck-carrying ability. Playing Kane with Matthews is committing to making Auston's line worse.
You could put Kane with Tavares, but that's adding another defensive liability and slow skater to a line that is already a step slower than the rest. Assuming it's Tavares, Kane, and one of either Nylander or Marner, you've completely given up on bringing in any additional edge to the top six, which seemed like a requisite when the search for a second line left winger began.
Putting Kane on the third line is putting Kane with more defensively responsible players, but no one who is going to finish for him. Somehow Kane would be downgrading in offensive talent on his line by joining the Leafs in this scenario, and let's be honest, the third line isn't really going to happen anyway. He'd essentially be biding his time until the Leafs got a powerplay and even then it's a matter of where he fits in.
Even if salary wasn't retained on Barbashev, he's cheaper than Kane. He's got one more goal than Kane, but eight few points, but oh yeah, he hits, he drives the net, he can play center if needed, can move throughout the lineup, and also has a Stanley Cup ring. Maybe the Leafs can get a triple retention thing going on Kane to make it seem reasonable.
There are several teams for which Kane could make sense, but that doesn't always mean there's real interest there. Four teams with confirmed interest are Carolina, Dallas, Minnesota and Vegas. The question is, of course, is Kane willing to go to any of those teams?
The last part is unfortunately why this exercise seems necessary but the reality is that Kane doesn't get to call all the shots on this one.
The Leafs aren't likely to be treating Kane as a Plan A acquisition, but if names start disappearing from the trade bait lists he could start becoming a bit more viable but even then there's a debate whether doing nothing is a better move.