BEST TRADE EVER: Muzzy's Muzings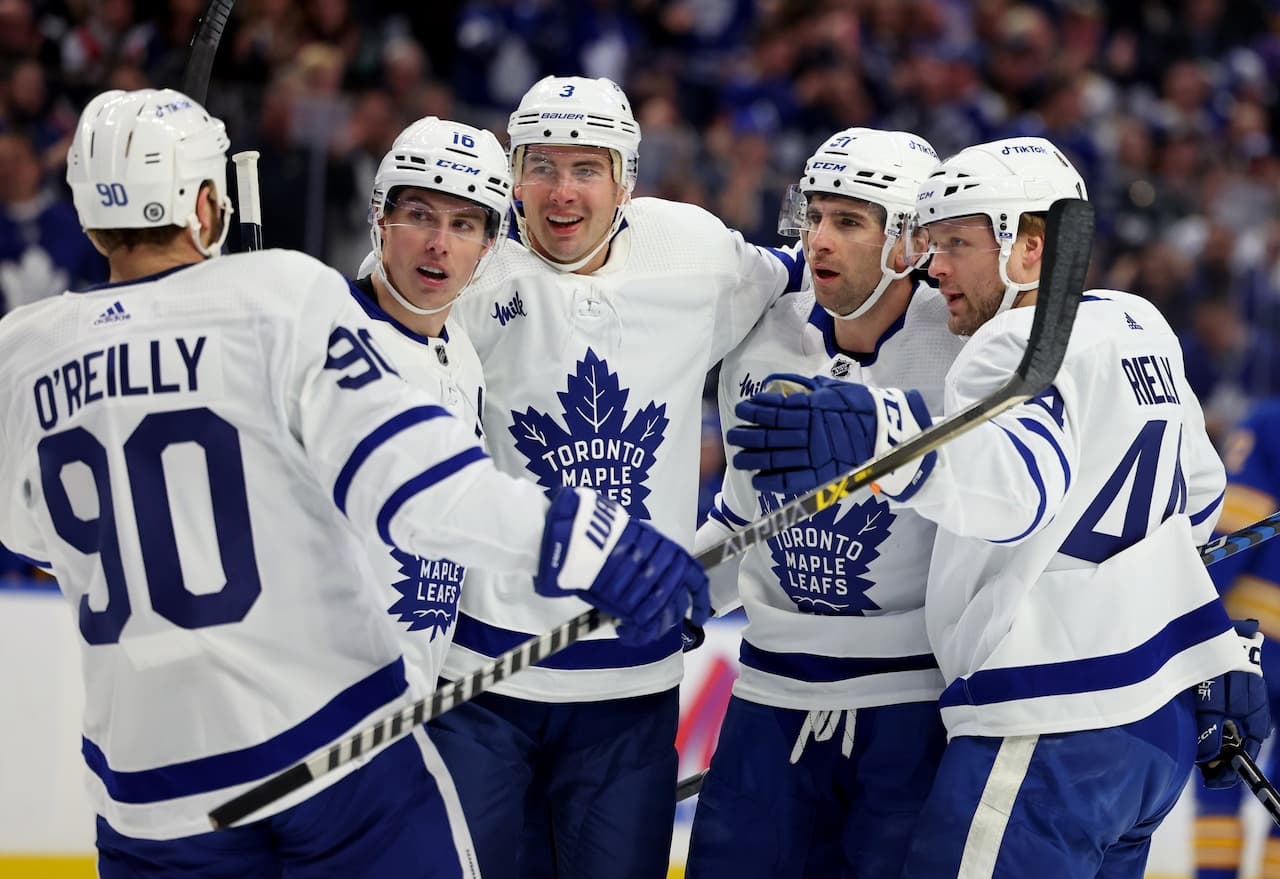 Photo credit:Timothy T. Ludwig-USA TODAY Sports
The Leafs crushing the Sabres in front of a throng of blue and white at the KeyBank Center in Buffalo just hits differently.
You know what hits even better? Seeing the hats rain down there for a Ryan O'Reilly hat-trick against his former squad.
The former Blues captain (three goals, one assist) and John Tavares (one goal, three assists) notched four points while linemate Mitch Marner tallied a career-high five assists as Toronto smashed Buffalo 6-3.
In general, it was a tough night for those outraged by Tavares' move to the wing. That Tavares-O'Reilly-Marner trio combined for a ridiculous 13 points on the night. Meantime, William Nylander tallied a goal and an assist. Also, Michael Bunting scored for the fifth time in the past eight contests. Morgan Rielly picked up a helper; he now has eight points in the past eight games. Ilya Samsonov (20-7-2) made 29 stops for the victory.
Toronto improved to 2-0-0 on the season against Buffalo. They'll wrap up their three-game season series with the Sabres on March 13th at Scotiabank Arena.
MUZZY'S MUZINGS:
BEST FIRST PERIOD OF THE SEASON
My goodness, how about that for a response following that ugly loss to Chicago on Sunday night? By far, that was Toronto's best first period of the season. And poor Ukko-Pekka Luukkonen. The young Sabres prospect netminder got the mercy hook midway through the frame after surrendering four goals on nine shots. To be honest, aside from the Bunting goal, there's not much he could've done differently on the first three tallies, the Leafs were flying. Furthermore, I alluded to it in my pre-game write up, folks, and it came into existence. The dreaded first game back home after a Western road swing is a legitimate angle to play on the betting front. Kudos to the Leafs, who took full advantage of a sleepy Sabres squad. Buffalo was trailing by four before you could spell Aston-Reese.
91-90-16
As Sheldon Keefe indicated following the morning skate on Tuesday, the Tavares, O'Reilly, Marner trio isn't going anywhere anytime soon. Good call, Young Sheldon. They were phenomenal; utterly dominant, especially in the opening frame. Seriously, I can't believe people have been complaining on social media about Tavares shifting to the wing. This is the NHL, and these guys are pros. You don't think JT was tipped off about the trade and what it could mean for his deployment before-hand? At any rate, four-point night for the captain in your face. At the very least, Keefe has options. Most importantly, it's great to see the chemistry forming so quickly between the three studs. What a treat. That might've been one of the best games I've seen Mitch Marner play period. Full stop.
DEPTH ON DEPTH ON DEPTH
Come playoff time, there's no such thing as too much depth. Honestly, that's what made me like the trade with St. Louis even more. On top of that, both Ryan O'Reilly and Noel Acciari have come as advertised so far. Furthermore, when the trade went down, I said Acciari could end up being the hidden gem of it all. And so far, he's made me look like a downright genius (which we all know I'm not). You can already tell how much snarl and character he's going to bring to this team. Early on, the fourth line of Aston-Reese, Acciari and Kerfoot has been outstanding. They've brought a different dynamic.
HIGHLIGHT OF THE NIGHT:
WHAT'S NEXT?
 The Leafs will be off for a few days until they host the Minnesota Wild on Friday night. Toronto took the first of two with the Wild on the season, 4-3, in Saint Paul on November 25th.