Brad Treliving's in season trade history points to the Maple Leafs standing pat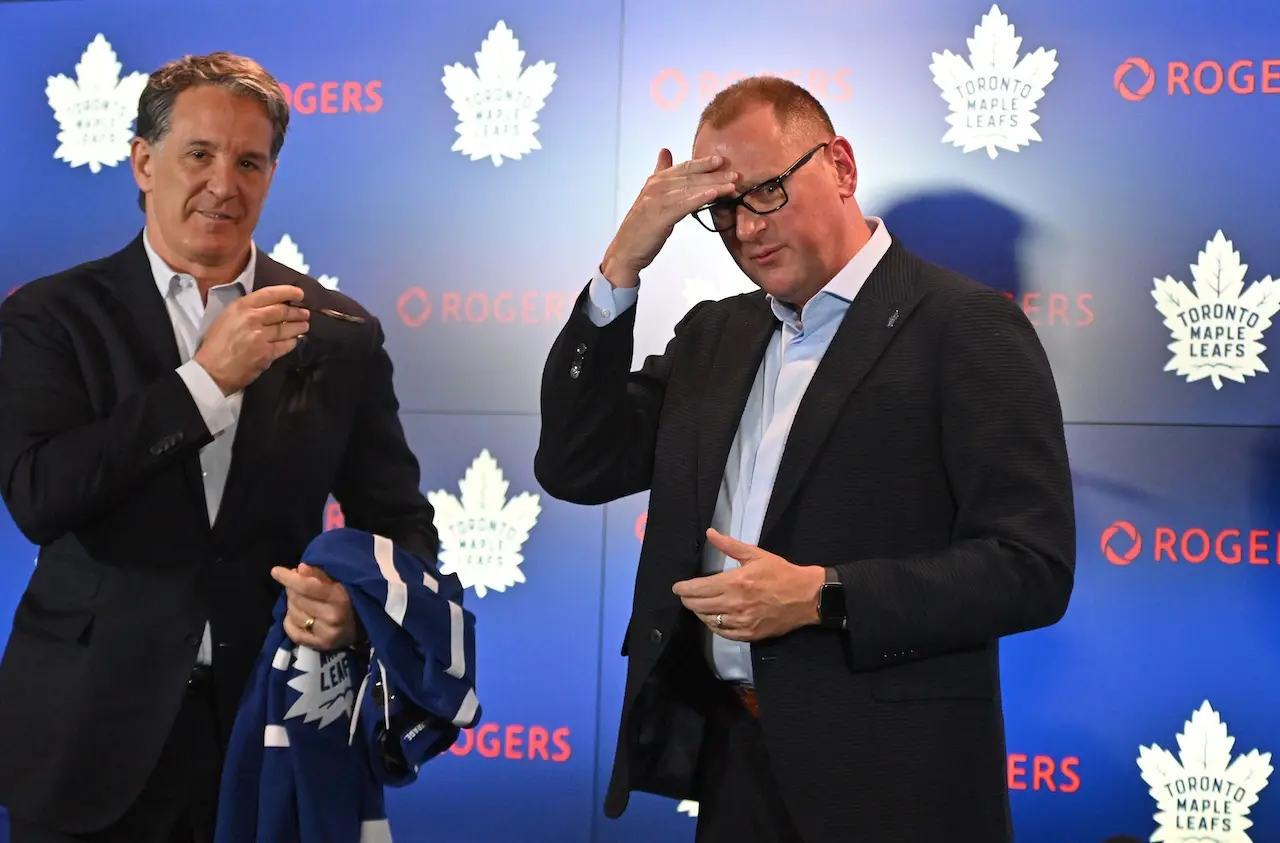 Photo credit:Dan Hamilton-USA TODAY Sports
2014-15 Flames finish with 97 points
It was Brad Treliving's inaugural season with the Flames having been hired at the end of April. The Flames had 77 points the year before so things definitely seemed like they were going well and that can support Treliving's reluctance to make any major changes. In January he made a small move to add Drew Shore, but at the trade deadline he had the Flames as sellers dealing Sven Baertschi for a 2nd, and Curtis Glencross for a 2nd and a 3rd. Both of those could be seen as strong asset management moves.
The Flames went on to win the first round of the playoffs before being eliminated in the second round.
2015-16 Flames finish with 77 points
The Flames took a big step back after looking like contenders the year before. There was no attempt to get the team back on track as the only pre-deadline trade was acquiring Kevin Poulin for Future Considerations. Poulin never played for the Flames.
At the deadline the Flames were very active as sellers as they unloaded Kris Russell, Jiri Hudler, and David Jones for draft picks as well as shuffling some struggling prospects with the Canucks by dealing Markus Granlund for Hunter Shinkaruk. The four trade February matches Brad Treliving's busiest month for in-season trading.
2016-17 Flames finish with 94 points
The Flames are back, baby! This time Brad Treliving tried to do some modest additions at the trade deadline moving 3rd and 5th round picks for Michael Stone in February (interesting note both of those picks would yield NHL goaltenders, Stuart Skinner and Akira Schmid). And at the deadline itself, Treliving traded with the Senators for Curtis Lazar and Mike Kostka, giving up a 2nd round pick in the process.
Shockingly, Mike Kostka did not put the Flames over the top and they exited in the first round of the playoffs.
2017-18 Flames finish with 84 points
And the Flames are back to missing the playoffs. A late December trade was made where the recently waived Eddie Lack was sent to New Jersey for Dalton Proust and as a bubble team, Brad Treliving played things cautious and only dealt a 7th to bring in Nick Shore at the trade deadline.
2018-19 Flames finish with 107 points
Oh boy, what a season. The good times of the Bill Peters era will surely last forever, right?
As Leafs fans know all too well, a big regular season doesn't equal post season success and the Flames were bounced in the first round. Some of that might be attributed to their GM not loading up their successful roster at the trade deadline. Treliving had just two in-season trades.
The first trade was with the Leafs in November, dealing Morgan Klimchuk for Andrew Nielsen and notably killing the "for Bracco, Nielsen, and a 2nd" meme. The other was his deadline deal where he dealt a conditional third (that ended up being a fourth) to the Kings for Oscar Fantenberg. If this doesn't leave you underwhelmed for what Treliving will do, I guess I admire your optimism.
2019-20 Flames finish 3rd in the Pacific
The first COVID season was a hectic one for the Flames. Bill Peters was fired when evidence of his racism was produced, but Geoff Ward came in and led the team to a strong finish. The Flames would win their qualifying playoff round but lost the first round of the real playoffs.
Brad Treliving was both as a buyer and a seller during one of his busiest seasons. He made four trades dealing Michael Frolik for a 4th but acquiring Derek Forbort for a 4th. He acquired Erik Gustafsson for a 3rd, but dealt Brandon Davidson for future considerations.
The criticism here probably is that there were better times to cash out on Frolik previously and the defensive moves were pretty minimal upgrades. Still, at least there was some volume and an effort to build off the success Ward was having with the roster.
2020-21 Flames finish 5th in the North
For one brief moment the Flames put together two good seasons in a row. Now they are back to good season/bad season again. Trading during the stranger of the two COVID seasons was limited and it's not surprising that Treliving wasn't active prior to the trade deadline both because of it being a shorter season and pretty much every team holding off until the deadline.
Treliving was a seller dealing David Rittich to the Leafs for a 3rd and Sam Bennett and a 6th to the Panthers for a 2nd. Both deals were solid moves by Treliving, though with Bennett prospering in Florida that deal was the first in a series of deals between Florida and Calgary that Treliving would like back.
2021-22 Flames finish with 111 points
This is probably what Brad Treliving going for it looks like. The Flames were silent through the early part of the season on trades, as they often are, but made an early splash prior to the trade deadline with the acquisition of Tyler Toffoli for a 1st, 5th, Prospect, and Pitlick. The Flames would go on to deal a 2nd, 3rd, and a 7th for Calle Jarnkrok, and a 5th for Ryan Carpenter.
Treliving would also acquire and then trade Michael McNiven for Future Considerations.
Clearly the good times are going to last forever for the Flames. They have goaltending, they have defence, they have Matthew Tkachuk and Johnny Gaudreau leading the way offensively, what could possibly go wrong? Following the second round playoff loss to the Oilers, apparently a lot of things.
2022-23 Flames finish with 93 points
I'll start by acknowledging that 93 points is about as good as it can get without making the playoffs. And the Flames see-sawing back and forth probably points to why Treliving didn't have a particularly ambitious trade deadline, which was again, the only time of the year he was trading.
Treliving traded with the Leafs for Dryden Hunt. He also brought in Nick Ritchie for Brett Ritchie. And acquired Kristins Rubins for Future Considerations. Perhaps the deadline was the first sign that Brad Treliving had an interest in being part of the Leafs organization.
As Leafs fans already know, Ritchie, Hunt, and Rubins aren't going to do a lot for you and Treliving came up short in his final go as the Flames GM.
By the year here are Treliving's in season trades:
| | | | |
| --- | --- | --- | --- |
| | Before Feb | Feb or later | Total |
| 2014-15 | 1 | 2 | 3 |
| 2015-16 | 1 | 4 | 5 |
| 2016-17 | 0 | 2 | 2 |
| 2017-18 | 1 | 1 | 2 |
| 2018-19 | 1 | 1 | 2 |
| 2019-20 | 1 | 3 | 4 |
| 2020-21 | 0 | 2 | 2 |
| 2021-22 | 0 | 5 | 5 |
| 2022-23 | 0 | 3 | 3 |
On average, Brad Treliving is good for about three trades a year. And it is even money on if you'll see one before February.
Here's the breakdown by month:
| | |
| --- | --- |
| October | 0 |
| November | 2 |
| December | 1 |
| January | 2 |
| February | 11 |
| March | 10 |
| April (COVID season) | 2 |
Given that we are in November it's worth mentioning that the deals were the Morgan Klimchuk for Andrew Nielsen and Future Considerations for Kevin Poulin blockbusters.
While I think this should encourage a lot of people to temper their expectations of what Brad Treliving is going to do in season, it's important to also consider that he might be getting very different marching orders from Brendan Shanahan than Treliving was initially set up on from Brian Burke. Burke famously loathed the trade deadline saying that it was when GMs make the most mistakes. (Burke would still manage to out mistake most of the GMs in the league anyway.) The Flames have been much more of a bubble team or at least one experiencing ups and downs, while the Leafs are in more of an established competitive window with the desire to improve in season as well. And it's important to remember that interview with Treliving from the Dreger/Ferraro podcast is from Treliving's Flames days. He can certainly adjust his philosophy based on his situation too.
That said, I'm not holding my breath. Treliving hasn't been shy about going big in the offseason and we've seen that with the Flames and a bit with the Leafs too. He's certainly not going to react quickly or do anything overly significant in the early stages of the season while things are still being figured out with a new team and is unlikely to receive pressure from his bosses to do so either. If help is on its way for the Leafs it will have to come in the form of coaching, players adapting, or Marlies stepping up.