Bunting is the odd man out and Knies gets promoted: Leafs Practice Notes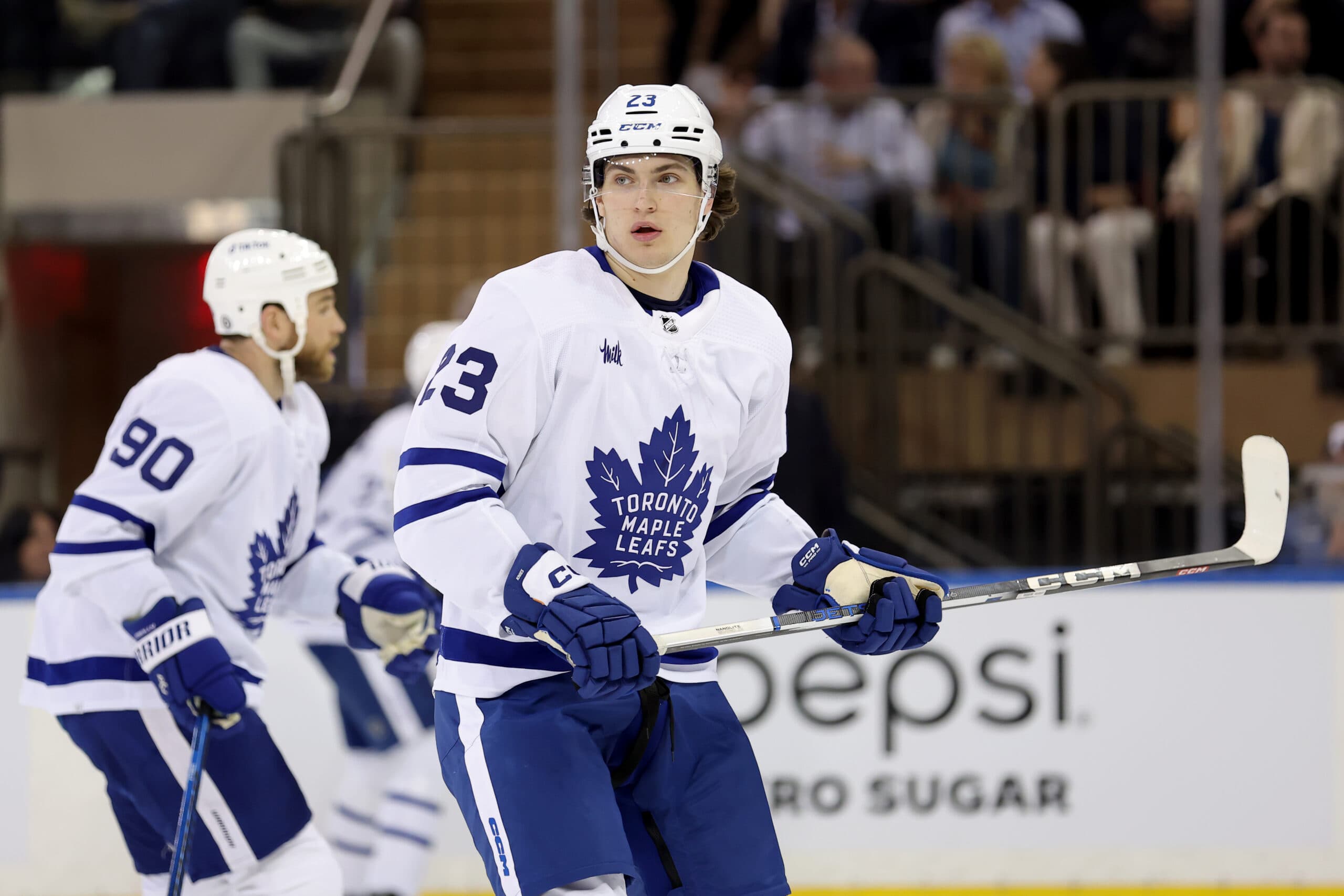 Photo credit:Brad Penner-USA TODAY Sports
The Leafs are back in Toronto and back on the ice for a full practice in advance of Game 5 tomorrow night when they hope to eliminate the Lightning. The biggest story coming into this practice was whether or not Michael Bunting would find his way back into the lineup on Thursday. And as of right now the Magic Eightball is saying "Outlook not so good."
So there is a lot going on with the Bunting situation and we'll talk about that before getting into the Leafs lines.
The decision to scratch Bunting seems to be a popular one and frankly there was a pretty tough March and April stretch that already had some people questioning how valuable Bunting was to the Leafs and to the top six. Personally, that's what I'd hope for because as much as the Leafs have won there are a couple of things to consider. First, the Leafs were badly outplayed for the majority of the last couple of games and heavily relied on the top six willing the Leafs back into the game. And there is also the consideration that needs to be given to Bunting being a better option than Aston-Reese or Lafferty from a skill perspective.
Arguments about Bunting's lack of discipline are really based on recency bias and while he isn't the favourite player of NHL officials keeping him out in favour of fourth line forwards that are equally capable of undisciplined moments when outmatched seems a little strange. If Toronto had been dominant in their wins this decision would make more sense, but seems like Keefe might be overthinking this one.
As for Knies, he's certainly benefited from Bunting's departure, and now looks like he could be starting in the Leafs top six. Knies might still be adjusting to the NHL but he is a step ahead of others when it comes to defensive zone play and with Keefe finally flipping Nylander and Marner around, Marner gives Toronto another defensively capable forward on the Tavares line that will hopefully click.
Nylander and Jarnkrok with Matthews seem like a no brainer as well after the final period and overtime against Tampa in Game 4.
Alex Kerfoot finds himself relocated to the 3rd line and this is honestly where I've always wanted to see him. There are elements of Kerfoot's game that are very similar to O'Reilly's frequent St. Louis linemate, David Perron, and the third line is being upgraded in the neutral zone while not trading off much offensively.
The fourth line, for now, looks to remain intact, but they are under the microscope as Keefe is still making a decision on who comes out for Bunting in ideally the second round, but possibly Game Six.
Injury Updates
Matt Murray wasn't part of the Leafs full practice so we are still living in the Joseph Woll backup world for the time being. That isn't something that bothers me at all and while Samsonov did leave the practice early, that isn't out of the ordinary so don't freakout about that.
Victor Mete was in the Leafs full practice, skating on Toronto's fifth pairing with Conor Timmins. Mete's availability doesn't change much for the Leafs but it's good for him to be back on the ice.
Lightning Lines:
The Lightning seem to be looking to overload their top line and trust the rest of their forwards to be sour pains in the ass for Toronto the rest of the way through. It will be interesting to see if the Leafs' third line which recently received a defensive upgrade in Kerfoot, along with the McCabe-Brodie pairing will be stapled to that unit with Toronto having the last change or whether Sheldon Keefe has become more comfortable in dictating the pace when he can.