Calle-d up to the top line: Maple Leafs Practice Notes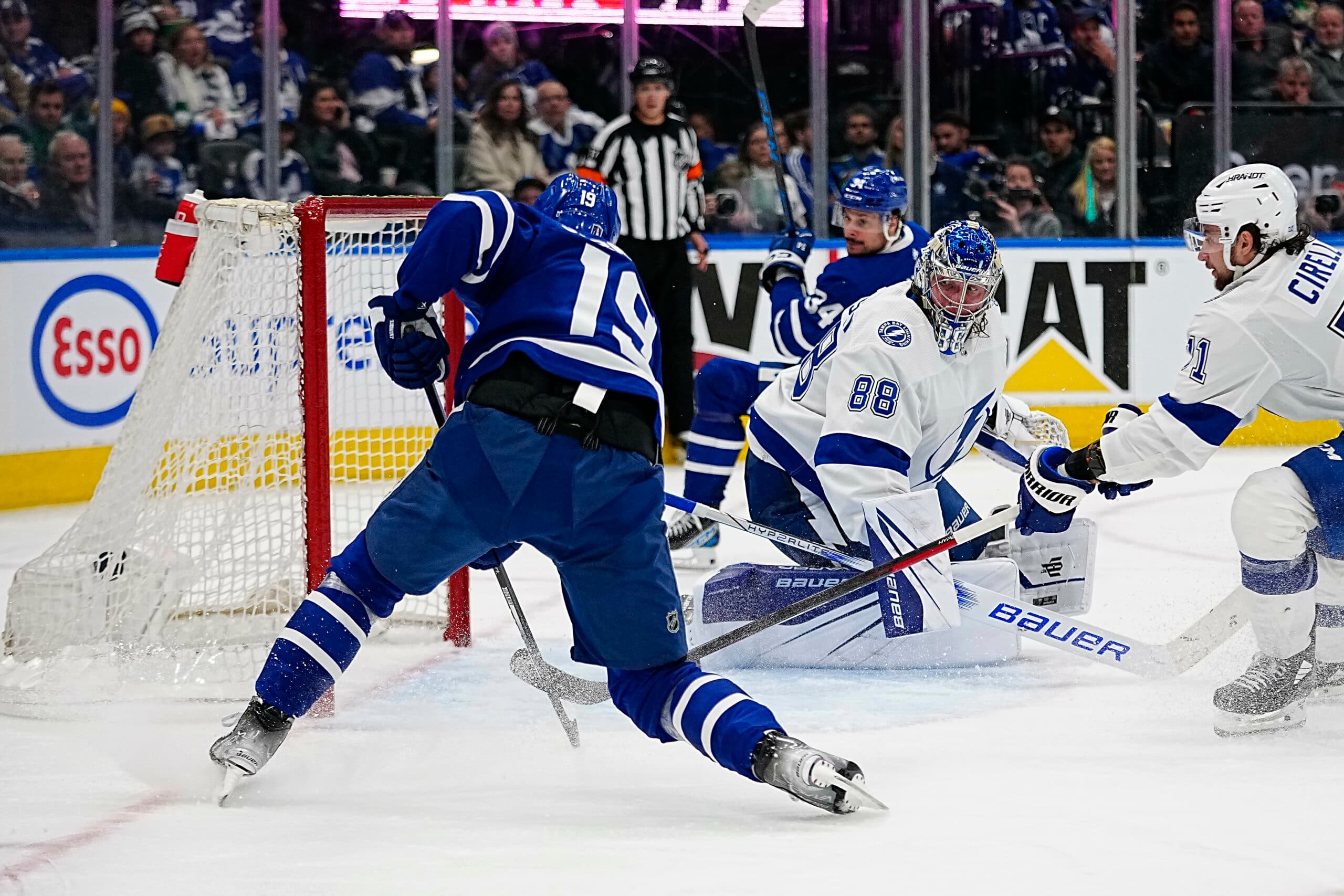 Photo credit:John E. Sokolowski-USA TODAY Sports
Saturday night's comeback win against Tampa has inspired a couple of changes in the Leafs forward group and the Leafs look like they'll have some interesting new lines heading into Tuesday night's game against Washington.
Let's go bottom up here.
Sheldon Keefe already confirmed to Mark Masters that Joseph Woll would be getting the start Tuesday. That makes sense from a "he's clearly played better" angle. It takes away the opportunity to give Samsonov a start against his former club which might have been a catalyst for turning things around. It could also be seen as a firm message that there needs to be a sense of urgency around getting better. Either way, it's his net and that's likely for the best.
The defensive pairings remain intact from Saturday. The earth didn't open up and suck the Leafs in by putting Giordano with Klingberg or Liljegren in the top four, so that's a good enough reason to stick with it.
Onto the forwards, Holmberg remains the pivot on the fourth line as Fraser Minten remains in the press box. As much as you want to get your rookies playing somewhere sooner rather than later, having Minten around the team isn't a bad thing either and this is just the second game he's sitting so I'm not ready to call for his assignment just yet.
The third line is likely the reason we are seeing the other changes ripple through the Leafs lineup. The fact that Domi and Knies seemed to click requires the Leafs at least give the duo a second look together and the combination of Domi/Knies at the offensive end of the ice and Kampf/Knies in the defensive zone shows a lot of promise as an all situations line the Leafs can count on.
The second line sees Tyler Bertuzzi put with the red hot duo of John Tavares and William Nylander. I think the biggest driver in this situation was the recognition that Bertuzzi hasn't brought what was expected of him to the Matthews line and it is now time to begin looking at the next best places to utilize him. Tavares can also benefit from a steady LW and perhaps there is some confidence to be gained here for Bertuzzi if he can get in on the success JT and Willy have been enjoying.
As for Jarnkrok on the top line, this seems like his role as the team's Swiss Army knife being utilized. If Matthew Knies didn't click so effectively with Max Domi last game this would likely be where we'd see Knies at the moment instead. Jarnkrok has had some success with the Matthews line last season and adding another capable 200 foot player to a line that is already stellar in all situations will have its benefits too. There isn't really anything complicated about being the left wing on this line and Jarnkrok isn't a complicated player, so it works. Part of me would still love to see a Noah Gregor experiment on the line at some point to see if allows for Toronto to push their talent further throughout the lineup card, but we're still just five games in and Sheldon Keefe has only just begun to get weird with it.