Calle Järnkrok wasn't the flashiest signing but he addresses a Leafs need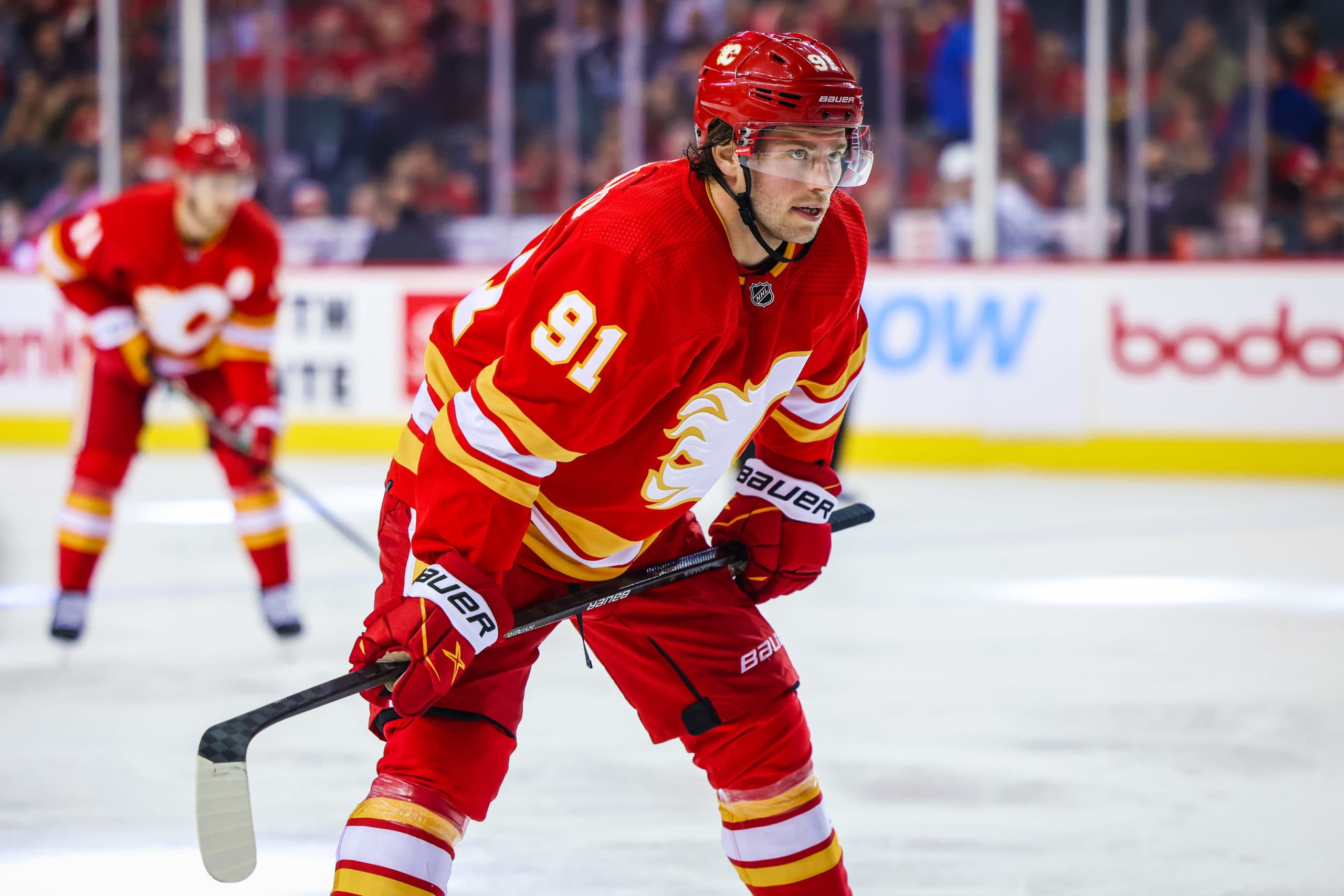 Photo credit:© Sergei Belski-USA TODAY Sports
It seems like it happened a lifetime ago now with all the news that has been cycling through the NHL, but it's finally time to take a minute to talk about the Calle Järnkrok signing. Why did they do it? Why is his contract as long as it is? What kind of player is Calle Järnkrok? And where could he possibly fit into the Leafs roster next season?
The Järnkrok signing is somewhat confusing because it's hard to identify what specific need it was addressing and in some ways makes life a little trickier for the Leafs at the present. If Järnkrok wasn't signed it would have put the Leafs in a better place to retain Alex Kerfoot if they wanted to, and it would likely only be Justin Holl being shown the door to make a potential Rasmus Sandin contract work. Järnkrok is another slightly expensive contract and one with term that certainly seems like an odd commitment to a bottom-six player in his 30s.
So let's look at why Järnkrok is here. It doesn't have much to do with the 2021-22 season which saw his underlying stats brutalized by his time in Seattle and his four assists during his 17 goalless games in Calgary isn't why he's coming to Toronto. In fact, offense has little to do with why Järnkrok is a Leaf at all. Since the beginning of time, Järnkrok has been around 15 goals and 30 points for the season and that looks like where he'll be until the end of time.
No Järnkrok is here for what he accomplished defensively in 2020-21.
Now there is probably a need for a further dive on what went right for Järnkrok in 2020-21 because that is who the Leafs are trying to rebuild.
| | | | | | | | | | | | | | |
| --- | --- | --- | --- | --- | --- | --- | --- | --- | --- | --- | --- | --- | --- |
| Season | Team | GP | TOI/GP | CA/60 | CF% | GA/60 | GF% | xGA/60 | xG% | HDCA/60 | HDCF% | HDGA/60 | HDGF% |
| 20172018 | NSH | 68 | 12.22 | 56.91 | 49.10 | 1.44 | 63.64 | 2.17 | 49.64 | 9.24 | 47.76 | 0.79 | 69.44 |
| 20182019 | NSH | 79 | 12.16 | 53.28 | 51.51 | 1.87 | 57.14 | 2.12 | 50.23 | 9.74 | 46.76 | 1.00 | 56.76 |
| 20192020 | NSH | 64 | 12.07 | 54.51 | 52.18 | 2.02 | 54.39 | 2.26 | 50.33 | 10.87 | 45.31 | 1.40 | 50.00 |
| 20202021 | NSH | 48 | 12.52 | 55.40 | 47.34 | 1.50 | 63.41 | 2.26 | 49.17 | 8.78 | 50.00 | 0.60 | 72.73 |
| 20212022 | SEA | 49 | 12.39 | 54.08 | 48.15 | 3.26 | 43.10 | 2.29 | 45.66 | 9.69 | 46.15 | 0.89 | 57.14 |
| 20212022 | CGY | 17 | 11.20 | 46.64 | 57.59 | 2.21 | 50.00 | 2.35 | 51.61 | 12.29 | 44.29 | 1.26 | 20.00 |
The interesting thing that occurred in 2020-21 that isn't necessarily unique to that year is that Calle Järnkrok did not get scored on while on the ice. There were fewer high danger shot attempts, and to a ridiculous extent, there were few high danger goals against. When you look at the Leafs goaltending struggles last season with high danger chances, there is a bit of a need to bring in a forward with a strong history of suppressing those chances.
Now, that's Järnkrok having success as a six man unit, and it's easy to point out that Juuse Saros was part of that six man unit a lot of the time. It did overlap the end of the Pekka Rinne era as well, so this isn't solely Saros showing up in a Järnkrok stat but with Saros Järnkrok's GA/60 was 0.9 and with Rinne it was 2.51. Calle's linemates also matter, and he was frequently playing with another favourite Leafs target, Mikael Granlund and the only other linemate that was consistently used with the duo was Luke Kunin. It seems reasonable to also point to Ekholm and Josi as beneficial blueliners, along with Dante Fabbro being strong defensive options.
Now, Järnkrok isn't, and this should come as a surprise to no one, not a physical presence. His contributions seem to stem from having that all-important hockey IQ that includes strong positional play to take away opportunities from his opponents. Interestingly enough he saw more time on the powerplay last year than he did on the penalty kill, but while he also played both roles in Nashville, those numbers were reversed and he was more frequently a penalty killer, which is what you can probably expect from him in Toronto as well. When Calle was originally drafted he was identified as a strong offensive player, especially excelling in playmaking. That certainly hasn't been the case in the NHL, but 15 goal/30 point production is adequate for the third line or even if he's tasked with carrying some of the defensive workloads for absent-minded forwards on a second line.
Here's the assessment of Järnkrok from On the Forecheck when he was claimed by Seattle in the Expansion Draft:
Järnkrok isn't a blue-chip player by any means, but he is a great piece for how the Kraken want to build their team. He's an "accordion player," someone who can be moved up or down the lineup card and still fit in with the identity of whichever line he's on. He's also a special teams ace who's played significant minutes on both the power play and penalty kill. Plus, Järnkrok's contract situation gives Seattle plenty of cap flexibility, both this year and down the road.
I feel like "accordion player" fits with the description of what we use for Alex Kerfoot and if the intention is that Järnkrok is the Kerfoot replacement, then saving $1.4M and getting extra term seems like a win. Järnkrok has the ability to play center, but I doubt that will be his ideal placement. Much like Kerfoot he can be moved there out of necessity and will require the strongest supporting cast they can muster to make sure the line works. It's worth noting that in that celebrated 2020-21 season that was the year that saw Järnkrok take the second fewest faceoffs of his career, so things will be best if he's staying on the wing.
The Calle Järnkrok signing makes a ton of sense for the Leafs and if this signing wasn't viewed as blocking the Leafs from completing more exciting business it probably would be received differently. There are also concerns about hoping the 31 year old can be the player he was previously, not the one he was last season. Given the consistency of Järnkrok's outputs throughout his career and how his performance is linked to situational usage, the Leafs will probably be getting the player they want because they know where they want to use him. While Järnkrok's outputs dropped in Calgary, his defensive play was exactly what they sought him for, and as the Leafs aren't an expansion team, they won't overextend him like the Kraken were forced to.