Flames legend Calle Järnkrok burns former squad, Leafs get back on winning track: Muzzy's Muzings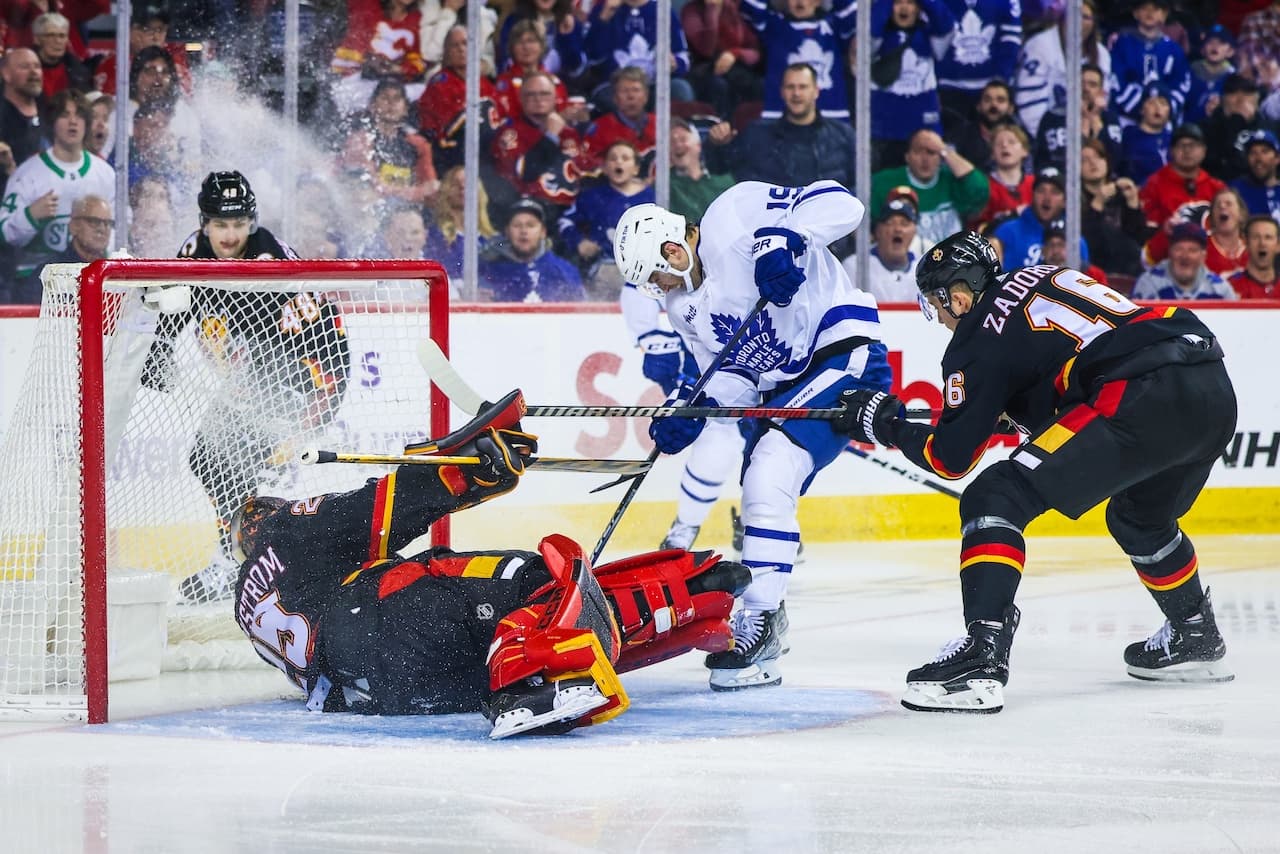 Photo credit:Sergei Belski-USA TODAY Sports
That's the way it's done!
Former Flame Calle Jarnkrok potted the game winner and Joseph Woll made 25 stops for his fifth career victory as Toronto upended Calgary 2-1 to improve to 2-1-0 on their five-game road trip. Furthermore, the Leafs, who were demolished 5-2 in Edmonton on Wednesday night, upped their record in the second half of a back-to-back to 6-3-1 this season.
Meantime, Mitch Marner scored for the second straight game; he's up to 22 goals on the year. Auston Matthews, William Nylander and Morgan Rielly each tallied an assist as well as Toronto improved to 6-1-1 in their last eight outings against Calgary. Additionally, the Leafs swept the two-game season series winning both games by a one goal margin.
Luke Schenn, who logged 10:42 of ice in his first game since being re-acquired by the Leafs, was a plus-one with four hits. Additionally, Erik Gustafsson was a minus-one; he played 9:52.
Cheers to forgetting about that Edmonton game already.
MUZZY'S MUZINGS:
LEAFS REBOUND AFTER ROUGH FIRST FIVE MINUTES
Holy hell, that was a rough start. Despite gaining an early power play, it was the Flames who had the best chances on it. Unbelievably, Toronto surrendered not one but two shorthanded breakaways. Speaking of which: Welcome to Toronto, Erik Gustafsson. Woof. The veteran defender, who was acquired from Washington on Tuesday, mishandled a pass at the blue line which Blake Coleman's breakaway tally. It happens. Furthermore, last time I checked, a power play is supposed to be a momentum booster. Sadly, it was not in this case. Having said all that, the Leafs deserve a lot of credit for stepping up after an ugly showing in the first few minutes of the game. They could've folded up and called it a night, but they didn't. Love to see that compete level rise up!
MORE MARNER MAGIC
Seriously, where would this team be without Mitch Marner? Probably like third in the Atlantic, but you all know what I'm saying. With the Leafs down 1-0 and in dire need of a goal, No. 16 stepped up to the plate, danced Milan Lucic and wired one past Jacob Markstrom. Star players being star players, it's an amazing concept. With the trade deadline about to pass and the stretch drive to the Stanley Cup Playoffs nearly upon us, it's great to see Marner heating up again. What a story.
SCHENN & GUSTAFSSON
It's one game, so I won't sit here and give some complex assessment. Both were fine. As expected, they were utilized as the no. 6 and the no. 7 D-man, which made an abundance of sense. I rather they ease them in and manage their minutes, especially in Schenn's case, who hasn't played in two weeks. By far, he's the better of the two options. That goes without saying. We'll see how it all plays out. Lots of time before the deadline.
LINE TINKERING
As mentioned, now's the time to see what you've got if you're Sheldon Keefe, because come Game 1 against Tampa, it's on like Donkey Kong. And quite frankly, I think we saw every trio and combination imaginable for the Maple Leafs in this one. Kudos to coaching staff, those doors were working overtime.
Furthermore, I thought it was interesting to see them go with 11 forwards and 7 D. In the past, the Leafs, especially under Keefe, have really shied away from that configuration. But again, now's the time to try things out, and that's exactly what they're doing. For what it's worth, 11/7 is something Tampa's gone with a lot in the past few years. Let the games begin!
WOLL WAS A WALL
Once again, I liked what I saw from Joseph Woll. Considering the atmosphere and stage, I thought he was very composed. Again, with the constant uncertainty surrounding Matt Murray, it's good to know Toronto has a solid option in the three-hole. For the record, Woll's a significant upgrade over Erik Kallgren or say what a Michael Hutchinson provided for this team. Yes, it's a considerably small sample size, but I won't lie, I'm quite enthused and optimistic about this kid. He seems different than some of the other prospect goalies they've rolled out in recent memory. Suffice it is to say, I'm looking forward to keeping tabs on his progression. At the very least, Woll's undeniably on the NHL radar now.
HIGHLIGHT OF THE NIGHT:
WHAT'S NEXT?
Barring the birth of his third child, Luke Schnen is slated to make his return to Vancouver on Saturday night when the Leafs visit the Canucks for game four of their five-game road trip. Toronto took the opener of their two-game season series with Vancouver, 3-2, back on November 12th at Scotiabank Arena.