Frank Seravalli speculates that Auston Matthews could go for a league max deal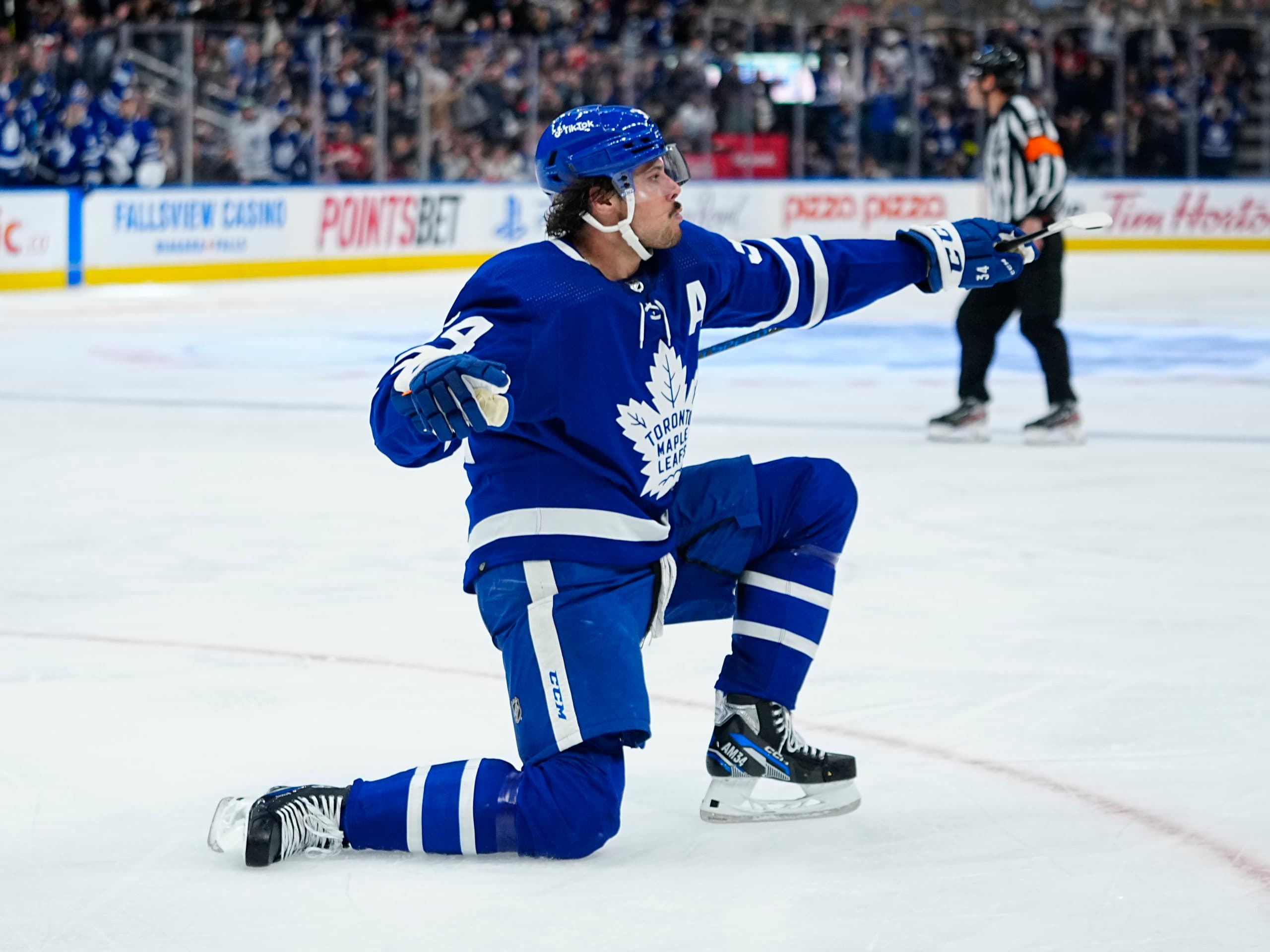 Photo credit:John E. Sokolowski-USA TODAY Sports
In
Frank Seravalli's annual bold predictions article
, he offered up two bold predictions surrounding the Leafs. We'll start by acknowledging that they are in no way intended to be rumours, and even in the title the word "bold" asserts that this speculation is of the more extreme variety. That should hopefully provide some comfort to the Leafs fans who read it.
Move over MacKinnon. On July 1, the first day eligible, Auston Matthews will sign the NHL's first-ever max contract to stay with the Toronto Maple Leafs: eight years x $16.7 million. That rounds up to $134 million, with a little flair for his jersey number. Brad Richards (2006) is the only player to sign for the maximum 20 percent of the salary cap, but it was only a five-year deal, not the maximum term.
So the idea of Auston Matthews signing on the first day eligible is certainly a plus. Getting eight more years of Auston certainly fits with what Leafs fans want to see as well, but I'm not sure how that $16.7M number is going to sit with everyone, and I'm not sure exactly how well it sits with me.
For all the talk about giving Auston a blank cheque to fill out the number that he wants and skipping the negotiation aspect, the $16.7M number is a high one and as Frank says, it's 20% of the cap allocation. On Auston's last deal his cap hit was 14.7% of the Leafs cap space. MacKinnon's recently signed deal was at 15.3%, and McDavid came in at 16.6%. Leaping to 20% seems pretty bold, even if there was precedent from Brad Richards, the thing to remember is his contract works even better as a cautionary tale than as a precedent.
So where does that leave us with Auston? Well, he's going to ring the bell and we can expect a higher percentage than McDavid, that's for sure, but it also seems that term might not be something he's interested in. With the rising cap, Auston's league max deal could be 19% of the cap when it goes live and 18% of the cap one year in. If we are to assume the cap is going to keep on going up, Matthews could be interested in setting the standard again in a few more years as well. All of that could even be worse for the Leafs than the league max idea.
I don't think there's any need to debate would the Leafs should let Matthews walk if the price is the league maximum. It's still very much hypothetical and there's a lot of hockey that will be played before we need to have those kinds of opinions, but for now, that's what has been thrown out there.
The other bold prediction that Frank Seravalli floated about the Leafs was related to Kyle Dubas:
The Toronto Maple Leafs will win a playoff round for the first time since 2004, but GM Kyle Dubas will part ways with the organization after his contract expires. That Maple Leaf Sports and Entertainment has allowed Dubas to enter the final year of his deal without an extension has other teams salivating and has to at least leave Dubas wondering. His status might have an impact on prediction No. 1, too.
So the good news is Frank sees the Leafs winning a playoff round. That isn't particularly bold as the Leafs should have been winning playoff rounds for potentially the past three post-seasons, but it's nice to see that Frank thinks that this is Toronto's year.
The interesting thing is that he sees Dubas on his way out regardless of that win, but on Dubas's terms. The fact that there is apparently interest from around the league in Kyle is new information but not at all surprising, and while the Leafs can certainly be the highest bidder when it comes to front office positions, there are likely organizations that will offer up greater job security and a lot more autonomy to perform his role.
There is also something to be said for letting him go into the final year unsigned and while Dubas is assuring anyone who will listen that it's not a distraction, predictions like this are a prime example of how over the course of the season it will become a distraction or maybe it's not a distraction for Dubas because he already feels comfortable he'll land on his feet.
The last part of the prediction is related to how Dubas' tenure will impact the ability to re-sign Auston Matthews. It would be bold to say that it wouldn't have any impact, but whether Dubas is with the Leafs or not, Toronto is still likely the front runner to land Matthews' services, at least in the immediate future.
My guess is Kyle Dubas will be back if Brendan Shanahan is back, and by pretty much all accounts, Brendan Shanahan isn't going anywhere.