Goaltending is the last thing the Leafs wanted to be dealing with, but here they are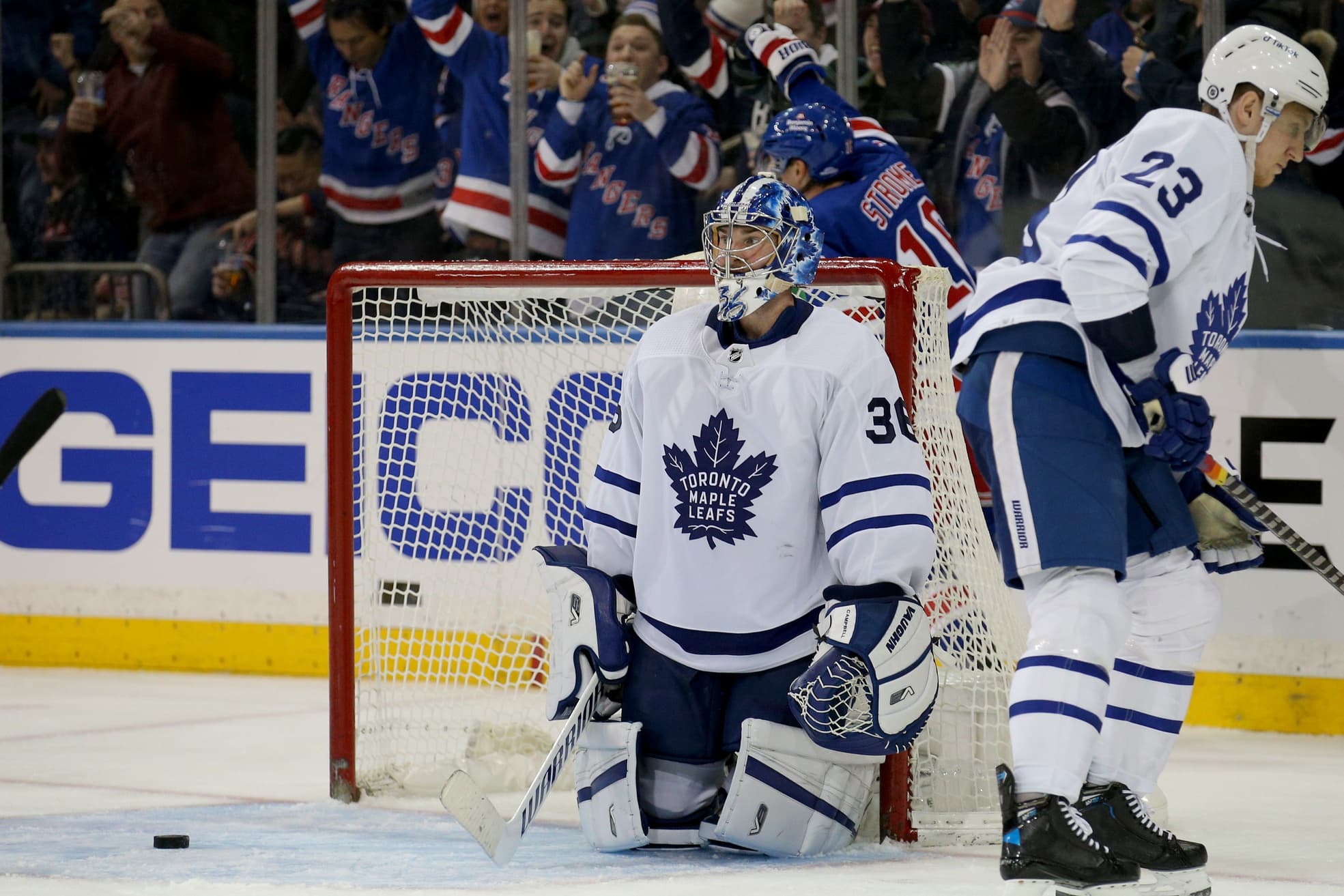 Photo credit:Brad Penner-USA TODAY Sports
Last season there didn't seem to be any shortage of love for Jack Campbell. A record-setting hot streak to start his year, he presented himself as a viable replacement for a struggling Frederik Andersen, and he seemed like a low maintenance, happy to be there kind of guy too. Alas, even last season there were signs that Campbell wasn't perfect, 9 of his 22 appearances had a save percentage under .900, and following up this year with three straight months of underwhelming hockey, perhaps the truth about Campbell is he's like so many other goaltenders around this league that you don't necessarily trust as your true number one, but you let them ride when they go on a hot streak.
I think there was some attempt to mitigate the risk around Campbell, and that's why Petr Mrazek was brought in. Mrazek's career points to him being very much what like what we've discovered Campbell to be, and that's a goaltender that bounces back and forth between hot and cold streaks, and consistently good isn't really part of the equation. Last year his 12 games of .923 hockey probably oversold what he was, and that was largely goaltending benefiting from a defensively sound Hurricanes team.
Still, there was hope that this duo would prevent the current situation and an All-Star selection for Campbell only added to that initial confidence. Nevertheless, here we are, and the question is an all too familiar one that I'm asking the TLN crew, and that's How would you fix the Leafs goaltending situation?
Michael Mazzei:
As much as people would like to think the solution to the goaltending will come from outside the organization, the harsh truth is that it is very risky to go after someone coming into a new system on such short notice who has no guarantee of working. It also doesn't help that other teams will see the inconsistencies in the Leafs' net and will subsequently up the price to make it harder for them to find an external solution. After all, no GM wants to throw another one a life line when they have a glaring hole.

The answer will need to come from within the organization and that means either riding the current tandem that Kyle Dubas invested in this offseason or trying out someone on the Marlies. Jack Campbell has shown enough evidence that he can play better than his recent stretch but it remains to be seen how long he'll be sidelined with a rib injury. Petr Mrazek has had his moments but confidence from the fan base and the team is at an all-time low, with his upcoming start against the Sabres on Sunday a make-or-break scenario. Joseph Woll showed promise in his brief stint with the top club, but will likely need more time before getting an extended look. And Michael Hutchinson, god bless him, is better off with the Marlies.

I know this may seem crazy at first glance, but it might be worth giving Erik Kallgren a longer look beyond Sunday. He showed flashes of a stable netminder with sound positioning and confidence that helped spark a comeback that gave his team a valuable point in the standings. He's also at the ideal age to start getting meaningful minutes at the top club. Sure his numbers of late haven't been stellar, but the Marlies struggles on the PK have been well documented.

If the Leafs are going to make a big change in the crease, that move will likely not come until the offseason. So in the meantime, it's time to take a serious look at the options already there and hope to find a spark somewhere. Otherwise, there will be a lot of restless fans dreading the postseason.
Nick Barden:
I think there's two ways to approach this problem ahead of the deadline. Toronto either has to ride with their two current goaltenders or they have to trade for one.
When looking at Jack Campbell and Petr Mrazek, both have been good goalies for a long time. Neither of the two are at the age where they should start playing bad. Maybe it's a rough stretch or it very well could be that one is falling off.

If they go down that route, they'll be risking a lot. What if neither find there way? What if one of them gets injured again (after Campbell returns)?

But as much risk as there is in that take, there's just as much in trading for a goaltender. It would be difficult for the Maple Leafs to do that anyway, due to their cap situation. If they were to go out and get one, it would have to be a cheap option, who could help win games.

I'd fix it by leaving it. I think either one of Woll, Kallgren or Hutchinson could win a game, if needed in the playoffs. But that all depends on whether or not anything happens with the two of Campbell and Mrazek. I think both will find their game and peak at the right time. When the two do that, it'll allow the Maple Leafs to play good playoff hockey.
Ryan Hobart: 
Hold firm. Pray that regression to the mean happens. It very well should, and I know that's a terrible answer, but it's the correct one. A rental goalie has just as much likelihood of playing badly as either of Mrazek or Campbell. Unless you can make a play for one of the top goalies who might be available, I would hold firm and work through it. They can afford to lose regular season games. Get one of the goalies to top form for the playoffs and it'll be fine.
Dylan Murphy:
I'll say this in no uncertain terms: in my opinion, Petr Mrazek has made himself a complete and utter non-option between the pipes for the Leafs. As far as I'm concerned, until Campbell returns to lineup, the goaltenders are Erik Kallgren and whoever's driving the zamboni at whichever arena the game is being played at. Petr Mrazek's contract at this point is a $3.8 million boat anchor in the form of a guaranteed loss every time he straps on the pads, and this is an area of the team Kyle Dubas needs to address.

About a week ago, I floated the idea of acquiring a 3rd goaltender as insurance for the playoffs, similar to what the team did last year in acquiring David Rittich. Perhaps Erik Kallgren is that guy, we won't know until the coaching staff gives him an opportunity to start a game. My approach would be to give him at least 2 games in this next week, and based on his play, make a decision whether to run a Campbell/Kallgren pairing or whether a move needs to be made to bump Kallgren down to 3rd string duties. No matter which option plays out, Mrazek absolutely cannot remain a Leaf.
Jon Steitzer:
I hate to echo so much of the stand firm approaches listed above, but perhaps through upgrading defense instead, which still seems like the best use of limited resources, the Leafs will see their goaltending get a bump as well. I mean if you look at what Mrazek was able to accomplish behind the Carolina defense, there is something to be said for getting some additional help elsewhere. The Leafs could also go with that old saying, "the best goaltender is a good offence" and win every game 7-5, and we could all enjoy an 80s throwback year, but then the Leafs will run into the next Carey Price on a heater situation and will be toast once again.
I'd like to think at this point the Leafs are looking at their goaltending situation and aren't overly sold on having either Campbell or Mrazek back next year, and in the short term, there is a definite benefit in using the trade deadline as an opportunity to rid themselves of a potentially troublesome contract with Mrazek and pursue another hope for the best option in net. Someone like Braden Holtby who is a bit more experienced and capable of playing somewhere around average might serve Toronto well. Going big on a goaltender like Fleury (if he was even an option) is still essentially a crapshoot, and burning through futures, limiting other moves, and still not having a solution for next season is hard to justify.
Given that the Leafs shouldn't be wasting opportunities with the roster they have, I wouldn't hate a change in net, but in a league where only a quarter of the teams can truly feel confident in their starting goaltender, it's important to keep expectations in check, and the safest bet is still looking for player upgrades taking the pressure off the goaltenders than counting a new goaltender from a draft lottery bound team fixing everything.
Let us know what you'd do. Is goaltending the problem at all or is it defense? Tell us in the comments.