If there ever was a time to use Petr Mrazek, that time is now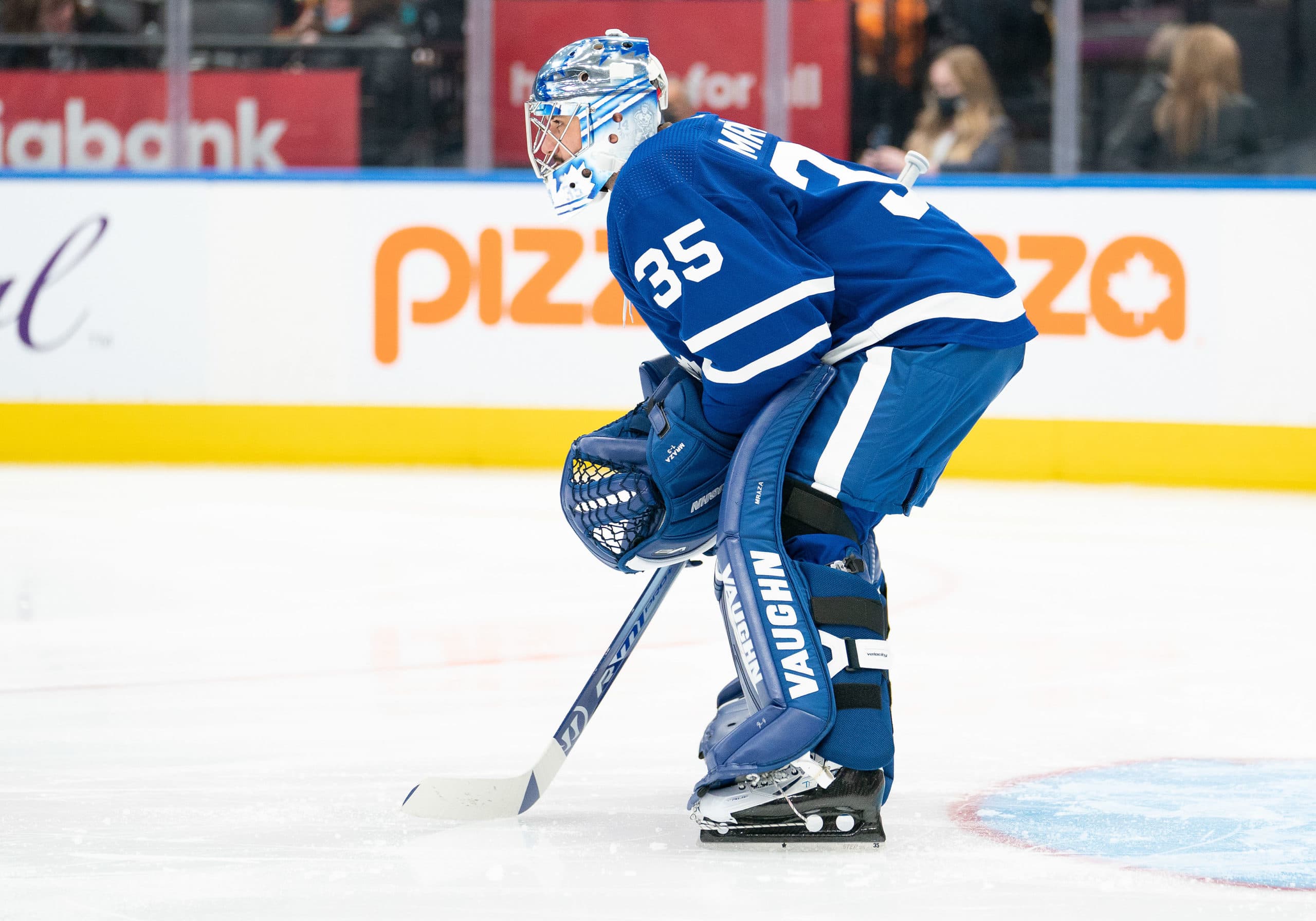 Photo credit:Nick Turchiaro-USA TODAY Sports
Petr Mrazek is basically a sports car parked in a garage that you occasionally wax. He's a first edition comic that is never read and immediately sealed to keep it in mint condition. Petr Mrazek is all the analogies of things that people spend a small fortune on but never actually use.
The Leafs $3.8M goaltender has seen the Leafs net just four times over the course of the last 3+ months. Some of that is due to injury, and some of that due to cancelled games making it easy to stay with the one time hot hand of Jack Campbell, and let's be honest, some of that is to do with the fact that Petr Mrazek is yet to have a game with a save percentage over .900. His record sits at 2-2-0, with a .882 save percentage, and only one quality start during his time as a Leaf.
As underwhelming as that is, that's not far off of Jack Campbell's 4-1-1, .893 sv% January. And while I think people will comfortably say that at the end of the day Jack Campbell is the better goaltender, we are now in uncharted territory when it comes to Campbell's workload.
Campbell now has two more starts this year than his previous career high (reminder we are at game 37, and Campbell's previous career high of 26 starts and 31 games played total came over the entirety of an 82 game schedule. Using Campbell at a 62 start pace is understandably burning the All-Star out, and having Mrazek around is largely for the purpose of avoiding these burnouts.
The decision to push Campbell was a smart one. It is an 82 game season, and seeing how much of the workload Jack could handle is one of the things worth exploring over that time, especially with a schedule as spaced out as the Leafs have had in December and January, but that usage leading to comments like this should bring that sentiment to a close:
Mrazek is ready and able to play and getting him ready for what will certainly be an increased workload starting in February is important. With Keefe's comments giving Mrazek the start against the Islanders seems like a no-brainer, as does letting him take the Detroit start later this month, and splitting the games against New Jersey was a given whether Campbell was still firing on all cylinders or not.
The question should be whether the Leafs want to hand Mrazek the reins for the majority of the late January-February stretch, and give Campbell something actually resembling some time off. Most of the Leafs rescheduled games come against non-playoff teams, and are generally the work you'd assign to the 1B of your tandem anyway.
The Leafs are also in a situation where they need to demonstrate that Mrazek can push for a starters workload. With Campbell's contract up at the end of the season, the Leafs are either going to be faced with having Jack Campbell price Petr Mrazek out of Toronto, in which case Mrazek has hopefully demonstrated he is a competent tandem capable netminder worthy of trading for. Or Campbell has priced himself out of Toronto, meaning the Leafs will certainly be relying on Mrazek to take on more responsibility in 2022-23.
The fact that we've seen Campbell hit a bit of a wall of late is probably encouraging from a contract perspective, and I wonder if the ball doesn't start rolling on negotiations a bit more now that the Leafs know they have a 1A tandem guy rather than a workhorse. Not that there is any real path to a cheap contract, but in a year with Vezina talk, being named to the All-Star team, and a lights out November, this should at least add a little cool water.
As for Mrazek, to start expectations need to be kept low. This is a guy coming in fairly cold, and playing behind a defense that doesn't really know him. Last season after a couple of months without playing Mrazek rebounded rather quickly, but it's also important to remember that was with a team he had been playing with for the preceding two seasons, and has a nearly unmatched blueline in Carolina. His first half season in Carolina in 2018-19 had Mrazek play 23 games and a .894 save percentage before having a .938 save percentage in the second half of the season. His 17 games in Philadelphia also demonstrated a learning curve as he only had a .891 save percentage there. The lesson being that despite rocky starts Mrazek will figure himself out, and while patience doesn't come easy to Toronto sports fans, try to have some with Mrazek and welcome his starts.
How many starts should Mrazek get the rest of the way? Should he carry the February load? Let us know in the comments.
Related: