It's the midseason grades edition of The Leafs Power Rankin's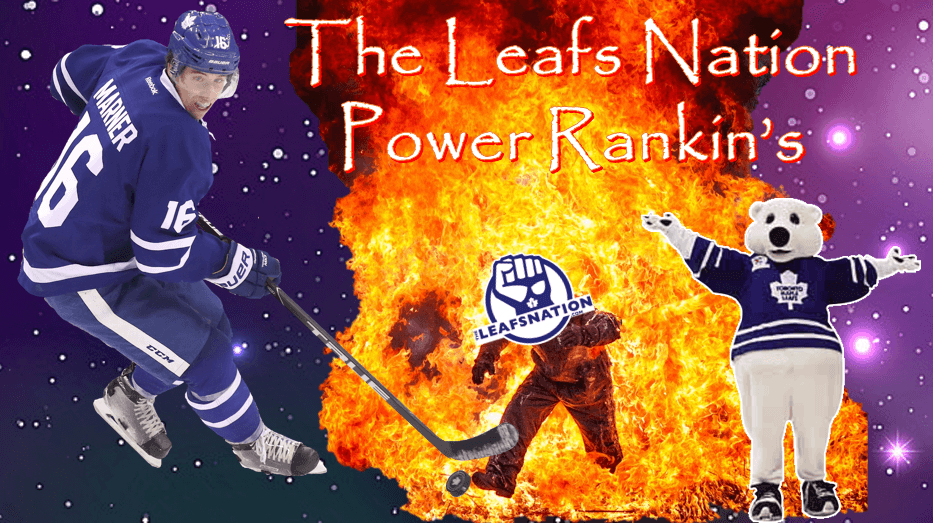 It's a new month and another chance to rank the Leafs players. It is also very close to the midpoint of the season and that warrants assigning some grades to the Leaf players as well. Rather than doing two separate articles to accomplish the same thing, we'll blend them into one time saving piece that cuts our potential pageviews in half. Take that network fat cats.
Grading players is somewhat tricky. Are we grading them to what we expect of them or are we grading them to where they compare to players around the league? Is Pontus Holmberg a B player because he's come in and grabbed an NHL job, or is he a C- player because he's a decent fourth line center? Unfortunately for Holmberg, I feel the latter grading system is far more useful, but I will include whether or not players are meeting, exceeding, or failing to meet expectations as well.
1. William Nylander (up from 5th) 
Grade: A, exceeding expectations
There are plenty of supporters of William Nylander around Leafs Nation, but I think it is still safe to say that no one saw him as the team goals and points leader at the first week in January.
As the Leafs exited the playoffs last year, Nylander more than any other player seemed committed to finding the next level in his game, and despite having a career year last year, this season Nylander seems committed to blowing that year out of the water.
Nylander has been promoted to the top line and has become far more comfortable using his frame and strength to drive the net. If he keeps it going in the second half of the year he could be the biggest upgrade for Toronto heading into the playoffs.
2. Mitch Marner (down from 1st)
Grade A, exceeding expectations
Marner exceeding expectations is another surprise, albeit he had a very rough start to the season and needed to be split up from Auston Matthews to truly get going at 5v5.
Marner's season best and Leafs all-time best point streak speaks to his consistency since that rough start and Mitch being named to the All-Star team reflects that both the team and league still hold him in the highest regard.
3. Auston Matthews (steady at 3rd)
Grade A, meeting expectations
We've spilled some digital ink over the past few days addressing Matthews decline in goals this season and how hitting sixty goals on an annual basis isn't a realistic expectation. We've also talked about how Matthews is finding a bit more of his physical game and his ever-improving defensive game.
The Hart Trophy or even the Rocket Richard Trophy might not be in the cards for Matthews this season, but he is still going to be a 40 goal, 90 point player if he stays healthy and should have some important new elements in his game come round one that will get him to dirty parts of the ice against competition that is prepared for him.
4. Michael Bunting (up from 12th)
Grade B+, meeting expectations
Michael Bunting is another player that had a slow start and saw himself bouncing around the lineup to start the year as the Leafs figured themselves out. Bunting was ultimately reunited with Matthews and got back on track with an impressive point streak and rediscovering his ability to pot greasy goals courtesy of his elite linemates.
Bunting is a very important part of the Leafs, largely based on how his outputs far exceed his contract, and he's made his case that even with a raise he'll be worth keeping around.
5. TJ Brodie (not previously ranked)
Grade A, meeting expectations
Brodie's return to the Leafs lineup last month came at an important time and saved Toronto from a potential Kral-Hollowell pairing seeing significant usage. That's far from the highlight of Brodie, but it's hard not to appreciate that he elevates every partner he plays with as seen from Conor Timmins big splash in the Toronto lineup, and his regular coverage for the shortcomings in Morgan Rielly's defensive game.
Brodie keeps the lights on and keeps Samsonov and Murray from losing their shit.
6. Justin Holl (up from 10th)
Grade B-, exceeding expectations
The workload increase for Holl and his ability to step up during a time of significant defensive injuries has earned Justin a lot of trust with Leafs fans who were prepared to view him as a scapegoat this season.
Over short stretches, Holl has been very good at taking on hard assignments as demonstrated by his time as McDavid's shadow during the Canadian Division season. December was a throwback to that time and Holl either seeing time as a second or third pairing RD isn't viewed as the problem it was seen as coming into the year. To some extent the perception of Holl was linked to the decline in Jake Muzzin, who has been his most frequent partner and now seeing time with Giordano or Brodie has erased some of that.
It comes down to partners with Holl and playing him with Sandin still seems to be an issue, but otherwise he's been better than anyone expected.
7. John Tavares (up from 9th)
Grade B+, exceeding expectations
Exceeding expectations might be a bit much for Tavares given that his salary is very much linked to his expectations. That being said, there was always a drop off expected in the later years of his contract and that hasn't happened. In fact, Tavares has been better this year than last, at least from a goal scoring perspective. Playing with Marner seems to be the best fit and Calle Jarnkrok addresses some of the Tavares' declining defensive zone abilities as well. The unit has become an all situations line again compared to the Robertson-Tavares-Nylander line that was begging to be sheltered.
8. Conor Timmins (not previously ranked)
Grade B-, exceeding expectations
Timmins arrival in Toronto has involved nothing but positives. He's been an oft-injured player who is seemingly getting his career on track and is providing the Leafs with another offensive option on the backend while Timmins is capable of handling the competition associated with the third pairing from the defensive perspective as well.
Timmins is capable of pushing Holl and Liljegren, as well as possibly Sandin for ice time, but he might also allow for Giordano to get some rest down the stretch too. For example with the Leafs back-to-backs over the next week it would be a shame if Timmins didn't come into the lineup.
Whether or not Timmins can keep his production up remains to be seen, but he's added another important layer of depth for the Leafs and has likely pushed Victor Mete down the depth chart.
9. Timothy Liljegren (down from 7th)
Grade B, exceeding expectations
I remain unapologetic in my preference of Liljegren over Rasmus Sandin. Career to date, Liljegren has been the better defenseman and he addresses a far more significant need as he is a right side defender. He's been able to step up to play with Rielly and seems to make every one of his partners better. He hasn't looked out of place when facing tougher competition and like Sandin, certainly helps the Leafs out when it comes to price.
I don't blame the Leafs for wanting to find a way to go into the playoffs with Sandin and Liljegren as their third pairing, but it would be nice to see Liljegren get more top four experience in the meantime. It's not like that wouldn't help the Leafs come playoff time.
10. Mark Giordano (down from 4th)
Grade B, exceeding expectations
As a 39 year old on an $800k AAV contract, the expectations for Giordano were artificially set too low. He hasn't had the decline associated with a player of his age even heading into this year, so really Giordano is holding steady with what he did last year. He was the Kraken's top defender to start the year last year, so a year later being able to handle a stretch for the Leafs shouldn't be a huge surprise, but it was still very much welcomed.
Giordano will be an important part of the Leafs defensive depth this season and next, and as much as he can be shifted towards third pairing responsibilities the more likely the Leafs have their optimal deployment on the back end.
11. David Kampf (steady at 11th)
Grade B-, meeting expectations
It's tough being David Kampf. So much of the Leafs team defense seems to fall on him and he does a good job of making Toronto look capable in their own end. Add to it that Kampf has had much more of a revolving door of linemates this season than in previous ones and he's still going strong.
As much as David Kampf is still going strong his numbers have been wonkier this year, and the reality for the Leafs is they are better off heading into the post season with Kampf as their 4th line center than they are with him as their 3C. Pontus Holmberg isn't ready to usurp him just yet, but I find myself increasingly interested in the two of them seeing time together, assuming Toronto can bring in another center in the next couple of months.
12. Matt Murray (down from 2nd)
Grade B, exceeding expectations
It's safe to say that no one really thought Matt Murray would be near the top of the league in goaltender statistics at the midpoint of the year. And while the last 5 games have been a bit more of an up and down experience with Murray and consistency could be an issue in the second half, he's delivered on what was asked so far and his career to date says that when he has a downturn he eventually comes back. It's just a matter if it's a couple of games or it's a stretch that matches that which led him to the Leafs in the first place.
Looking at Murray against Seattle it didn't look so much like a goaltender fighting anything, but instead just a goaltender with his timing slightly off. For Samsonov and Murray working in a true tandem it could be difficult as neither is getting a chance to fully run with the net like they did when they were covering off each other's injuries.
After the back-to-backs over the next week, it might be interesting to see if the Leafs assign their goaltenders 3 game stretches rather than just flipping back and forth to let them settle into the role more. Of course that comes with its own set of problems too.
13. Rasmus Sandin (down from 6th)
Grade B-, meeting expectations
Despite a really strong stretch heading into our last power rankings, Sandin has fallen back to looking a step behind Liljegren and better suited for some sheltering on the third pairing for the time being.
Sandin's ability to land the big hit as needed is a nice addition to the Leafs lineup and he seems capable of providing some special teams offense as well. In fact, the Leafs seem to hold his offensive abilities in high regard, even if I personally think they are a bit overstated and didn't mind the Leafs transitioning to the 5F powerplay instead of leaning on Sandin.
14. Morgan Rielly (not previously ranked)
Grade B, meeting expectations
The past few games since Rielly has returned from injury have seen some unfortunate results for the Leafs. And while Rielly has never been as strong without the puck as he is with it, hanging all of the Leafs shortcomings on his return and Conor Timmins coming out of the lineup is silly. It's not unfair to ask more from Rielly, but expecting him to be something that he isn't at this point in his career isn't realistic and some people (like myself) need to come to terms with an offensive defenseman as the 1D on the Leafs.
Rielly was also one of the few Leafs that showed up at the start of the season. He was a catalyst for a lot of the early offensive production and while people like to point to the record with Rielly in the lineup vs. the record with Rielly out of the lineup, they are definitely victims of a cloudy memory of how important Rielly was in at least being competitive in those early season losing efforts.
Like I said, I'm not married to the idea of Rielly as the Leafs 1D, but it is safe to say expectations around him are wonky and his role lends itself to easy scapegoating.
15. Pierre Engvall (steady at 15th)
Grade B-, meeting expectations
Engvall has very much got his season back on track in the past month after a rough first couple of months. The shot suppression is back and there is a bit more comfort in the offensive zone as well. He's living up to what the Leafs want from him and should reasonably expect from a player on his contract.
It seems like the turning point for Engvall came with his attack on Sean Durzi and it's a shame the Kings and Leafs won't meet up right before the playoffs.
16. Ilya Samsonov (down from 8th)
Grade A-, exceeding expectations
Ilya Samsonov's season so far works out to being incredibly impressive and if Toronto wasn't in a division with Linus Ullmark, Andrei Vasilevskiy, and Craig Anderson(?) there might even be talks of him as a potential All-Star this season.
That being said, the last four games have featured a steep decline that will rightfully cost him some confidence from the organization and fans. It's reasonable to assume that he can work his way out of it, but it also seems likely that he'll work his way out of it back to a more accurate version of the goaltender he is, not someone who was briefly looking like a Vezina contender.
It's probably also worth noting that all goaltenders let in goals they'd like back on almost a nightly basis. That doesn't mean it is time to write off Samsonov who still looks like a good option for the Leafs in this season and beyond.
17. Calle Jarnkrok (not previously ranked)
Grade C+, meets expectations
It has been a season of ups and downs for Jarnkrok so far and a large part of that has been the difficulty to find the right fit for him. Jarnkrok and Kampf wasn't it. Jarnkrok at center wasn't it. Jarnkrok definitely had his moments with Holmberg and that could be a good fall back post trade deadline, but what has really been nice is Jarnkrok adding a bit more responsibility to the Tavares line which has led to Tavares and Marner being more useable in all situations.
Jarnkrok is at his best when we aren't noticing him and he's been good at keeping his lines out of trouble for the most part. It will be interesting to see if he gets a chance to tap into his underrated playmaking abilities at some point too.
18. Alex Kerfoot (down from 16th)
Grade C, not meeting expectations
Kerfoot is the first player on here to get the not meeting expectations label tossed on him. Tell me I'm being unfair about that, I can take it. The reality is that Kerfoot either needed to be a somewhat offensive capable winger on the Tavares line or the Leafs 3C this season and he didn't do either of those things. He's settled into being a decent shot suppressing forward on the Kampf line, but that isn't what anyone asked for.
Now, Kerfoot isn't a problem and he's still the Swiss Army knife, chameleon, whatever the Leafs need him to be, just not one that is having a career year. His contract being moved is still one of the best paths to the Leafs making upgrades at the trade deadline, but I think we all need to be a bit more realistic about who represents a true upgrade on Kerfoot as well. Moving him for the sake of moving him isn't smart either.
19. Pontus Holmberg (down from 14th)
Grade C-, exceeding expectations
Holmberg is coming down to earth a little bit in the past month. As the quality of his linemates has decreased the outputs from Holmberg have as well. Is it reasonable to expect a rookie bottom six player to elevate his linemates significantly? Probably not, but the reality is that Holmberg did better with some shot suppressors with middle six forward capabilities than on a fourth line.
Holmberg should very much remain an everyday Leaf and even if the trade deadline leads to a bulked up Toronto roster, it would be nice to see Holmberg get some reps on the wing rather than returned to the Marlies.
20. Zach Aston-Reese (down from 13th)
Grade C-, meeting expectations
Everyone loves an energy forward that hits and gets under the skin of the opposition. ZAR is absolutely what the Leafs should want on their fourth line and he'll add value in the playoffs and down the stretch even if his on-ice numbers might undersell his attributes.
I'm not sure the Leafs have still found the best fit for Aston-Reese, and that's where Toronto exploring 4C option like Nick Bjugstad at the trade deadline might be what makes the puzzle pieces fit better, but in the meantime there isn't much to complain about with ZAR or really any of the Leafs and their record reflects that.
Grading the players outside the power rankings
Typically I cut these posts off at the 20 player mark, but there are still a number of Leafs left deserving of some grades, so we'll rattle off a few more names.
Jordie Benn, Grade: C, exceeding expectations
Benn was very much a player that made sense as a 7D coming into the season. He addressed some of the physical play that left with Ilya Lyubushkin. He's a veteran and calming presence, and he seems to understand the role he was going to placed in.
The fact that Benn brought some offense early and was capable of eating some minutes alongside Rielly was a bonus, but unfortunately injuries caught up with him and we really haven't seen what he is now because Conor Timmins looks to be the Leafs 7D now.
Dryden Hunt, Grade: C-, meeting expectations
It's very early on Hunt so he kinda gets this grade by default. He's provided a couple of interesting moments with a fight in his first game and a breakaway in another. I think the Leafs would like to try to sneak him down to the Marlies before the deadline to use him as more of a depth option rather than a staple of the 4th line, but again, it's early.
Joey Anderson, Grade: D, meeting expectations
Anderson didn't really stand out in his time with the Leafs, but he still demonstrated that he can be a 4th line option if called upon too. Like Hunt he's a bit of tweener between the AHL and NHL.
Victor Mete, Grade: D, meeting expectations
An injury has impacted Mete like many others on the Leafs this year, but as someone who was competing with Benn for the 7D spot, it seems he has clearly lost it to not only Benn, but Timmins as well.
Erik Kallgren, Grade: C-, exceeded expectations
I'll be generous and say that Kallgren exceeded expectations because he ran with the net at a tough time for the Leafs and somehow was part of getting the team back on track. I'd still be happiest if we don't see him again this season.
Nick Robertson, Grade: C-, meets expectations
I'll put Robertson at meets expectations instead of not meeting to expectations for a couple of reasons. The first is that injuries suck and the second is that his deployment wasn't favourable for his development. It might have been the right roster decision for the Leafs, but not for Robertson. Robertson didn't make a case for staying in the lineup and that is probably what the Leafs wanted from him this year. Hopefully next year goes better for him.
Mac Hollowell, Grade: D, meets expectations
I didn't think we'd get a Hollowell debut this season, but it happened and it went better than I thought it would. There still needs to be a lot of work put in before seeing Hollowell in the lineup is something I'd be comfortable with.
Wayne Simmonds, Grade: D, not meeting expectations
There is a lot to like about Wayne Simmonds and his career, but it shouldn't be controversial to say that he isn't a fit for the Leafs lineup anymore. The speed just isn't there anymore and giving opportunities to various Marlies to try and gain a spot in the lineup better serves the Leafs at this point.
So end the midseason player grades and January Player Power Rankin's. I already know you agree with all of it, so thanks for reading.