It's time for the Maple Leafs to get a little greasy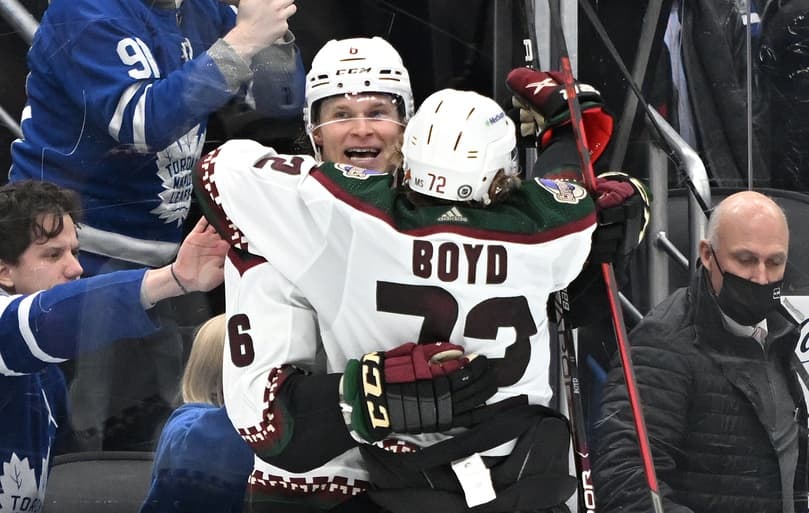 Photo credit:Dan Hamilton-USA TODAY Sports
Lost in the outrage over yet another officiating debacle in last week's game against the Arizona Coyotes, when a missed holding the stick infraction by @Jakob Chychrun against @Auston Matthews directly resulted in a Maple Leafs overtime loss, was an appreciation for Chychrun's gamesmanship.
Despite the negative outcome for the Leafs, you have to hand it to Chychrun, who gambled (and won) that officials would be too cowardly to call a non-automatic penalty in overtime. It's no secret that the lion's share of NHL referees are hesitant to the point of paralysis when it comes to making tough calls in critical moments that would be considered as directly impacting the outcome of a game. Weaponizing that reality is what separates gamers from players.
Going down through the Maple Leafs roster, who are the gamers? Aside from @Michael Bunting, who would have the audacity to pull something as greasy and risky as what Chychrun did, at that pivotal moment, in the pursuit of winning?
For the most part, the Leafs are comprised of model citizens. Collectively, they don't take many penalties (T-27th in penalties taken-per-60), almost never take major penalties (T-31st in major penalties), and are frequently the second-most physical team in any given game (T-29th in hits given-per-60). Some of this is the result of being a dominant puck possession team, but the rest is likely a combination of player personnel and coaching.
To be clear, this is not a call for more toughness and grit to be added to the team. Rather, it's an observation that the Leafs prefer to focus on playing a clean game.
But the playoffs are where "clean" goes to die. Ask Boston, Columbus, or Montreal, who all realized there was no way they were going to be called for 10 penalties per game and used that to their advantage against the Leafs, who spent all series looking to the referees for help that was not coming. If NHL officiating was applied with any sort of consistency, the Leafs may have won a couple of those series.
Perhaps a shift in mentality is needed: it's time to stop expecting NHL officials to get things right, and instead bank on them getting things wrong, as Chychrun did.
All of this is to say that with roughly 20 games left in the season, I'm advocating for the Leafs to work on their gamesmanship heading into the playoffs. There are countless in-game opportunities to exploit flawed NHL officiating to one's advantage.
It begins with game awareness:
Knowing that referees prefer to balance out penalties, keeping track of the penalty score
Being aware of where referees are on the ice and what their visual blind spots are
Taking stock of the score and game clock: these things should not impact a referee's decision to make calls, but they do
Then you roll that into your execution: your subtle obstruction; your behind-the-play slashes; your crowding and bumping of the goalie; your post-whistle antics.
What's the worst that could happen? The league's fifth-best penalty kill gets a few more reps?
What's the best that could happen? You could get your opponent off their game. You could make a play that changes the game in your favour.
Sheldon Keefe spoke in All or Nothing about establishing playoff habits. These are playoff habits. It's time to get comfortable with the uncomfortable.
It's time to get greasy.