Kane, Domi notch duelling four point nights, Leafs drop another to a Connor Bedard favourite: Muzzy's Muzings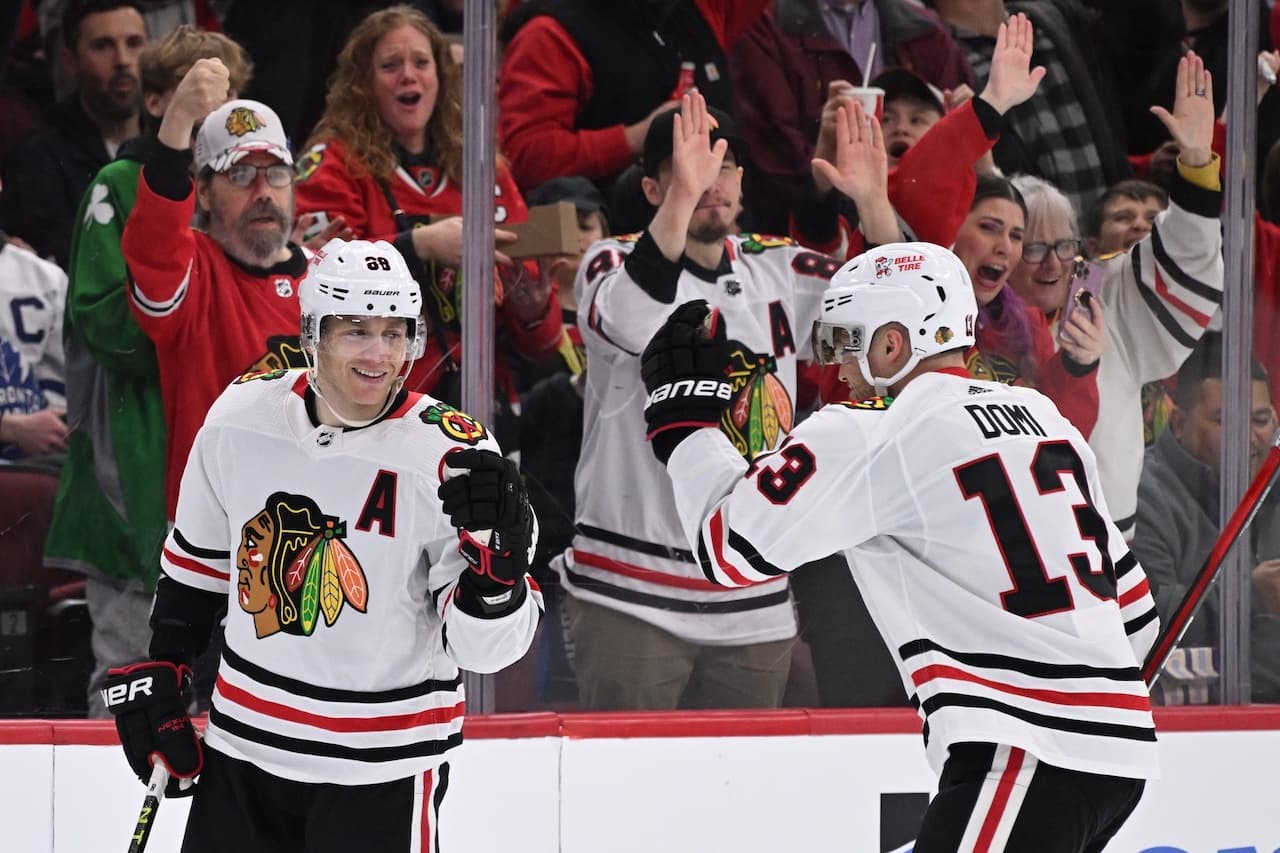 Photo credit:Jamie Sabau-USA TODAY Sports
You can add Chicago to the polarizing list of cellar dwellers that the Leafs have now lost games to this season.
Patrick Kane (three goals, one assist) and Max Domi (one goal, three assists) each notched four points apiece as the Blackhawks outlasted Toronto 5-3. By the way, that was Kane's ninth career hatty and second career against the Leafs.
In his first outing post flu-bug, Ilya Samsonov made 23 stops to fall to 19-7-2 on the season. John Tavares, Noel Acciari (first as a Leaf) and Mitch Marner had the goals for the Maple Leafs. Meantime, Morgan Rielly, who hit the 400-point plateau on the night, tallied two assists.
Toronto fell to 5-3-1 in the second half of a back-to-back.
MUZZY'S MUZINGS:
 SLOPPY NIGHT
Oof, was that an ugly first period, or what? As expected, it was a sluggish start for the Maple Leafs following their outing at home on Saturday night against Montreal. Honestly, I need to see a thesis paper one day on back-to-backs in the NHL. That thing would sell. That said, they found a way to rally after surrendering the first goal; that's all that matters. Additionally, I think they got stronger as the period went on, so that was a good sign as well. Is it playoffs yet? No need to freak out, folks. In the grand scheme of things, these games and losses mean nothing. At worst, it may cost them home ice in Round 1 against Tampa, but such is life sometimes.
SOME LOVE FOR MORGAN RIELLY
What a milestone for Morgan Rielly: 400 career points. Seriously, life's moving too quickly. I remember when he was drafted like it was yesterday. Anyway, to preface, I'm probably the biggest Rielly fan you'll find. From day one, through the ups and the downs, he's been a consummate professional during his tenure as a Maple Leaf. Honestly, the guy's the epitome of class. He takes so much pride in being a Leaf. Personally, I think he's a tad under-appreciated in this market, but such is life playing in a hockey hot bed. Simply put, it would be a joy to watch Rielly raise Lord Stanley one day. Additionally, I think he's really started to find his game lately, which obviously is a fantastic development. It goes without saying but he'll need to be at his very best if the Leafs have any shot of doing something substantial this spring.
SHOWTIME
So, after the Rangers acquired Vladimir Tarasenko, Patrick Kane wasn't shy to share his true feelings on the matter.
Then, last week, it was rumoured that the future Hall-of-Famer would be open to a trade to Toronto. A few days later, the Leafs pulled off the move with St. Louis essentially bowing out of the sweepstakes. While he hasn't spoken publicly about the Toronto rumour, Kane let his play do the talking on Sunday night at the United Center. He was outstanding. I said this last week, and I'll say it again, you have a chance to acquire Patrick Kane, you take your shot. That said, I'm a big fan of the move Kyle Dubas pulled off with the Blues. It is what it is. Personally, I think O'Reilly is a better fit for this roster anyway.
JUSTIN HOLL
I've had enough. That's it, that's all.
HIGHLIGHT OF THE NIGHT:
WHAT'S NEXT?
The Leafs will wrap their mini two-game road trip in Buffalo on Tuesday night. Toronto grabbed the opener of the three game season series on November 19th, 5-2, at Scotiabank Arena.