Knee Jerk Reaction: Death, taxes, and the Maple Leafs losing to lottery teams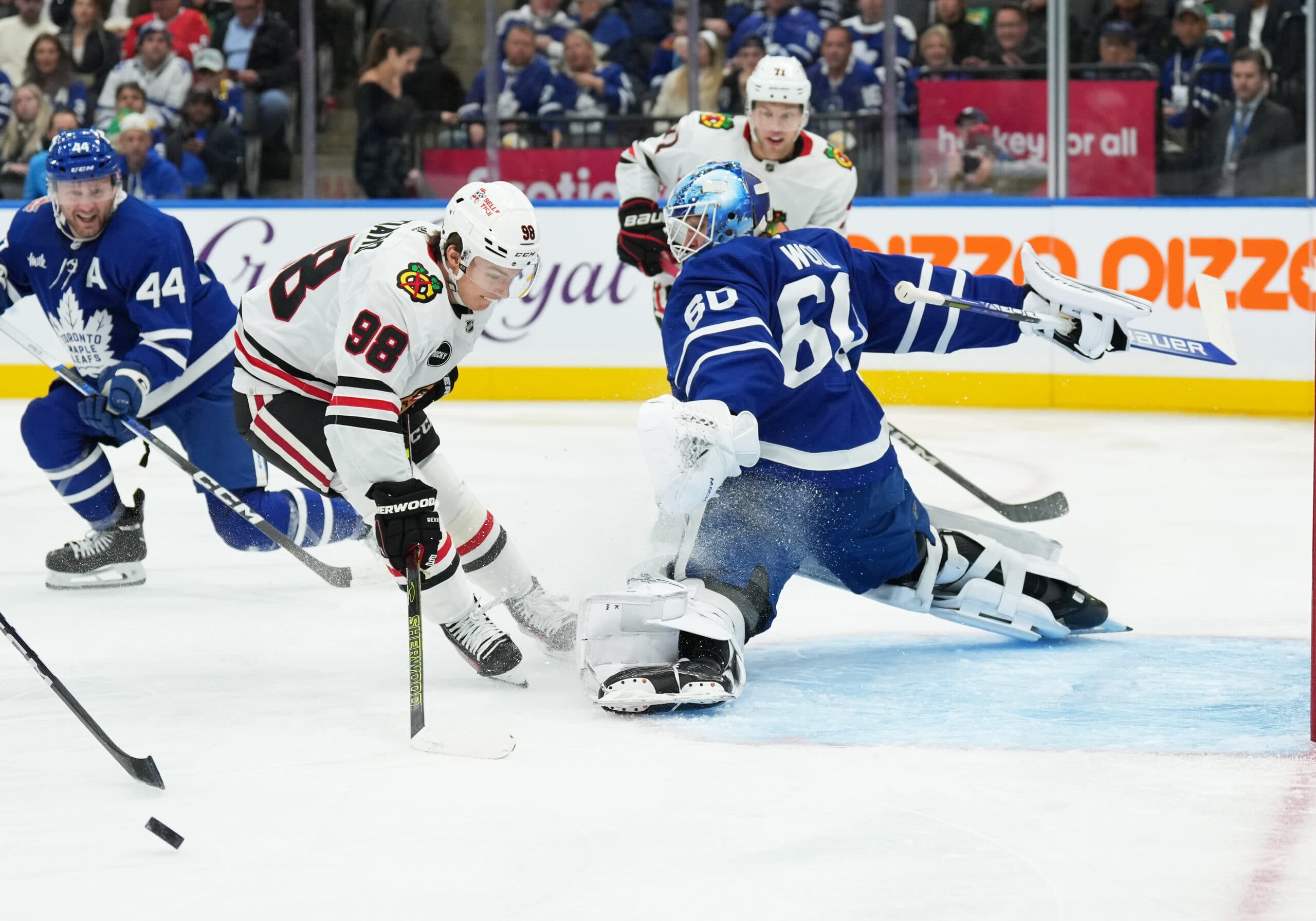 Photo credit:Nick Turchiaro-USA TODAY Sports
I guess if there is anything the Leafs can hang their hat on tonight it is they are the first team to keep Connor Bedard off an NHL scoresheet. Other than that, it was a typical low effort loss from the Leafs as they fell 4-1 to the Chicago Blackhawks.
Playing against Montreal on opening night has a lot of pride on the line. Minnesota is a team that the Leafs shouldn't take lightly, so they didn't. The Chicago Blackhawks… well… this game seemed destined to mirror a lot of the Leafs efforts against lottery bound teams last season and yeah, that goaltender with a career .891 save percentage was absolutely able to shutdown the red hot Auston Matthews.
I think I'm passed the point of trying to understand if it is the Leafs having a hard time caring about weekday games against lottery teams or if lottery teams just play a grinding style of hockey that is more effective than the teams that try to go skill vs. skill with the Leafs so let's just look at what happened.
So goaltending and defence aren't any closer to gaining anyone's confidence. The McCabe and Klingberg pairing continues to struggle and just three games into the year you can see the frustration building with McCabe. As for Klingberg, he just seems confused about why he is on the ice when the puck is in the Leafs zone. (Me too, buddy.) It was nice to see the in game adjustment to McCabe with Liljegren. That is a step in the right direction and might have been required for Woll and McCabe to be willing to come out of the locker room to start the third.
No one is writing off Joseph Woll based on one bad game when he's given the Leafs a lot to be excited about in the past, but this game coupled with the preseason should mean that expectations are going to be a little tempered. I don't know how mad you can be at a guy when the team in front of him is giving up breakaways with this much room to Corey Perry of all people:
Throughout the game you could also see the Leafs forwards remembering the concept of team defence and if that becomes a more consistent part of Toronto's game going forward we'll see fewer plays like the one above.
On a more positive note, how great has William Nylander been? And for that matter, how about John Tavares who has also been quietly putting up some points in the first three games. William Nylander is playing like it is a contract year and is doing his part to justify that rumoured $10M ask. John Tavares is reminding us that he age isn't catching up with him, he's just not a fast skater. He's still one hell of a player and admittedly I like the Nylander/Tavares duo a lot more with Jarnkrok than Domi.
Some stray reactions:
I wonder what the people who found Pursuit of Happiness problematic think of David Lee Roth. The Leafs goal song situation is hilarious to me and at this point I hope they just leave the goal song up to shuffle.
I'd love to know how Sportsnet calculates Faceoff Win Probability and why anyone would care to calculate it in the first place.
This will probably be an unpopular opinion but unless the Leafs are going to try something different with the third line soon, I'd rather see Fraser Minten returned to junior. The third line as it is presently constructed and being deployed is underwhelming and both Minten and Knies deserve a chance to thrive. As good as they were in the preseason together the regular season is a different beast and splitting them up and putting them with players that give them a chance to be their best is where I'm at. That said, the Leafs centre situation becomes a lot more complicated if Minten can't stick around.
I don't know what Sheldon Keefe's plan is but I'd go back to Woll on Thursday against Florida. He did well against them in the spring and giving him another shot after getting no run support seems only fair.
I guess the dream of an 82-0 season is over and now we're onto the next one.