Knies and the playoffs, GM opening panic, and an ideal draft lottery outcome: Leaflets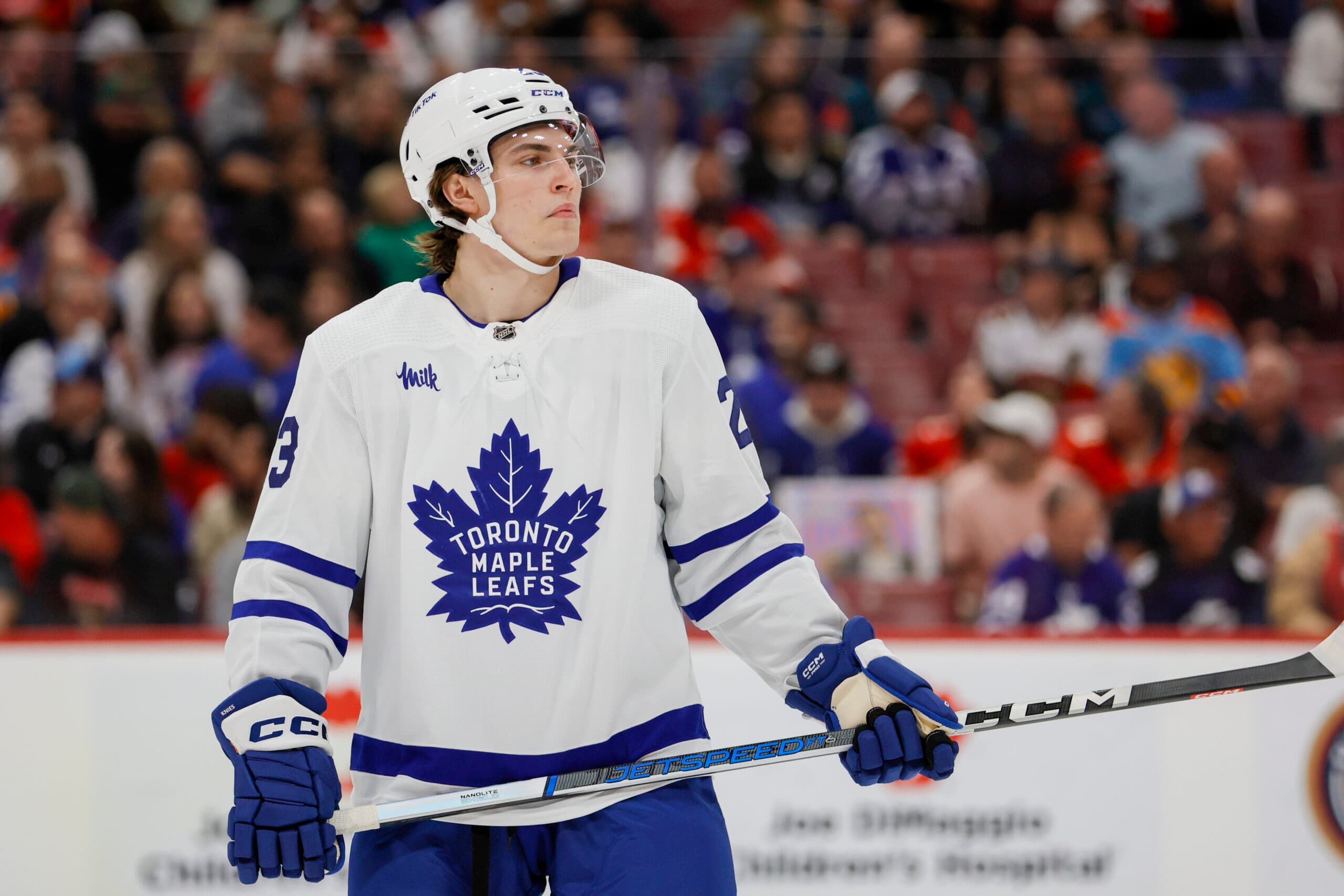 Photo credit:Sam Navarro-USA TODAY Sports
I don't think there is a time of the year that I am truly more excited about hockey than the few day window between the regular season and the postseason. I'm so happy the season has come to a close and the playoffs still are a reason for hope and excitement. As soon as the puck drops I'll stop pooping until the Leafs' fate is decided.
In this small window of fun reflection and looking forward, I've got my weekly stray thoughts. Let's get to them.
Fitting Knies into the Leafs playoff lineup
To say that Leafs fans are excited about Matthew Knies is an understatement. He's quickly shown that he has the skill set to be a part of an NHL lineup, it's just a matter of getting him into some practices between now and Tuesday to see if he truly belongs in the Leafs Game One lineup.
If the philosophy is to take a gamble on the upside from the beginning, the Leafs will probably go with Knies. That doesn't seem like a decision that most NHL coaches would make. There's a lot more risk aversion than that as well as there needs to be some consideration given to playing the guys that got you there. Of course, you could also say that someone like Sam Lafferty is not one of the guys who got the Leafs there and maybe his spot is up for grabs. I don't mean this to be a harsh criticism of Lafferty, but if you were to make a case for one Leaf coming out of the lineup for Knies, it would probably be him.
Knies gives the Leafs someone they can trot out for sheltered offensive zone situations, use on the second powerplay and then act as a cannonball on the fourth line as needed as well.
Now the reality is that Knies will likely start the playoffs in the press box, but there will likely be fairly short leashes for players like Lafferty, Aston-Reese, and potentially even Alex Kerfoot during that time. It would probably take a lot more for the Leafs to consider putting Knies in on the road, so if they are interested in testing him out, they'll find a way to get him into Game Two.
Here's what I think a Game One lineup with Knies would look like:
Bunting – Matthews – Nylander
Tavares – O'Reilly – Marner
Jarnkrok – Kampf – Acciari
Knies – Kerfoot – Aston-Reese
In this situation, I'd assume the Leafs would be favouring their first three lines and inserting Kerfoot for defensive zone faceoffs in some situations, Knies into offensive zone face off situations in others and putting Aston-Reese out for energy from time to time. The line would be capable as a fourth line as well, but they seem more capable as a collection of situation players than as an actual unit. I think this is true of most situations that would place O'Reilly in the Leafs top six.
Dubas being headhunted
It would have probably just been easier to extend Kyle Dubas prior to the season and avoid what could be a circus throughout the playoffs. With both the Flyers and Penguins in the market for a new GM and there being a high probability of other teams being in the hunt soon as well, Kyle Dubas is very much going to be in demand.
That said, the Leafs do have deep pockets and money shouldn't be an issue. Term might be, but definitely not money. There's also the matter of autonomy, but there is also the matter of winning. Teams like the Penguins (who are going to be on a very interesting rebuild arc soon enough) and the Flyers (very much at the start of their rebuild) would mean that Kyle Dubas or any high in demand candidate would be foregoing a chance to win in favour of a long road back to being competitive.
A team like the Calgary Flames could emerge as an option and we still haven't seen what all is going to play out in a market like Columbus and after the first round of the playoffs another round of coach and GM firings can be anticipated too, but initially the drawing factors seem like they'd be term and autonomy.
Autonomy might be a big one for Kyle Dubas. He still has to report to Brendan Shanahan and with an MLSE board that is very concerned about playoff review due to their other holdings, Kyle Dubas might be receiving more pressure in Toronto than he could in other markets, although it's hard to imagine that Pittsburgh, Philadelphia, or Calgary would be easier assignments.
Dubas being able to enact his vision in full could be huge for him. And as much as Toronto labels itself as a storied franchise, recent history shows the Penguins aren't a slouch in that regard either as hard as it might be for us to accept. Of course there is something to be said for the time spent building something in Toronto and wanting to see it through as long as the opportunity remains for him to return. Kyle Dubas can continue to apply his skill to keep Toronto competitive or he can hit the reset button and go back to starting from scratch. The better part of the next decade no one will be concerned about winning a round because making the playoffs would be enough of a shock.
As Elliotte Friedman predicted on The Jeff Marek Show on Friday, the most likely outcome is that Dubas is back in Toronto next year. Deservingly so, too. What his next deal looks like and whether he returns with more control will be something we'll have to wait on, but Toronto likely can't be beaten on pay or on the best roster to work with.
Ideal draft lottery outcomes
With the season at a close, it seems like as good a time to weigh in with some initial thoughts on the draft lottery. Having the Canadiens (8.5% chance) in the top five is the real only selfish concern from a Leafs perspective and the fact that 4 of the 6 best chances of landing Bedard fall in the Western Conference is also a plus. The Senators likely don't own their pick unless they win the lottery but there is only a 2.5% of that happening and they are at least out of Bedard territory, leaving the Wings (5% chance) as the only other Atlantic division team with a shot at the top spot.
What is encouraging is that there is a 31% chance in both the first and second drawing of teams pushing the Canadiens (and possibly the other Atlantic Division teams) back in the standings. That's better odds than any single team has of winning the actual lottery.
There is a 62.5% chance that Connor Bedard will wind up in the Western Conference. The draft lottery will be held on May 8th.