Leaflets: Thoughts heading into Draft Day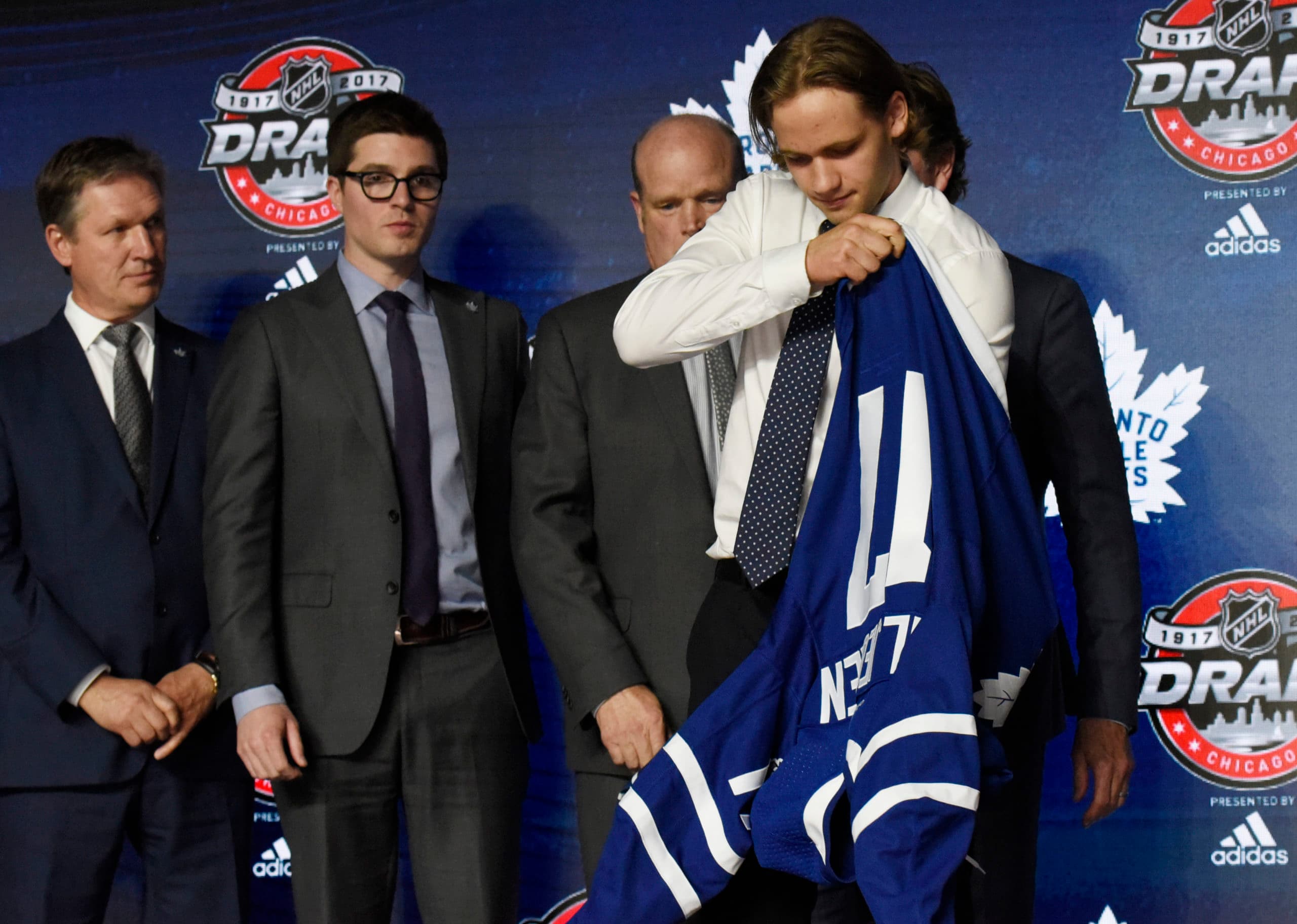 Photo credit:David Banks-USA TODAY Sports
It's Draft Day!!! Woooooooooo. A magical night where anything seems possible, except for the Leafs doing anything. With Kyle Dubas' repeated vocal support for the top of his roster, there is absolutely no chance that the Leafs find their way stumbling into the first round. At best they might do something that sets them up a bit differently for Saturday, but watching the draft tonight is just hoping for as many teams as possible to reach with their picks and provide the Leafs with the best possible talent pool to work with tomorrow.
Change needs to be made beyond the free agents
The Leafs have no shortage of vacancies created due to departing free agents, but that doesn't seem like it should be the extent of the changes being made, and there is a need for additional funds to improve the Maple Leafs. As things sit right now, sticking only with the returning Leafs on the roster, the Leafs have just over $10M to address 4 roster spots (3F and 1G) and up to three reserve spots. At best they can comfortably chase a $7M if they plan on cheaping out the rest of the way. The fact that it's either 2 top six wing positions and a goaltender, or a top six wing position, third line center, and a goaltender as part of that mix points to Toronto not being able to be as cheap as they'd like to be.
The next couple of days need to be freeing up the additional $6M the Leafs can work with by moving on from @Alexander Kerfoot, @Ilya Mikheyev, and @Pierre Engvall. All three are perfectly fine players, but their lack of offensive instinct, or physicality create a bit of a "why are you all still here?" thought that keeps on ringing in my head.
Moving on from Engvall and replacing him with Brooks, basically leaves the 4C position in the same situation, but with $500k of extra money to work with. It might be a stretch to believe in Joey Anderson being NHL ready, but the difference between him and Mikheyev gives the Leafs an additional $900k to work with. Kerfoot is a bit trickier, as replacing him would be more expensive, but given that he hasn't been effective in either a top six winger role or third line center role, and he's basically place held both, moving on makes sense, and going with Anderson and Brooks gives Toronto around $5M to spend on Kerfoot's replacement. That's @Philip Danault money.
So how does this fit in with draft day, well, teams like Detroit and Montreal are sitting on a stockpile of picks and maybe they don't want to pick 11-14 times in a thinner draft. Maybe they want some guys who can play now. The Leafs on the other hand could use a pick or two even in a thin draft, and the cap space is needed.
The cost of trading into the first might not be that high
Ryan Reaves and Barclay Goodrow have both been packaged with a pick and yielded a first round pick return, so anything is possible. Those happened in better drafts too. Once upon a time someone traded a 1st for Paul Gaustad at the trade deadline. First round picks aren't unattainable, and while it isn't THE priority for the Leafs, they can't lose sight of their prospect depth chart, and it's thinning out at the top. If the Leafs aren't seeing a future for Kerfoot or Dermott with the Leafs, either of these players packaged with their 2nd could move them up.
In contrast to that, the statements made yesterday by Kyle Dubas point to the Leafs dealing with a GM that knows this will absolutely be his last season with the team if he doesn't deliver beyond has happened in the past three postseasons. There's not a whole lot of incentive for Kyle Dubas to build for the future, and it's probably unrealistic to expect him to add prospects. Maybe the more reasonable take is that the Leafs second round pick could very much be in play.
The OHL Factor
The fact that there are so many players that have been completely off the radar for the past year and they are now draft eligible opens everything up and teams with the best intel probably have a good opportunity to add some strong players late. Unfortunately it's not very easy to produce examples of who these players are, but I wouldn't doubt the Leafs will explore what they can do in the later rounds. Like I said above, I can't see Kyle Dubas prioritizing adding picks when his ass is on the line for the current Leafs roster, but with the picks they do have, I wouldn't be surprised if their two late round picks involve OHL players.
Goaltending still needs to be considered
Artur Akhtyamov had a really strong year in Russia and may eventually be the goaltender of the future for Toronto if they can ever bring him over, but Joseph Woll hasn't been dominant in the AHL, and Ian Scott's injury history keep him on the outside looking in. Erik Källgren is an interesting option the Marlies are exploring, but the Leafs still need to build out their options.
Using a pick on a goaltender when there are only three picks at their disposal might be a stretch, but the Leafs should at least entertain the option, especially if someone like Tristan Lennox slides to the fifth round.
The Leafs could ditch youth at the draft instead of adding it
Again assuming that the Leafs aren't going to the draft in order to draft players, but to take advantage of an ideal time to make trades, I wonder if we see Nick Robertson or Timothy Liljegren find their way into trade talks.
Even though a primary theme in this post so far has been about how the Leafs need to add youthful talent, and not take away from it, and the Leafs have already jettisoned Filip Hallander this week, there is no doubt that both Liljegren and Robertson represent the best assets for adding a quality player via trade without touching Marner, Nylander, Matthews, Tavares, Brodie, Muzzin, or Rielly, who we'll assume to be untouchable at this point.
In theory, the potential upside of Robertson and Liljegren would outweigh what the Leafs would get for one of them in trade, and the Leafs could certainly benefit from getting a solid performance out of entry level contract players, but for a management team, coaching staff and roster core that has been given the expectations of improved results or else, the sure thing has a lot of appeal.
My picks for the draft
Finally I'm going to shift back to the true spirit of the draft, and that's selecting the best possible players to out your franchise's future. While I don't have the knowledge of this draft class that would warrant a full ranking, I certainly do have a few favourite players to consider going forward. Here's a few of my potential picks
If the Leafs trade into the first round: Matthew Coronato. Coronato is one of the top offensive threats in this draft, and he seems to appear anywhere from just outside the top 10 to the around where the Leafs would have been picking if they hadn't made their deal with Columbus. Coronato is from Ryan Hardy's Chicago Steel, and a reunion with Hardy, in time, would probably be welcome.
The ideal second round pick would be: Olen Zellweger. The Leafs could certainly benefit from a smooth skating defender, who has thrived in all situations, but especially looks to have his offensive play be his calling card going forward.
A couple of names to consider if the Leafs pick up some mid round draft picks: Trevor Wong and Tristan Lennox. Lennox would be a solid goaltending prospect the Leafs would be lucky to have in their system. He also is a bit of a wild card in that with the absence of an OHL season, he might have progressed further (or less) than we know about. Wong is a speedy but undersized center who will likely move towards the wing as he transitions to a pro career. He was a point per game player in the 16 games he played last season, and exploring his upside would be consistent with some of the Leafs most recent draft picks.
The best late round option: Marcus Almquist. Almquist is yet another small forward that I like in this draft. Perhaps I've gotten too far inside the mind of Kyle Dubas, but Almquist has a lot of offensive upside, and talent for someone who went frequently unranked by scouting services.
TLN's draft content
Here are some of the other articles from TLN worth taking a look at heading into the draft: