Leafs Cancel Sunday Storm Surge: Muzzy's Muzings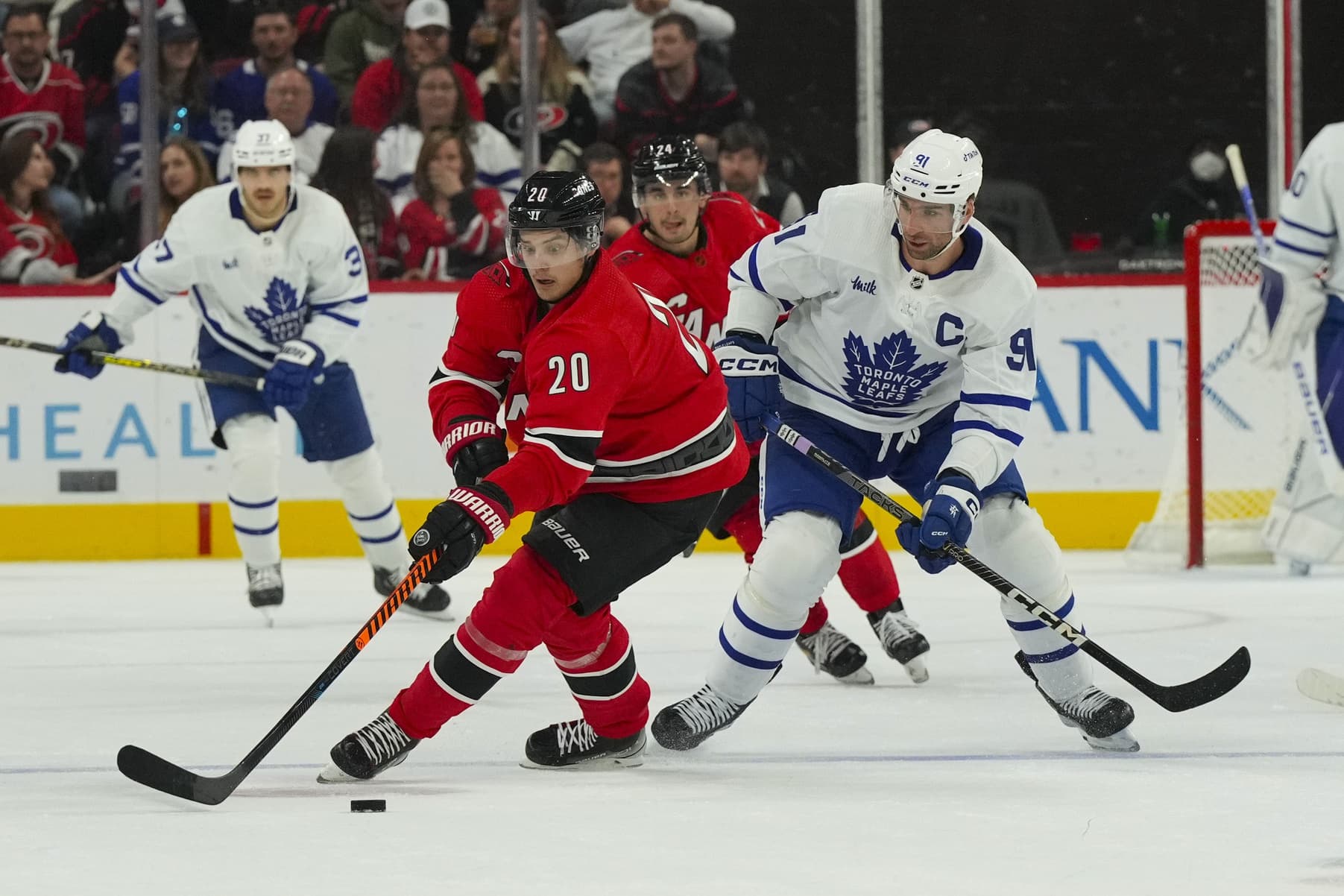 Photo credit:James Guillory-USA TODAY Sports
Another night, another impressive win for the Toronto Maple Leafs.
If you're keeping score at home, that's three in a row to start November.
Can you believe the Anaheim game was just seven days ago? Neither can I.
John Tavares potted the game winner midway through the third period propelling Toronto to a 3-1 win over Carolina.
What else can you say about the captain right now? Tavares has eight goals in 13 games and as you see above, five in his past five outings. Simply put, he's been outstanding.
Erik Kallgren made 29 stops for his first victory of the season. The Leafs improved to 7-4-2. Furthermore, they're now 2-0-1 in the back end of back-to-backs.
Muzzy's Muzings:
ERIK KALLGREN
In my wildest dreams, I could have never predicted Erik Kallgren to walk into PNC ARENA and pick up a win like that. From a defensive standpoint, I thought the Leafs were dialled in all night. They played like a team. After seeing that Noesen shot go in early on, I won't lie, I wondered if it was going to be another long night at the office. Suffice it is to say, I was pleasantly surprised. Let's call a spade a spade though, it was a nice night for Kallgren, but I wouldn't expect it every time out if that makes sense. He's essentially Michael Hutchinson 2.0. And there's nothing wrong with that.
HUNG AROUND
It wasn't pretty – especially in the first – but the Leafs found a way to hang around. That's a tough building to play in at the best of times, never mind when it comes in the back end of a back-to-back. For the third straight outing, I thought Toronto was competitive and played with some juice, something we really didn't see much of in October. They've really picked up their compete level and intensity this month, which has been a great development.
LINE JUGGLING
Full credit to Sheldon Keefe for shuffling up the lines in the second period, there was not much happening offensively. Over an 82-game slate, that's going to happen from time to time. I was trying to think, how many different line combinations have we seen so far this season? In that respect, Keefe has not shied away from mixing it up. I got no problems with that, it worked tonight.
DENIS 'GENO' MALGIN
When your nickname is derived from the great Evgeni Malkin, you better step up to the plate. To that point, I thought Malgin was arguably Toronto's most noticeable player tonight. Once again, he played with urgency, pace and also a bit of snarl, that's exactly what you want and need from your bottom-six. In general, I liked his weekend. He was solid. Also, I liked Sheldon Keefe rewarded him accordingly for his strong play/
Highlight of the night:
WHAT'S NEXT?
The Leafs will be back in action on Tuesday night when they host the red-hot Vegas Golden Knights (11-2-0). Bruce Cassidy's squad has won seven straight games, a streak that actually started back on October 24th with a 5-2 win against Toronto.