Leafs drop a game in regulation against the Red Wings for the first time in nearly 6 years: Muzzy's Muzings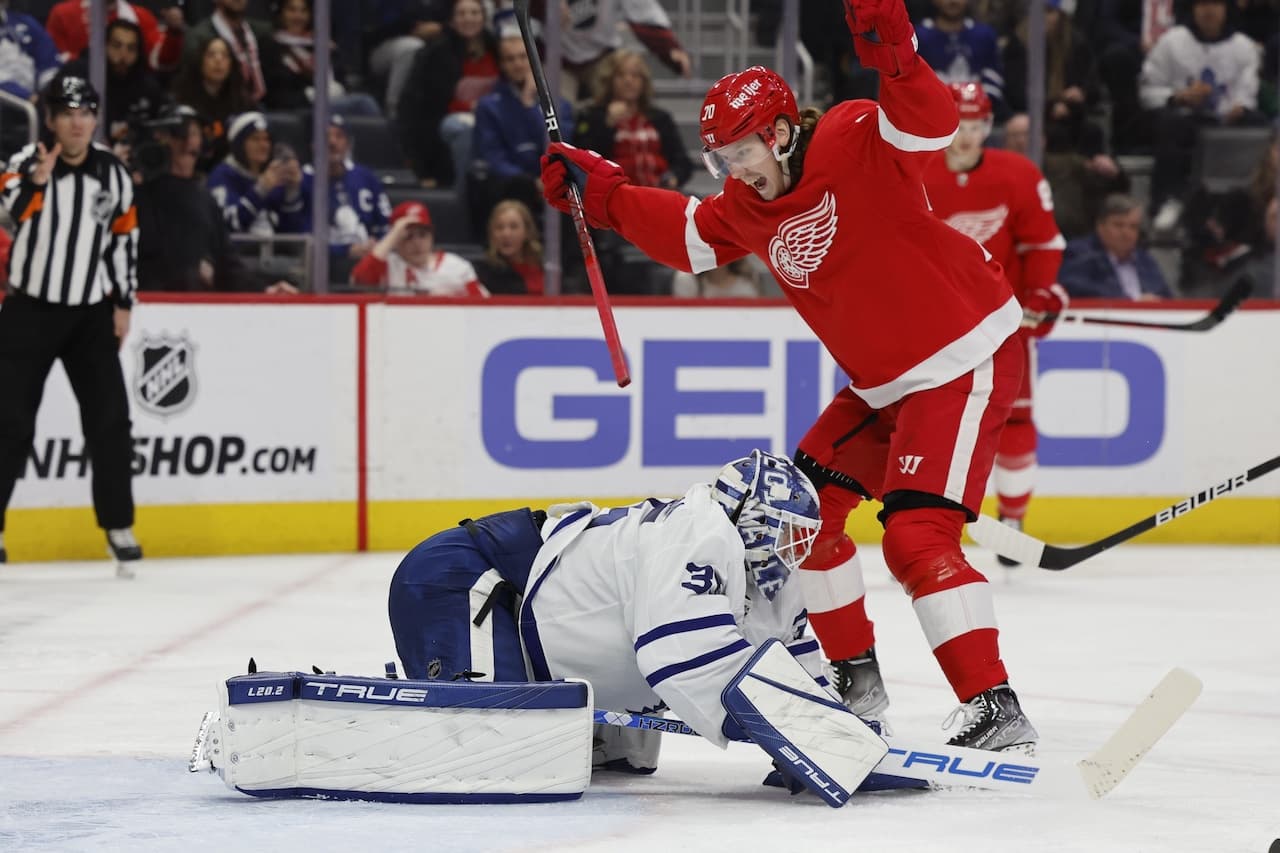 Photo credit:Rick Osentoski-USA TODAY Sports
When Bobby McMann's apparent first NHL goal just 56 seconds in was overturned due to a ruled distinct kicking motion, you just knew it wasn't going to be Toronto's night.
Lucas Raymond notched a goal and an assist while Dylan Larkin tallied two helpers as Detroit (18-15-7) snapped a nine-game losing skid against the Maple Leafs (26-10-7) with a 4-1 victory.
And so the win streak is done at three games. Furthermore, unbelievably, that was also Toronto's first regulation loss against Detroit since December 15th, 2017, a span of 15 games. Seriously, what's with all the point streaks this season?
Lastly, the Leafs fell to 5-1-1 in the second game of a back-to-back this season.
Rasmus Sandin scored the lone goal for Toronto, who was without Auston Matthews for the second straight night. Over and above the nagging injury, the reigning Hart Trophy winner reportedly woke up under the weather on Thursday. They made the right call; there's no need to rush him back.
The shot count was low, but don't get it twisted, Ilya Samsonov was very good. The 25-year-old made 19 stops in the loss. Meantime, Ville Husso racked up 32 saves to improve to 14-8-5.
Burn the tape.
MUZZY'S MUZINGS:
 UGLY FIRST
Very similar to last Saturday's meeting in Toronto, the Leafs looked completely off their game in the first period. They weren't crisp; nothing was going on. After Bobby McMann's goal was called back 56 seconds in, it seemed to shift the momentum in Detroit's favour after the Leafs thought they had the first goal of the night. It happens. Furthermore, it just reminded me a lot of five days ago when Toronto had a very poor start. You're not going to have it every night, I get it — especially in the second game of a back-to-back.
ANOTHER SOLID NIGHT IN THE CREASE
Indisputably, it was a tough night at the office for the Maple Leafs. Luckily, Ilya Samsonov was dialled in. For the second straight outing, I thought he was solid, and most importantly, he kept his team in the game. Considering how poorly they played, Samsonov was the only reason it was a one goal game late; Detroit deserved the two points. All things being equal, that's all you can ask for from your goaltender —whomever it is. To their credit, both Samsonov and Matt Murray have been much better lately.
BOBBY MCMANN
Aside from Samsonov, you could make a decent argument that McMann was the best Maple Leaf on Thursday night. It's two games, but I've liked what I've seen from the 26-year-old. After playing 11:02 on Wednesday night, he logged 10:05 with four shots on goal in his second go around. Again, because Toronto's created some separation in the standings, it's allowed them to call up guys like McMann and Semyon Der-Arguchinstev to give them a look. There's nothing wrong with that, too. It's important for Sheldon Keefe to be fully aware of his arsenal between now and the opener of the Stanley Cup Playoffs.
HIGHLIGHT OF THE NIGHT:
 WHAT'S NEXT?
 Up next is a showdown with the Bruins in Boston on Saturday night. Unbelievably, the B's finally dropped a game regulation at TD Garden on Thursday night, 3-0, to the red-hot Seattle Kraken. This will be the second of four between the two division rivals this season. The Leafs took the opener, 2-1, in Toronto on November 5th.