Leafs drop another to the pesky Yotes: Muzzy's Muzings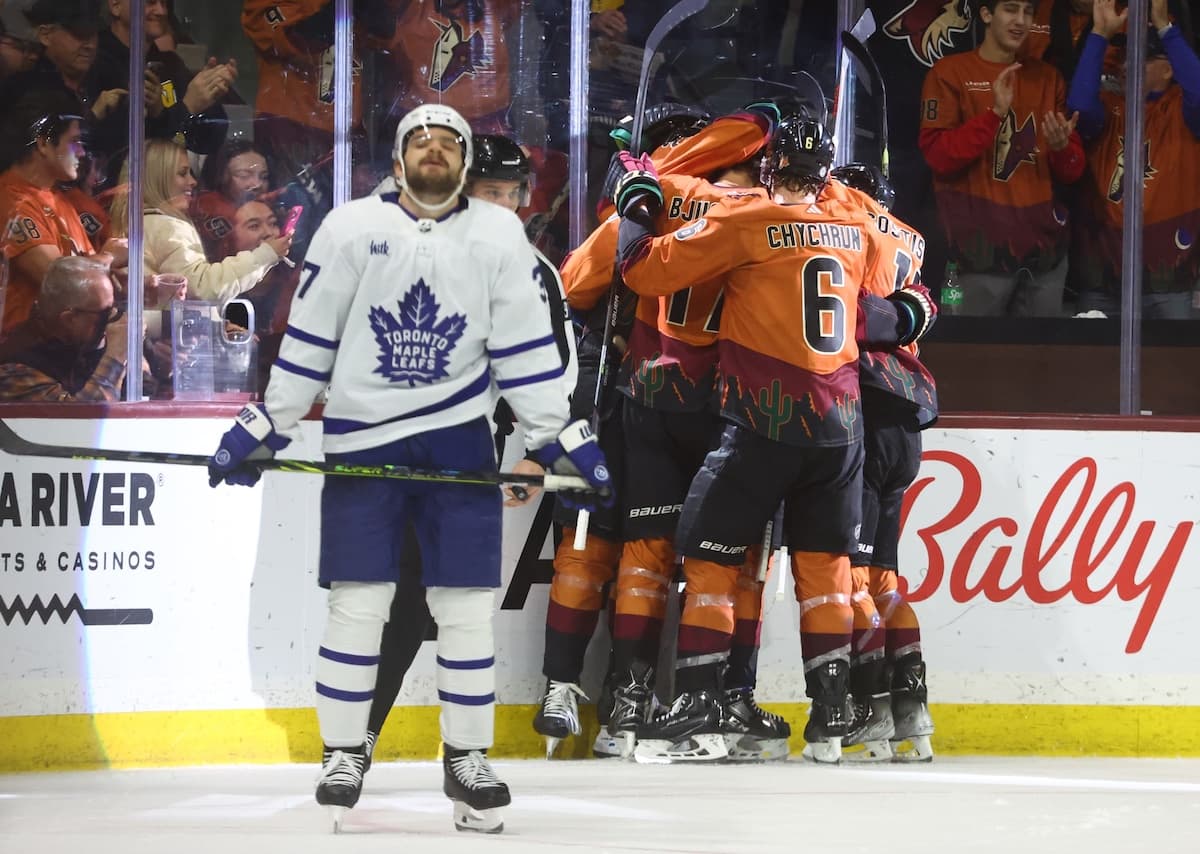 Photo credit:Mark J. Rebilas-USA TODAY Sports
It's official: Arizona has Toronto's number.
Nick Bjugstad notched a goal and an assist as the Coyotes smothered the Leafs 6-3 to sweep the two game season series and snap Toronto's three game win streak.
Furthermore, Arizona has now taken four in a row against Sheldon Keefe's squad and six of eight overall. Yeah, it's just one of those things you can't really explain —I wish I had more for you.
For the first time this season, the Leafs lost a game in regulation when leading after two periods (16-1-4). The Yotes scored four unanswered goals in the final frame, two of which were empty netters. Evidently, it was a much closer game than the final score entailed.
In his return to the lineup after missing 15 games with a knee injury, Morgan Rielly notched an assist and was a minus-3. Pontus Holmberg, Calle Jarnkrok and Alex Kerfoot potted the goals for Toronto, who went 2-for-2 on the power play. Not to be outdone however, the Coyotes went 2-for-3 with the man advantage.
Meantime, the core four (Matthews, Marner, Nylander, Tavares) for the Maple Leafs were held without a point for just the second time this season. Additionally, they were a combined minus-12 on the night.
Woof.
On to Denver.
MUZZY'S MUZINGS:
 ONE OFF
Some things in pro sports just don't make sense. Seriously, that's all you can pretty much chalk this up to. For some reason, the Leafs just don't match up well against the Coyotes and their recent record against them would indicate that. If you're Toronto, you park this. That's all you can do. For the most part, they looked slow, lethargic, and disinterested —much similar to that outing I always like to reference from mid-October. Let's hope it's a one off. As I always like to bring up, you're not going to have it every night. Forget about this one.
LEAFS WON THE TIMMINS DEAL
I'm just going to come out and say it, Kyle Dubas deserves a lot of credit for taking a flier on Conor Timmins. The 24-year-old, who tallied two helpers in his first game back in the desert, now has eight points – all assists – in 10 games as a Maple Leaf. Once Rasmus Sandin is good to go, this is going to get mighty interesting. Timmins has played very well, and as far as I'm concerned, he deserves to stay in the lineup. So, who do you take out? Well, I suppose there's always the option of going with 11 forwards and seven defenders. Personally, I think now's a time for experimentation. Have at it. It will be fascinating to see how this all unfolds.
DEFENSIVE CRACKS?
Dating back to the loss on Broadway (Dec. 15), the Leafs haven't looked as sharp defensively lately. Over the course of an 82-game slate, you're going to have ups and downs. I totally get it. Having said that, it's important for them to rectify some systemic issues before they spiral out of control. On top of that, to be blunt about it, I think the goaltending can be better. Matt Murray surrendered four goals on 21 shots on Thursday night. Over the past five outings, Murray and Ilya Samsonov have combined to allowed 16 goals on 121 total shots for a save percentage of 0.826. That being said, I'm not in a rush to blame the goalies for anything. They've been solid, and for now, they deserve the benefit of the doubt. Talk to me in a few weeks.
HIGHLIGHT OF THE NIGHT:
 WHAT'S NEXT?
The Leafs will finish off 2022 in Denver on Saturday night against the Colorado Avalanche. In 2021-22, Toronto picked up three of a possible four points (1-0-1) against the defending Cup champs.