Leafs fall to 0-11 in potential series clinching games since 2013: Muzzy's Muzings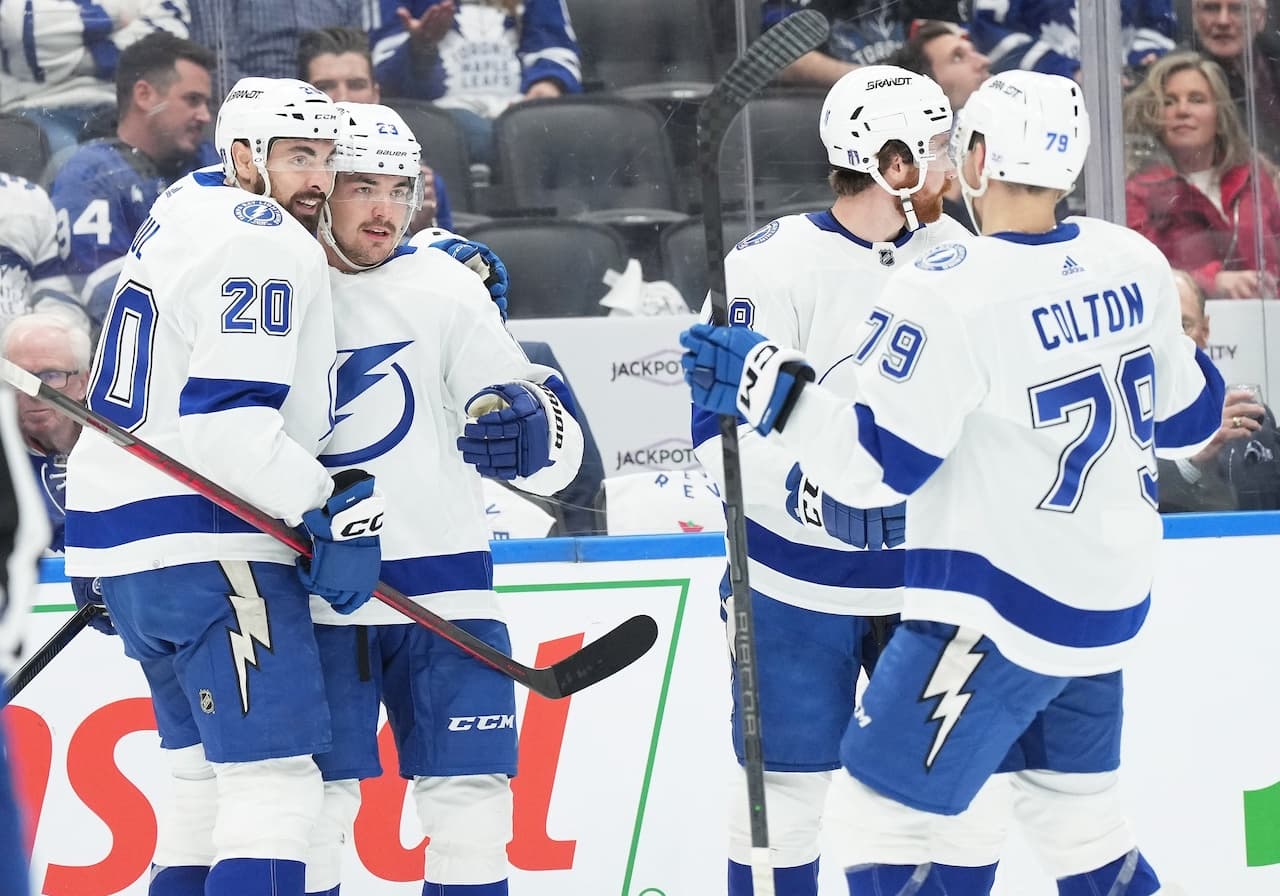 Photo credit:Nick Turchiaro-USA TODAY Sports
For those of you who thought the Tampa Bay Lightning were just going to roll over and die, you were sadly mistaken.
Credit to the Leafs for making things interesting late in the third period again, though.
Mikey Eyssimont notched a goal and an assist while Andrei Vasilevskiy made 29 stops as Tampa staved off elimination with a 4-2 victory in Game 5 on Thursday night at Scotiabank Arena.
The Leafs, who still lead the series 3-2, are now 0-11 in potential series clinching games since 2013.
For my money, the Jay Rosehill turning point of the game took place all the way back in the first period. Morgan Rielly (who else?!) kicked off the scoring just 5:46 in sending the home crowd into an all-out frenzy. That said, Anthony Cirelli answered right back just 26 seconds later. After that, it felt like the Leafs were playing catch-up for the rest of the night.
Auston Matthews had the other goal for Toronto; he's scored in three straight games. Meantime, Ilya Samsonov tallied 34 saves in the loss.
MUZZY'S MUZINGS:
THE START
All-in-all, I'd probably give that first period a pass. Going into the game, my first period checklist included the following: 1. Weather the early storm, 2. Score first, 3. Go into the intermission with a lead. Well, 2-for-3 isn't bad, right? Honestly, it's a damn shame; Morgan Rielly made it 1-0 and the crowd could barely soak it in before Tampa responded seconds later. Not to point fingers, but what was Justin Holl doing to start that sequence? If he merely rubs out Hagel along the boards, things probably don't play out the way they did. At any rate, it's a hockey game; mistakes will be made. Most importantly, I don't think the Leafs looked nervous or scared to lose —no problems with the start here.
PUCK MANAGEMENT
By a country mile, that was as disorganized as the Leafs have looked all series long from a puck management standpoint. They were tossing pizzas all over the ice. Furthermore, the margin for error is so thin this time of year; you can't give away the puck with regularity and expect to win. That's just not how it works. To that point, I think Tampa deserves a lot of credit for forcing said turnovers. They were hard on the puck and aggressive on the forecheck. Additionally, they did a good job of getting in the lanes and making things difficult on the Maple Leafs. Any way you slice it, moving forward, the Leafs need to clean things up when they have the puck. Do that, and they should be in good shape to finally bring this series victory home.
JAKE MCCABE
It was outings like Thursday night that make it easy to understand why the Leafs made it a priority to trade for Jake McCabe at the deadline. He was outstanding. Honestly, it's like he has a sixth sense physically; he always seems to know when to step up for the big hit. If the McCabe move was intended to somewhat replace Jake Muzzin, I would say job well done. McCabe's getting better and better and better as the series goes on. And they'll need him to continuing stepping up, that's for sure.
BIG CAT SZN
For the first time in the series, I thought Andrei Vasilevskiy was a big-time factor. After surrendering the first goal 5:46 into the game, the future Hall-of-Famer was letter-perfect from then on out. He made numerous ten-bell stops including a huge one on a Mitch Marner breakaway in the third period. For those of you unfamiliar with Vasilevskiy's work, there's a reason why he's already widely regarded as one of the best to ever play the position. If you're the Leafs, all you can do is continue to chip away and hope for the best. They've done quite well against him so far, but we all know how this guy tends to do late in series.
WHAT'S NEXT?
On Saturday night in Tampa, the Leafs will take their second crack at trying to put away the Tampa Bay Lightning.