Maple Leafs hope Jake Muzzin can rediscover his game after concussion absence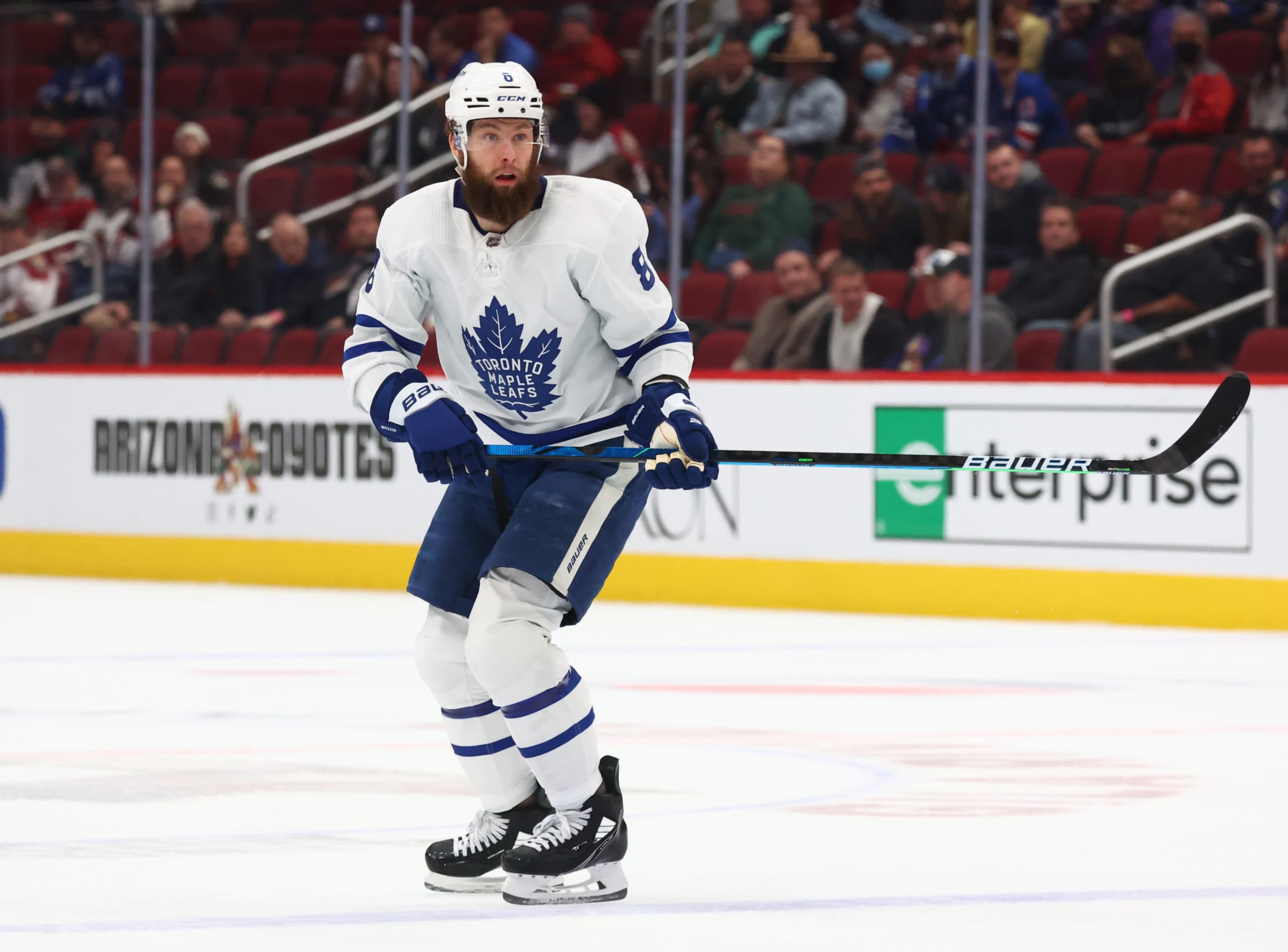 Photo credit:Mark J. Rebilas-USA TODAY Sports
CALGARY — Toronto Maple Leafs defenceman Jake Muzzin will make his return to the lineup when the club takes on the Calgary Flames to kick off a three-game road trip out west on Thursday.
Muzzin took a hit to the head by St. Louis Blues forward Klim Kostin on Jan. 15 and missed the next seven games with a concussion.
But the veteran's play had struggled before the injury. The Maple Leafs hope the time away action from can help rejuvenate the 32-year-old's game.
"I think it's some of his play with the puck," Maple Leafs coach Sheldon Keefe said. "I think he's looking for some consistency there to move it out clean out of our end and get going. This type of reset maybe may turn into a positive for him in that sense."
Acquired by the Maple Leafs in a trade with the Los Angeles Kings on Jan. 28, 2019, for defenseman Sean Durzi, forward Carl Grundstrom, and a first-round draft pick in 2019. Muzzin brought a physical element to the top-four that Toronto's defense had been lacking at the time.
As each season passed, Muzzin has seen his possession numbers take a dip with a steeper fall occurring in 5-on-5 Corsi falling to 50.5 percent. Well below the 53.9 percent from his first season in Toronto.
Part of that has been the inconsistency from the middle pair of Toronto's defence. His regular defensive partner, Justin Holl struggled for long stretches this season and saw himself demoted to a scratch for a stretch of five games. He then bounced around the middle and bottom pair before reestablishing his role on the mid-pair this past month.
Keefe is hoping Holl's work with the development staff can establish a template for how time away can help Muzzin recapture his game.
"It served Justin Holl well just the same," Keefe said. "I think we're looking for some consistency within that pair. We're really happy to have him back. He's a very important player for us."
11 and 7
With Wayne Simmonds still home after the birth of his second child and the team up against the salary cap, the Maple Leafs will deploy 11 forwards and seven defensemen against the Flames tonight.
Although not the ideal setup for how Keefe likes to run a bench, he did drop a hint of what we might see.
"I think where some of the advantage may lie especially being on the road is you can be a little more unpredictable in terms of how you're going to roll your lines because we are going to mix things up," Keefe said "You'll move guys around a little bit here and there. Maybe you are expecting Engvall-Spezza-Simmonds where maybe it's going to Engvall-Matthews-Spezza."
The downside of this is there could be a lack of consistency on the bench. If the Leafs felt like they would be without Simmonds for long, they could have sent down a defenceman that doesn't require waivers (Timothy Liljegren the most likeliest of candidates) in exchange for a forward from the Toronto Marlies, but in the short term, it should be interesting to see the double shifts that take place against Flames team that is riding a four-game winning streak.
Keefe didn't have an update on when Simmonds may rejoin the club.
Kase finding chemistry with Mikheyev
Ondrej Kase has bounced around between the third and first lines this season, but he's only recently started playing alongside Ilya Mikheyev for the past three games.
"The chemistry is not there yet but I feel like it's getting better," Kase said of Mikheyev. "I feel like last game we knew where the other guy was. He's a fast guy who can pass the puck and score so I think it will get better."
Mikheyev had missed most of the season with a broken hand and when he returned, Kase spent most of his time filling in for Mitch Marner on the first line. The shutdown line could see some more reps without a proper fourth line on the ice tonight.
Kase is thankful for Simmonds standing up for him
Kase was on the receiving hit from a hit to the knee by Carolina Hurricanes defenceman Brendan Smith on Tuesday.
Kase was hurt on the play but stayed in the game. Simmonds immediately sought out Smith and the two went to blows.
"It was huge for me, I probably told him thank you like four times," Kase said. "He (Smith) hit my knee, it was kind of a dirty hit so I really appreciated it."